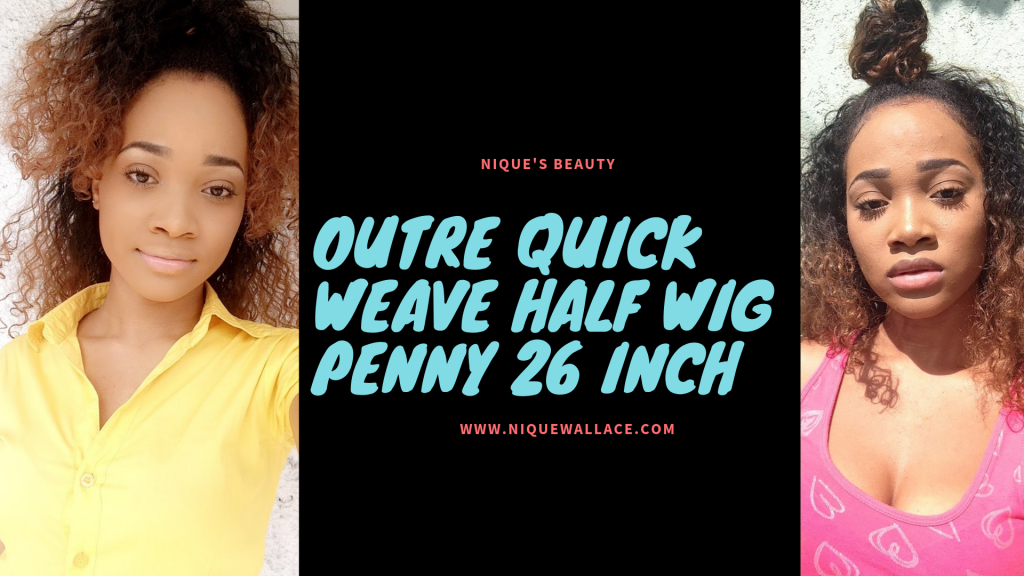 Hey Beauties!
New wig Alert! I got this wig for couple months now, yes couple months should have done a review from summer but I had other things to do so today is the day we shall learn about this wig. Outre Penny did me some justice made people think its my hair that's the great thing about her.
Where can I buy a synthetic wig?
I bought her on Ebonyline Yes! my number 1 wig site to purchase my outre wigs.
The shipping for Ebony took like 12 days to shipme then to me, I was very much impatient but a girl needed to look cute for her sister's birthday. So, the hair is a half wig says its 26″ honestly feels like 24″I'm in love with the curls. I specifically choose the DR30 because curls pop better with bleached hair and to make it worst I hate number 1 hair it does nothing for me in my eyes except for my Outre Purple pack human hair.
Outre Penny comes in numerous shades and also has a shorter length since recently I start loving long hair I don't know maybe its because of Nicki Minaj and her 40 inches hair shes been rocking.
About Outre Penny
On a note the hair is very soft it doesn't shred much its like a cushion very fluffy and lightweight. I've been wearing it from the 30th of April 2017 stopped in September Yes fa 6 months I've been doing my synthetic hair care routine. To keep the hair looking its best. On the package it says don't put products on the hair but even false curly hair gets dry so you have to add products to keep it going.
I personally love the fact that it has black roots right around the parameter almost looking like a lace wig, I trick the crowd too many times with this hair. Styling synthetic hair to blend with your hair is hell but I styled my hair in so many ways I always leave my hair out to let it blend. Blending your natural kinky hair with a half wig maybe hard but leave out and flat iron makes it easy.
The Hairstyles you can do with a Outre Penny
I do Top buns, middle part and side parts with my penny. You all know It is made of heat resistant fiber hair which is safe to curl or flat-iron. One size fits all.
How I put on Penny on my head? its easy all I do is corn row my hair to the back and leave a little hair out at the front to the cover the wig line because ain't nobody want to see the obvious!
Giving you the up close curls, they were well defined and flat but I had to play around with it and pull some of the curls apart to achieve a fluffy half wig that I see Youtubers wear. My favourite hair youtuber will always remain +beigeOjai I love how she always know how to rock cheap and affordable wigs and make the ugliest ones look bomb af. You can find Penny at any hair store for retail price $16-$24.
How do you style your outre half wigs? Leave a comment down below
The form you have selected does not exist.