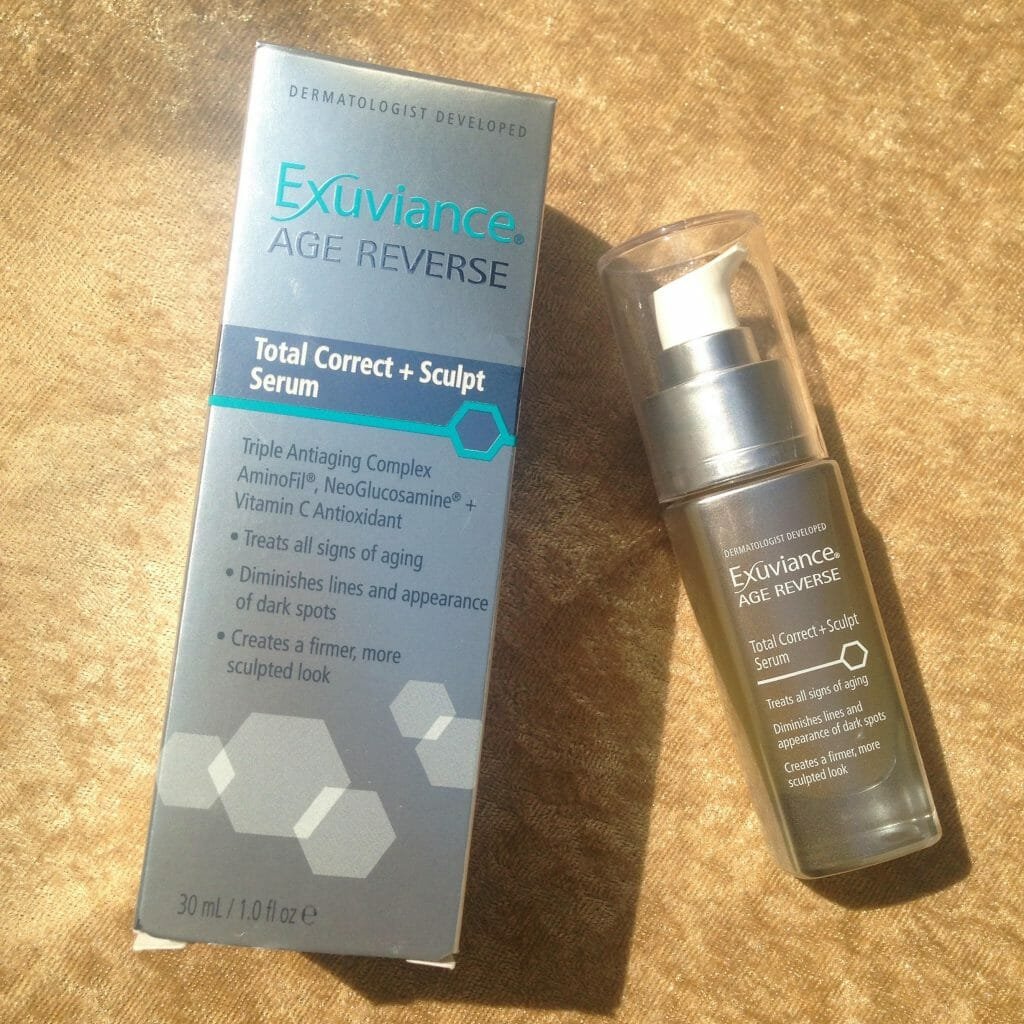 Hey Beauties!
Today I'll be doing a review on Exuviance AGE REVERSE Total Correct + Sculpt Serum. Exuviance is a skin care company that is clinically proven to reduce lines and wrinkles, increase firmness, smooth texture and even skin tone with a patented bionic blend of highly evolved Polyhydroxy and Alpha Hydroxy acids products. Learn more about Exuviance HERE.
About Exuviance
Now more about Exuviance AGE REVERSE Total Correct + Sculpt Serum according to site it treat your skin and achieve a firmer, more sculpted look. The  Exuviance AGE REVERSE Total Correct + Sculpt Serum is formulated with a Triple Antiaging Complex of Aminofil, NeoGlucosamine and Vitamin C Antioxidant, this serum helps transform skin by addressing the signs of aging including dark spots, sagging skin, and uneven texture. Smooth this on after cleansing and toning and before your SPF/moisturizer. 
[shop_slider full="no"][shop_heading][/shop_heading] [/shop_slider]

– NeoGlucosamine enhances exfoliation to smooth texture and visibly reduce fine lines and wrinkles.
– Vitamin C Antioxidant helps diminish the look of dark spots for a more even tone.
– Aminofil® targets collagen to help restore firmness and enhance volume.
– Targets all signs of aging.
– Diminishes the look of lines and dark spots.
– Creates a firmer, more sculpted look.

My Thoughts
Knowing I've been struggling to remove these fine lines and creases under my eyes, finally something to get rid of them.
On the first use I applied the Exuviance on my T-zone area where the lower lid of my eyes are that's where I get most wrinkles and creases. On the first night I kept it on for 12 hours 11pm – 11am (Yes Saturday night to Sunday morning lol) I got some pimples and dark spots on my forehead.
How challenging it is to get rid of acne spots?
I was using couple products to take them away but all they do is get burnt by creme and get bigger with the scrub I was using. I used this hoping it will take the dark spots and the pimples away. After first use I never seen a difference in the morning when I washed it off with lukewarm water then apply my scrub. After all that few hours in my face looked shiny.
After 4 days of using I don't spot much difference in my face than the black spot faded a bit my fine lines under my eyes remain. I think its gonna to take longer to get these crease under my eye to vanish more sleep will help lol.
[shop_slider full="no"][shop_heading][/shop_heading] [/shop_slider]
Furthermore, I discovered it had no scent that will turn your mind off it and the packaging is nice just make me feel fancy. I notice the pump just pumps out a little at a time so you know little will go along way the bottle is 1 fl. Oz and the cost is not bad if you want to take care of your skin.
I added this to my skin care routine because it should be used daily. How to apply is by using fingertips, gently apply serum to cleansed face. Can be smoothed all over the face and neck either alone or under treatment and moisturizer, maybe get my mom on it because she's the mature one with wrinkles.
I'm going to continue using it for few weeks then I'll update the post and let you know if its life saver ♥ Recommended for: Those looking to address ageing skin or a dull complexion.  Key Ingredients: NeoGlucosamine, Vitamin C, Aminofil and Antioxidants. You can get this bad boy on www.exuviance.com for $79
Find Exuviance on Facebook, Instagram, Twitter
Update ♥
After 2 weeks of using my face actually cleared up a bit the fine line under my eyes. I'm now convinced it wont go away unless I start getting some eight 8 hour sleep or start that cucumber routine.
Have your ever used any 

Exuviance product yet?
If you like this post please share to your socials