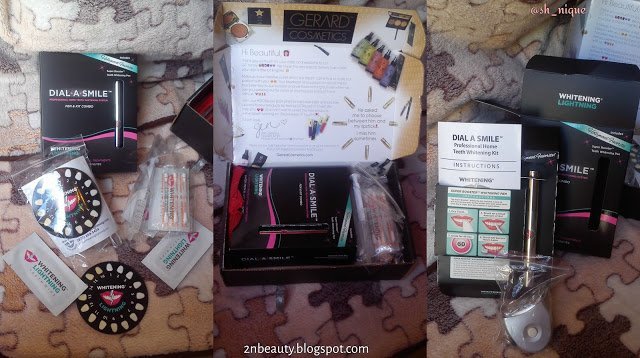 Hey Dolls ❤
I'm getting my teeth whitening at home so it was a struggle to find any recent update on these kits online. I went in deep search and found one girl but her Youtube video was in about march 2016 I wanted to get more information on it before I went in and purchase. So these kits are 75% off sales like that's hilarious I could not let that Christmas Sale miss me at all! I bought the Dial A Smile Teeth whitening kit and teeth whitening combo the official price for this is $115 and I got it for $28.75. I also bought The Hollywood Elite teeth whitening system with Refill whitening Kit $18 and $13. Capture a total about $60 for everything. Jackpot! 

However, my issue with this now is that I never got a confirmation email, I never got a tracking number I wasn't updated about my item. No information whatsoever if it wasn't for Paypal payment and their confirmation email I wouldn't have known I paid for the items successfully. Now after a few weeks I message Whitening lightening requesting a tracking number and other information on my item. I purchase this item on the Nov 16 and you know what's funny the day I message them is the day my item was shipped so I was thinking to myself was my item a paid lost? lol.
As time past my package came! I don't know but I love getting things in the mail! I tried it and like it Yes it works! 

First week Results

Therefore I started using the kit for the one week because it states to be used every once a week for 3 weeks. My first week was a mess I ate curry goat 3 times that week and it stain my teeth, I was at 9 on the teeth chart because of the constant coffee I drank and the curry I ate (I'm not an Indian lol my mom just loves cooking curry) but in December I stopped eating and drinking stain foods until January I got the kit I started eating stain foods again (lol I'm so stupid). So it never worked first week because of that it claims it should work after 20 minutes but I never saw any results.
Second Week

My second week went good I ate no curry no coffee but  I drank wine so a little mess but one thing I forgot to do is use the pen right after I do the 20 minutes whitening and even when I'm going to bed I should used it. On the manual it says persons who drink wine and so on should use the pen to help.



Third Week Results

On my third week went absolutely no stain food I left the gel on my teeth for 40 mins but it burn like hell, my gum that's between my teeth bleached for a Lil bit. I used the vitamin E swab but it still burned my lips and gum so stick to the 20 minutes you guys and no I don't have sensitive mouth conditions. However the whitening worked it magic and I move from a 9 to 8 I definitely could have gone to a 6 if I brushed my teeth after every meal, Floss, use the pen and stay away from stain foods. 
AFTER
BEFORE
Why I whiten my teeth?

Starting February I got a chance to redeem my self so I bought refills. On the manual it states use 1.5mil from the syringe but I only used 1mil because the 1.5mil is too much. So ill definitely keep you updated in another post about my second attempt.
By the way don't you just love the packaging of inside ? I think its cute Its my very first item from whitening lightening/Gerard Cosmetics Ill definitely purchase couple lipsticks to do a review for y'all ♥
Okay so I did not know the day light was that bright on my teeth until I added the pictures to this post but my teeth is 9 on the teeth chart for before and between 7-8 for After. I know I need braces. Time period for whitening my teeth Jan 14-28, 2017

Thanks for reading! Comment down below if you ever got your teeth whitening or planning to ? 
If you liked this post, feel free to PIN IT and share!