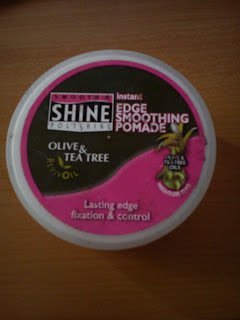 Hey Everyone!
Today I decided to write about Smooth 'N Shine Polishing Edge Smoothing Pomade. I stumbled upon it when i was clearing out my empties. According to the brand Olive & Tea Tree RevivOil instant Edge Smoothing Pomade controls and keeps fine hairs at the edge (nape & temple) in place. Formulated with a perfectly balanced blend of Olive & Tea Tree Oils for moisture, shine and stimulating feel, plus cosmetic surfactants that offer a sleeker, non-waxy feel. Provides lasting edge fixation and control.
My Experience
I bought this product last summer, at first when i got it i was like
(Yass i got something to lay these edge down)
I was so happy. I had it, pulled it smell the sweet scent. It had a very minty scent like winter fresh i wore it for the first time at school. It layed my edges absolutely down perfectly it was very shiny but i didn't mind because it was my first pomade
(lol stupid right?). 
 After i reached school just for an hour it was worn out. after all that hype it turned out to be a total failure :/ i was so mad. I was told to add water before applying pomade, i did so but it just couldn't hold my hair. I got
4b-4c
frizzy hair type.
In My Opinion
These Brands should stop do false advertising they know deep in their heart this product was never for natural hair girls its more like for relaxed/permed girls. The product literally worn out leaving my hair really oily but had a great scent. The only Pro about this product is that the scent and shine.
Do you have any favourite Gel or Pomade you use i'd love to try them out?


Twitter
|| Facebook || Instagram || Influenster || Sverve
See Related Post
The Top 8 Best Curl Defining Products
Hair Empties Deep Conditioners Review