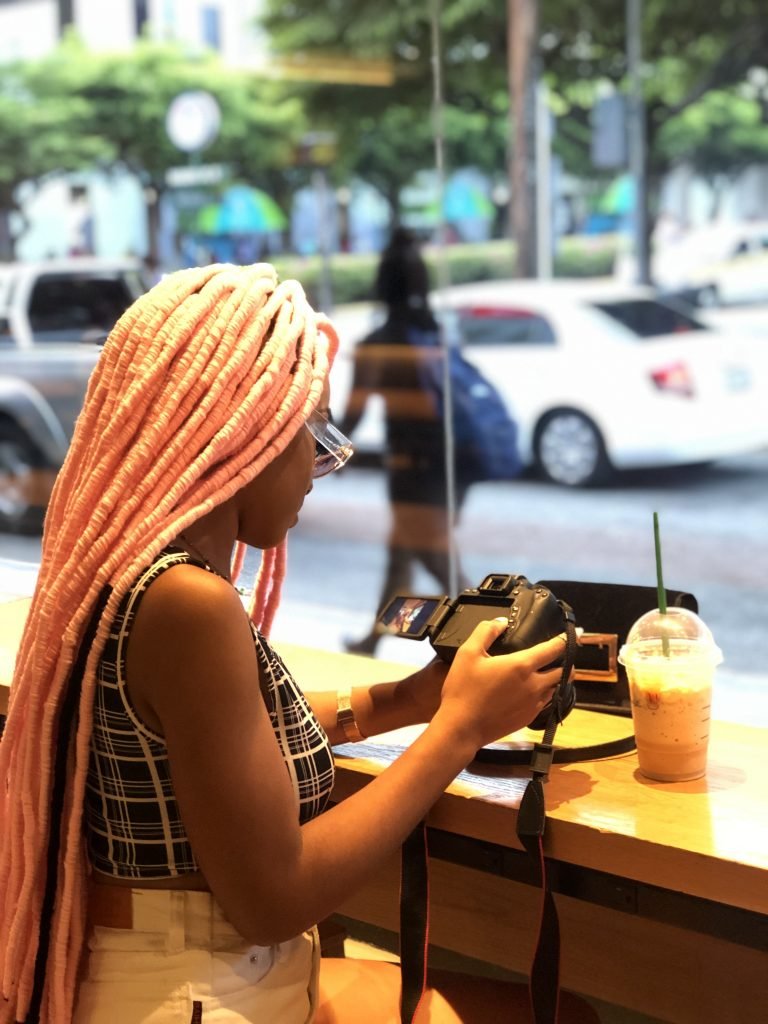 I started with ZERO. 0 Followers. 0 Pins. 0 Monthly Views. 0 Subscribers.
When I started blogging in August 2014, I was taking a huge risk with no idea whether or not it would pay off.
I was a broke college student with three years left of financial burden. I was determined to find a solution because I loved being online and reading books of all kind.
So I decided to start a blog.
I was inspired by income reports I had read from bloggers who were making thousands of dollars per month. To my surprise, they were regular people just like me. They didn't necessarily have a fancy background in business or tech. They were stay at home moms, college dropouts, people who had worked dead-end minimum wage jobs.
If they could do it, then surely I could do it too.
So I started blogging with NO idea what I was doing, but driven solely by my determination to succeed. I spent over nothing on my first blog I went the free way of starting my blog (which, BTW, was the worst way to start – you can easily start a blog for less than $100.). 
In the middle of my blogging journey
After all that I just couldn't grasp what was going on in the blogosphere my dream seemed so far away, I felt broken. I was spending hours of time "marketing" my blog and reaping no rewards. Just as I was ready to give up, I found a blog article on Google and watch a video on YouTube about the blogger's secret system for turning her blog into a full time income.
I had 2 failing blogs and not getting  the views and the recognition I needed I quit! my pride wouldn't let me suffer like that! BUT…
It's safe to say I spent the last months in 2018 pinning my little heart out, spending hours engaging and branding, and engaging some more! To my disappointment though, after HOURS spent trying to grow through pinterest, instagram and other social networks, I saw very few results.
I needed a strategy to get views + clients = Money. So I created a strategy in 2019. 
And now I have a thriving blog and business that reaches HUNDREDS of people monthly… all because of Pinterest. 
I've said this before but it's the honest truth- When I first started my blog and Instagram account I had NO idea what I was doing. Over the years I have obsessively researched blog strategies, tested methods, and taken free e-courses.
The thing I HATED about all of the e-courses is there was nothing out there that was actually affordable and had the information I was looking for. If I found a Instagram or Blog e-course that was truly comprehensive, it almost always cost hundreds of dollars.
Girl, I was broke AF, I couldn't afford to pay that money even if I believed I would earn it back eventually! But the free or inexpensive courses were already full of information that I already knew, and they always, ALWAYS sold a bigger, more expensive course at the end.
Thanks, but no thanks.
I vowed if I ever figured out Instagram and Blogging that I was going to create an eBook/e-course for bloggers and influencers with normal-sized pockets like me, that was jammed full with every tip that I had.
I started researching, experimenting, and finally I started growing. Then came the magical day where I looked at my numbers and realized something. In comparing my own number of views with the other people that created Blogging strategy courses (the ones that were hundreds of dollars!), I realized I was ranking higher, gaining more brand deals, and had way more monthly views than some of those people I'd consider to be "Pitch experts."
This is the first time I ever really saw myself as successful in Pitching to brands and marketing my blog. That totally sounds cheesy and conceited, but it's true. I've become pretty awesome with landing brand deals! While I know there is always more to learn, I figured it was about time I put together everything that I've learned from my research and experience so far and compile it into ONE e-book. And I want to make it affordable to everyone!
I firmly believe that if you want to be successful as a business, it is important to invest in yourself and your education, and I want to help my sisters that are serious about building a Pitch strategy to transform their brand by providing a Instagram strategy book that is affordable. Thus, I Can be an Influencer + Blogger was born.

Is it really worth it to start a blog?
How is it possible to make money blogging? Is it really possible to monetize a blog with multiple income streams?
I hear these kinds of questions all the time. 
My response: blogging is not only worth it, it's essential for growing an online business to its fullest potential. Blog posts are a great way to promote your business, boost SEO, and engage your audience. Blogging also gives you the freedom to combine multiple income streams, meaning there are many ways to make money as a blogger. 
Why Should You Start A Blog?
You own an online business and want to increase your traffic. How can you drive more traffic to your website? Create more content. Search engines favor long-form content which means blog posts are great for boosting SEO. Writing blog posts also gives you more content to share with your social media followers.

You hate your job. Your boss sucks. Your body hurts. Your hours are ridiculous. These are just a few reasons why you might be sick and tired of your current job. Starting a blog and building up an income online is a great way to work toward finally being able to say "peace out!"
You need more money. Well Duh! Couldn't we all use more money? Starting a blog is the perfect side-hustle because you can work whenever and decide how you want to monetize your blog. The only thing required is an internet connection.
You're a stay-at-home mom. You love being home with your kids and you don't want to go back to work. In fact, it may not even be worth going back to work when you consider the cost of childcare. With an online business you are the boss. You make the rules. You choose the hours. Working on your blog during naptime and after bedtime is a completely doable (and smart) way to start your business.
You're worth more. You have a job you like but you're not getting paid fairly for all you bring to the table. Starting a blog is a great way to get your feet wet and see if you could step away from your current employer and provide services to your own clients. If your blog is in a niche that aligns with your services, then you could successfully begin offering them through your blogging website.

Is Blogging Still Profitable in 2019
Please don't ever fall into the trap of thinking that blogging is dead! Is blogging still profitable in 2019, you bet it is!
Of course, if you haven't even started blogging, then you are on the ground floor. That being said beginning bloggers have a true advantage. They can blog about something DIFFERENT.
You may already know that blogging about money, parenting, food, travel, or even blogging about blogging, can be very lucrative fields. They are also very SATURATED.
If you are planning to blog about any of those topics, then you will run into some fierce competition. Let me tell you, these bloggers have been in for the long run and know what they are doing. It's fine if that's what you want to blog about, BUT if you could blog about something different then you may have a true advantage.
If you pick a different niche, then it gives you the advantage to rule the field.

Why become an influencer on Instagram?
Let me share the perks! We know Instagram is the leading platform for Influencers right now. You can get Free products! Working from home! Getting paid to post on social media! Stay in fancy hotels! Go to fashion shows! Traveling the world! These are just a few of the perks that come from being an influencer.
So what is an influencer? Well, it's not an official job title and there are no "rules" for being an influencer. If you have an audience and the power to influence their decisions, you're an influencer.
And you don't need hundreds of thousands of followers. Micro-influencers can absolutely be as successful as macro influencers! If you have a few thousands followers that know, like, and trust you, you can make a living as an influencer.
Think about how often you purchase something or go somewhere because a friend recommended it to you. Word of mouth advertising is as powerful, if not more powerful, than ever. People have become increasingly aware of the manipulation that is involved with advertising and the media and are relying more on personal recommendations from people they trust.
If you have passion and a blog or Instagram account, you can get started as an influencer today. Unfortunately, the market is much more saturated with influencers than it was just a few years ago, so you need to be able to show a brand why they should work with you over another influencer.
The key to success as an influencer is to create great content. If you can create some awesome content, figure out a great marketing strategy, and be consistent, you can monetize your passion. Who wouldn't want that??
The steps of becoming an influencer today is simple Just purchase my book to find out!

The truth about being an Influencer
The life of a social media influencer may seem to be extravagant and luxurious but it's not easy to road to build a large and engaging audience. It requires a lot of patience, determination and large investment in time and money. The main struggles many aspiring influencers face when getting started are growing and monetizing channels, and creating consistent content. 



---
Answering burning ? questions about I Can be an Influencer/Blogger
WHO IS THIS EBOOK FOR?
I CAN BE AN INFLUENCER/BLOGGER is perfect for you if:
You already have an Instagram and want to improve engagement it provides you with 5-12 ways to improve likes, comments, and shares.
You want to become an Influencer, and you want to work with brands on Instagram. If you want to become an expert in your niche or grow your online visibility, get dream gigs or more collaborations, this is ideal for you.
You are a NEW blogger looking to launch a blog but you don't know what to name your website and which niche will be profitable for you — all of this is in Module 5.
You already have a blog, but it's not doing so hot and you need some help coming up with strategies to market it, generate massive blog traffic and monetize it. (The 8th module is all about that!)
You know everything above but still can't rank in Google search properly through keywords and other practices.
However, this eBook is NOT for you if:
You are not willing to put in the work to build and be patient in your niche to succeed.

You're obsessed with being an Insa famous.

You're just interested in getting free products
WHAT IF I'M A TERRIBLE WRITER?
You don't have to be a "trained" writer to be able to have a blog. The 7th module of I can be an Influencer walks you through how to come up with an idea for a blog post, how to outline it, write it, and then edit it and improve it.
So even if you've never written a Google ranking blog post that has over 1,000 words, the ebook walks you through the entire process. By the end of the seventh module you will feel like an actual writer, I promise!
I WANT TO MAKE A STEADY INCOME FROM BOTH MY BLOG AND INSTAGRAM, WILL THE BOOK HELP WITH THAT?
Yes! Not only do I show you my exact 8 steps process to pitch to your favorite brands I provide you 16 pitch templates to get you started for free. And I will be giving you ways of how to monetize your blog using ads and affiliate marketing with every newbie details that you'll need.
WHAT'S INSIDE THE COURSE?
ICBIB is formed out of 8 main modules:
Module 1: Instagram set up, Identifying profitable niche & Optimizing account
Module 2: Content creation & Audience attraction
Module 3: Ways to monetize & providing Influencer Networks
Module 4: Ultimate Pitch Guide
Module 5: Consistency Tips on how to stay inspired
Module 6: Blog set up The Importance of Consistent Branding, Website & Marketing Tutorials & Hardware & Software Recommendations
Module 7: SEO & Create a Viral Blog Post
Module 8: Increasing Sales & Passive Income Strategies

In total there are 140+ pages filled with information you can't deny you'll learn from by the time you're finished reading.
WHAT BONUSES ARE INCLUDED WITH THE COURSE?
Here are just a few of the bonuses and supporting materials you will receive if you enroll in the Ebook:
The Ultimate Pitch – Providing you with 16 Pitch templates from the niches beauty, fashion, lifestyle, motherhood, travel, etc. (Worth $25)
Blog Topics: Providing you with 300+ Blog and YouTube Titles for ever-green posts. (Worth $12)
Social Media Hashtags – Providing you with 500+ hashtags to enhance organic traffic your social media posts. (Worth $10)
Influencer networks – Providing my favorite Networks across the world (U.S.A, U.K, South Africa, South Asia, Indonesia, etc.) (Worth $30)
And the best part? You get access to all of this, 24/7 customer support, for only $39.99
>> YES, I WANT ACCESS TO $500 WORTH IN TRAINING + BONUSES!
HOW MUCH DOES ICBIB + ALL THE BONUSES COST?
This Ebook, alongside all the bonuses that I've included, is worth over $500. But when you purchase before August 30th, you can have it all for only $39.99 now it's $20.00.
(Other Influencer courses cost anywhere from $200 to $1,000. Ouch…)
And, if you're reading this email carefully right now, you can have an additional $19.99 off, if you use the code "BLOGVERSARY" at the checkout.
After August 30, the doors will be open to purchase all year round, but the price goes up to $39.99. So if you're sure this book is for you, don't wait!
WILL THIS EBOOK GUARANTEE THAT MY BLOG IS GOING TO BE PROFITABLE?
Nothing is guaranteed by purchasing an eBook course alone. All outcomes depend on your personal efforts.
However, this eBook does supply you with everything you need to take MASSIVE ACTION and takes away all potential excuses.
From teaching you how to validate your idea, and target your niche your blog before you launch it to make sure that your audience is actually going to view it, to teach you my best strategies for marketing it and making consistent engagement, collaborations, and traffic, ICBIB is going to save you a lot of wasted time (and money!).
Not to mention that it took me over 4 years and 2 failed blogs to perfect this framework. And at that time, I made a lot of mistakes. Mistakes that I don't want you to make.
Mistakes that you can avoid when you enroll in ICBIB. So instead of having to take the long road (the one full of setbacks, dead ends, and frustrated tears when your Instagram and blog is not growing, you get to take a shortcut to profit from a new blog the right way the first time around.
And that's why I'm so passionate about this book!
I'm telling you, these bloggers and influencers are going to change the world, one eBook at a time! And I want you to be one of them!
I created an affiliate program for you babes to join to make some money with yours truly "ME" LOL
STILL NOT CONVINCED? GRAB MY $FREE INSTAGRAM WORKBOOK — This will steer you in the direction you plan to go in 24 hours.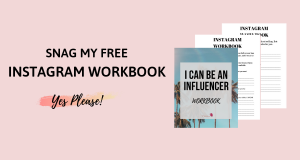 ---

P I N FOR L A T E R