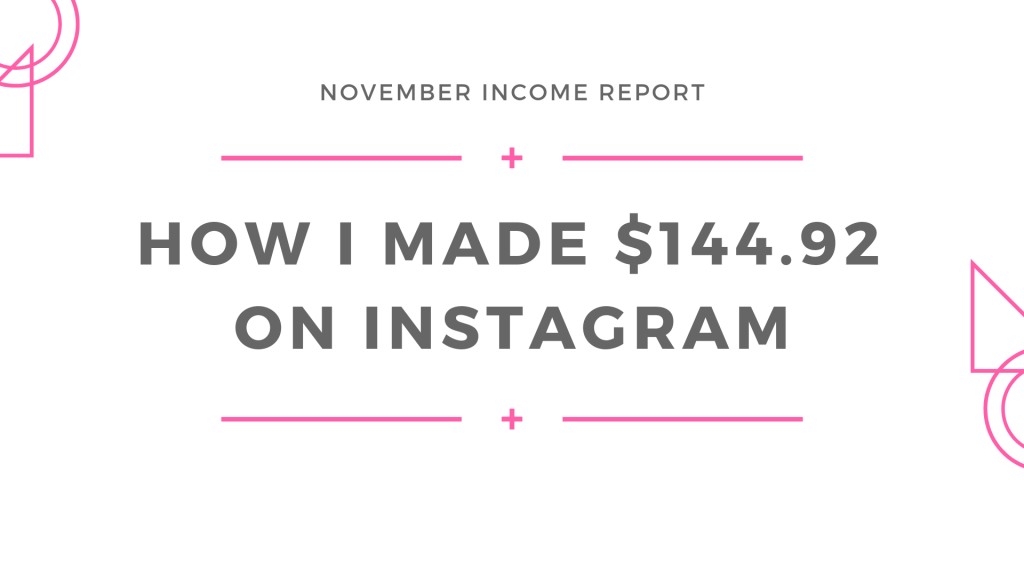 Hey Dolls
I've decided to do an income report for November because I've been asked numerous times "How do I get free things using instagram?" This post is somewhat not about the free things it's about the money I gain. Although the items I'm getting is worth more the money but bills gotta pay some how right?
I made $144.92 USD on Instagram for the month of November!
This is the most I've gain since I start taking Instagram serious money wise, I get a lot of free things in exchange for a post.
Disclosure: This post contains affiliate links (meaning I will get a small commission if you buy through my link). You won't pay any more if you use this link. And I only promote products I truly believe in!
Now how did I make that money on I

nstagram?
I joined some influencer companies and boy it was not easy finding some trust worthy ones that will actually pay for your work. I'm not fortunate like the famous Instagram girls that can get companies to come to them I have to find companies to get paid. Most influencers I know don't do product exchange they do PAY UP AND GIMMIE THE PRODUCT! I on the other hand have to choose I cant get both and that sucks…. So, Lets break down my income
Heartbeat.co

– $116
Dealspotr – $18.32
Amazon review – $5

Brandbassador

– $5.60
These are the top 4 companies that helped me gain in November especially Heartbeat company (I love them so much). Dont get me wrong I've signed up with numerous companies and all they do pay is me cents or I don't get pay at all because of my following. This ongoing thing with social media where you need 5k+ to actually get paid is stupid if you ask me.
Majority of my post are worth more than $50 because of the insights but hey every website has their own way of showing you how much your posts worth.
I something use this website to see how much my post is worth: The Instagram Calculator . If you want details on paying influencer companies and learn how to master this influencer world sign up for this free guide!
A question everybody ask on google
How many followers do you need for Instagram to pay you?
As you can see I am no expert in how to gain followers on instagram but I can tell you to score some big bucks you gotta have K followers. 1000 followers is the minimum of gain anything near to dollars, I have 4.8k right now and it's not even good enough for brands to work with me but HEY I still manage to get dollars more than cents with some of these companies.
How much can you make off Instagram?
You can make millions off Instagram with the right strategies. By strategies I mean how do you go about instagramming.. Is that a word? Idk lets add it to the urban dictionary lol. All I'm saying is your insights must be good
Your followers; age, location, gender..
Your content; What do you post about? …
Your activity; how do your fans react to your content
When you work on all of these then your life would be great! Me on the other hand still trying to be great. My Audience is mostly males 57% at that I'm trying so hard to get the females to over power them. I spend 2-4 hours a day on Instagram commenting on beauty and fashion lovers posts so I could boost my female interactions. Out of that 57% they're not even beauty or fashion males they're all musicians and comedians I don't how I got here but I did and I'm working on it to be better.
To see all this you need a business account for Instagram It will help you so much to see where you're at and where you should go. Typing this makes me excited because I'm actually working on an E-Course on Influencer Marketing to give you dolls the insight of how life is in the Influencer world.
January 2019 will be the release time I pray to God it works out if you want to be the fist to receive all this info sign up here!
My Expenses
Lets talk about my expense because it's not all crystals and butterflies. You might already know my blog and instagram are my primary social platforms so whatever I earn from instagram goes to my blog. What do you think about my blog is it smooth and clean with concise info? Yes? No? Maybe? the hard work behind the scene got it that way. So my expenses:
IONOS

-$15.17 Renewal of my domain (niquewallace1.com)

Siteground

– $91.50 I switched 1and1 hosting to them after a year of using.
Tailwind – $14.99 To get my Pinterest viewers to come over to my blog
Want to be a blogger and build your website?
You can use so much companies but my first company that held me down for turning my blog into a business was IONOS formerly known as 1and1 I paid $11.99 for 1 year for a domain and Hosting? How? I have no clue. They were having promotions and like right now their having a christmas one so for being a beginner and want to step in the blogging world you can start out for cheap. It's now $12 flat for 1 year! the extra $3 is if you want them to manage your website, which you don't need. If you need the extra things you can definitely add them.
If your stuck in the beginner world and want to branch out you can use siteground they are more advanced and have a 24/7 staff to help if you are lost to the world like I was lol. I tormented them for a week straight I know every customer care and tech they have lmfao and I am not ashamed I needed help!.
I just got started with Pinterest I should have months ago but I never believe it could work because I was stubborn and cheap. The day it hit jackpot for me I gave Tailwind my money because I wanted more results. I went from 80 followers to 133 followers in 2 weeks with Pinterest and hit a 100+ views on my blog.
Suggested: Advice for New Bloggers
Still not understanding and want me to provide you 1 on 1 info or create a website for you shot me a email $$
SO, WHY DO I CHOOSE TO PUBLISH INCOME REPORTS?
I personally love reading income reports from other bloggers. There is so much information in them and it always provides me with new monetization ideas. Not to mention, it's super inspirational! It gives me the feeling that I can do this blogging and Instagram thing and be really successful at it if possible!
Although my income reports are very small compared to other influencers, my intent of publishing them from the very first month I started making any kind of money was to be as transparent as possible and make the road to blogging for money clear from the very beginning. Sometimes I read income reports that are reporting $100,000 per month and I'm like, "but HOW did that happen?!" And I look through the other income reports on that blog to still be left confused on how they're making so much money. I don't want that to happen when reading my income reports. I hope they provide you with a clear understanding of how I started to make money from Day 1.
Also, through sharing my income reports, I want you to know that I'm here with you and here for you! I am by no means an expert at this and I'm making mistakes every single day trying to figure this shit out. BUT, I'm learning each day and I want to share that with you! If you are new with Instagram or you've had a blog for a while but you're now thinking of monetizing it, I'm in the same boat as you are! We're in this together.
My New Years Resolution… 2019 Manifestation
In 2019 I want to make it my utmost duty that I have real genuine people who wants to follow me because of my work. I know I'm at 4.8k followers right now but a home stretch of 10k for summer and 100k by the end of 2019. I know I can do it if I put my mind to it because I believe I have good content and even more to provide.
I want to work with Top-Notch brands like OG MAC, Kylie Cosmetics, Fenty beauty, KKW for fashion Gucci, Versace, Puma, Adidas, etc.  definitely work with more black owned companies too!
I'm going to try my best to be active on Instagram starting January 2019. I definitely also want to increase my Instagram post rate so I could make more coins than just $100 for a whole month.
Should I do a blog post on How To Get Free Products from Brands? Comment down below
If you liked this post, feel free to PIN IT and share!