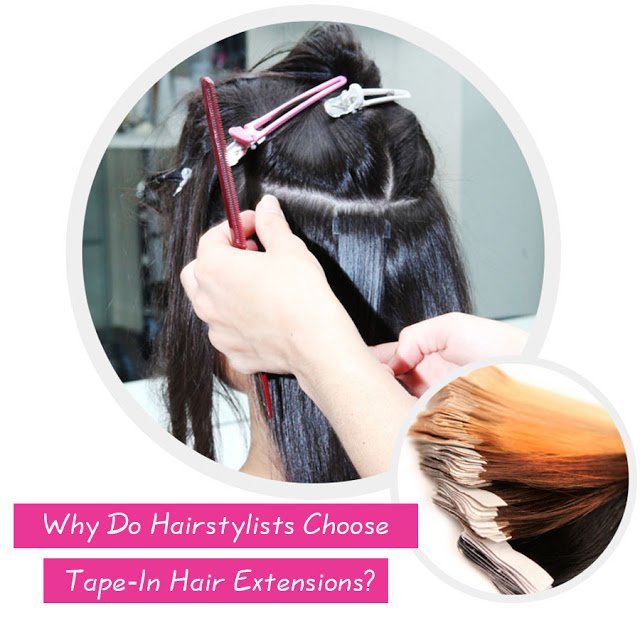 Hey Loves! 
Today I'll be collaborating with Best Hair Store to learn some awesome information about Tape-In Hair Extensions.
If you are new to hair extensions and trying to select the best type, doesn't it make sense to go with the method preferred by a majority of hair stylists? There are a number of reasons why tape-in type hair extensions are the method chosen time and time again by professional hairstylists. Here are just a few of those reasons.

1) The application is easy. Tape-in hair extensions are easy to install. There are no tools required, except perhaps one-sided tape (more about this later). The tape-in hair extensions come in different sizes and lengths for a perfect application. Narrower pieces can be used to fill in around the hairline where the natural hair is finer and thinner; these smaller pieces can also be added to the crown for invisible addition of volume and fullness. The application is painless and takes less time than many other hair extension methods.
2) The cost is lower than other methods. When purchasing hair extensions, cost is always a factor. With tape-in extensions you get more for your money. Why? The tape-in extensions have the unique characteristic of flexibility in the application. They can be applied by using two of the pieces per section of natural hair for a bulkier look and feel; they can also be used in single pieces per section of natural hair, and sealed off with one-sided tape. This effectively doubles the use of the hair that you buy, leaving you with extra for future applications. It also allows you to spread the hair out more evenly over the head for a very natural look and feel. When you have them installed professionally, it doesn't take your stylist as long to put them in, which also saves you money.
3) They are the least damaging method. Tape-in hair extensions, when taken care of properly, cause virtually no damage to the natural hair. Normal shedding continues to occur during wear of any hair extension, so don't panic when they are removed and you see all the hair that was shed that couldn't get out because of the extensions. You will see that your own natural hair is still very much intact. The way to make sure to get the least damage out of this or any hair extension method is to maintain them properly during wear. We will cover those points at the end of this article.
4) Tape-in hair extensions are long lasting. Because the tape-in hair extensions sit very flat to the head, they present as a much easier way to style the hair, and they look exceptionally natural. If you are gentle in your handling of them, they will last you longer than other methods. As with any other hair extension application, care should be taken when using hot tools and in detangling them.
5) Tape-in extensions are more comfortable. The tape-in method of hair extensions is very comfortable to wear. You hardly feel like you have them on! The tape itself is very fine, it is color matched at the top so it goes completely undetected, and there are no bumps and bulges to annoy you. They are comfortable to sleep in, and no one needs to know you're wearing them if you don't want them to! They are especially suited for fine and/or thin hair, as they are well hidden.
6) There are many color options to choose from. Tape-in hair extensions are quite versatile in the colors you can choose. You can add lighter pieces for a highlighted look; you can choose Ombre options in any color you like; you can add fun colors for a special event; there are many ways to customize color with the tape-in method. As a result, you will save time, money and damage to your natural hair by using the extensions to explore your color desires! Gone are the days of having to color your hair, only to damage it further when you want to change colors. With the tape-ins you'll never get bored with your color.
Use this handy checklist to make your tape-in hair extension experience the best it can be:
1. Talk with your stylist about tape-in extensions and their advantages
2. Consult on the color option that works best for you, have fun with it!
3. Determine what length of hair extensions will suit you best, consider purchasing a bit longer than you want, to allow for trimming the hair
4. Consider going with the single-sided tape application, as this will automatically double the amount of hair you buy, and will give you better coverage of hair on your head
5. Have your natural hair colored first if you want to match the extensions to it. It's not advisable nor necessary to color the hair extensions, as there are many colors available. If the color doesn't work out right, you've lost your money; hair extensions cannot be returned if colored.
6. Take care when brushing or combing the extensions, don't pull or rip at them. Hold hair at the top and work downward.
7. Use the proper shampoo and conditioner recommended by your stylist. While conditioner is on in the shower, comb through the hair thoroughly before rinsing.
8. Never sleep in wet hair unless it is pulled into a firm pony tail or braid. Doing otherwise can knot the hair and make it painful and/or impossible to get out.
9. Take care with hot tools, especially at the top where the tape is applied. Too much heat can dry out and damage the tape area, causing the extensions to release/slip. Use protective products to guard against heat damage from irons and other hot tools.
10. Don't wait too long to get back to your stylist for a re-application. Letting extensions go too long in between visits is a no-no. Not only do they start to look bad, they can do unnecessary damage to your natural hair by tangling and/or matting. Consult with your stylist on the expected time frame for re-application. Much of this depends on how fast your hair grows and how well you maintain the extensions in between salon visits.
If you do your homework and get the tape-in extensions that are right for you in color, length and density, you will be most pleased with this type of extension. Cheers to your new look!!