Can you dye synthetic wigs?
Some you might already know I sold wigs in the past and most were Premium fiber. I get asked religiously if the wigs can bleach and dye? To my knowledge the wigs can dye but not bleach.
Just to point out Synthetic (cosplay) wigs I'll never recommend to anyone don't waste your money. As you know by now I wear a lot wigs and there all premium fiber wigs (20% human 80% synthetic can take up to 400 degrees). 
I've run some tests on the wigs and well I've realized I can dye the wigs 5 ways and that's what I'm going to share with you today.
I recommend the color blonde (613) it's the easiest to change color. Please stay away from white clothing when doing any of these because your clothing will mess up big time. You have been warned.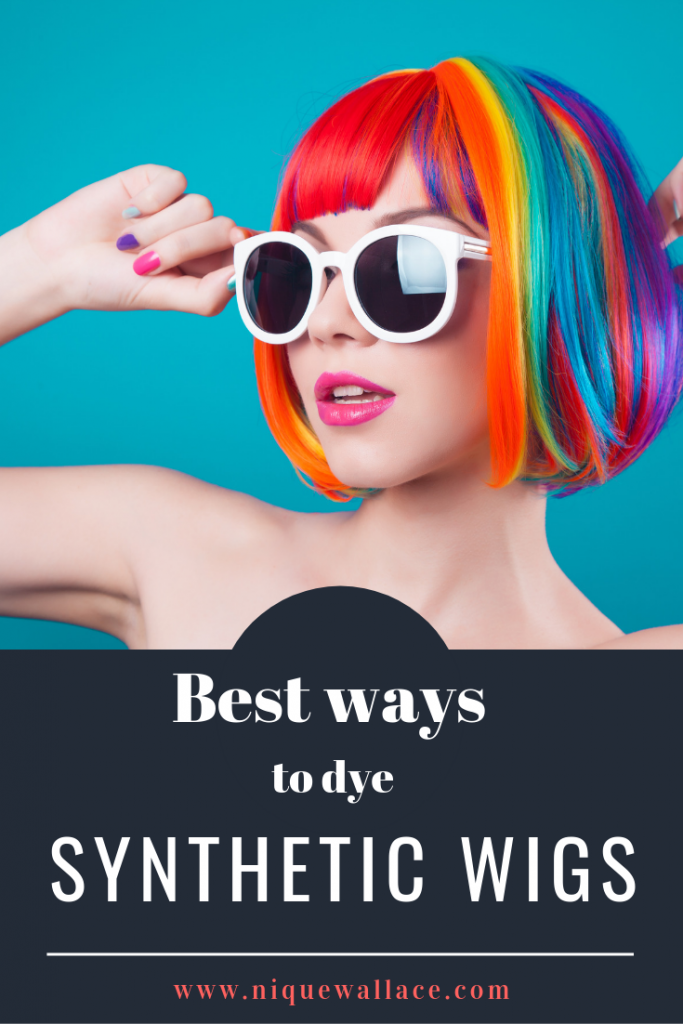 For the first way products I use to die a synthetic wig is: 
1. Eyeshadows 
I bet y'all didn't know this, I learned this from itsmyrayeraye back when YouTube was creative and fun not generic like it is right now. Anyways, Yes you can use your old eyeshadow palette that's maybe couple years old and gentle twirl the hair in the eyeshadow pans until you see the curl of your desire.
I mostly did this to my black (#2 – #4) wigs because the colors come out better than doing it with a blonde wig (#27, #30 & #613). The eyeshadow will only last for the day.
2. Lipstick 
Don't be so surprised it's almost the same way you use the eyeshadow but this way is time consuming. I personal prefer the creme stick lipstick, some use the lipstick palettes, the sticks are easier to twirl up on but also easy to break if you wrap the hair too tight. I don't recommend doing your full hair just apply it on streaks or the ends. 
I'll stay away from liquid lipsticks they're too messy. Lip stains can be used because it will stay on the hair a little longer than the rest of lip products. 
My favorites are red and purple lipsticks they show way better on both black and blonde hair.
3. Permanent Maker (preferably a sharpie)
I am sure you know this one. Permanent markers have proof to be the second best result with dying blonde (#613) premium fiber wigs. Now I'm going to share how to dye synthetic wigs with sharpie permanent marker it's pretty easy.
Products you'll need:
Of course a blonde wig
Most definitely the 3-6 markers
Conditioner
Pot & water
Instructions to get it done:
Start boiling the water on the stove for 10-15 minutes
Get the sharpie burst the marker open until you see the ink stick.
Take out the ink stick remove the coat on it.
Place the naked ink stick inside the boiling water.
Wait until the water changes color then you add the wig.
You can turn off the stove if you wish but I prefer the pot boiling.
I go ahead and add conditioner to the water you can do it after the wig absorbs the color.
Once the color is properly absorbed you can take the wig out of the water and let it dry.
Once dry style as usually.
Bare in mind the color of the wig may not come out rich as how the marker will be when writing on a piece of paper. You'll get more of pastel colored wig.
4. Real human hair dye 
There's multiple dyes out there the temporary and the permanent ones. Here's the funny part about this I never thought this could work because its a synthetic wig and the dye is for human hair. Well to my surprised this bad boy did the job on my curly blonde wig. I have Instagram posts too ha! 
So all I did was put my wig on a plastic bag and spray the temporary dye on it and boom it stayed on for the day. No mess up maybe on my hands but it could easily wash off . I wouldn't recommend wearing a color shirt when doing the because the wig may mess it up being rubbing against your neck.
 

 

View this post on Instagram

 

Hello Kitty #nailsby @_tashinailzworld ??

 

 

View this post on Instagram

 

That's because she's HAPPY ??? • • • • #niquewallace #bbloggers #newpost #beautylover #bloglovin #caribbeanblogger #makeupmess #newblogger #sunkissed #beautygram #naturallyshesdope #beautybloggers #jamaican #igbeauty #beautycommunity #motn #ausbeautybabes #beautystuff #igmakeup #hair2mesmerize #protectivestyles #beautyvlogger
5. Clothes dye 
The clothes dye gives the best results and it stays for couple weeks depending on how often you wear the wig. The same way the permanent marker method is done to get results you can use it for the clothes dye. OR you can simply mix the clothes dye with conditioner and place it on the hair. You don't need to use any conditioner if you don't wish to. I use the conditioner to get the to not be stiff, crunchy and all dried out. I prefer the wig with suitable fragrance and bit soft and pastel looking color.
Additionally, can synthetic wigs be dyed? some persons mention using tea bag, coffee and kool aid I've never receive good results using those on synthetic hair only on human hair/wigs.
What other ways have you dyed your synthetic wigs?