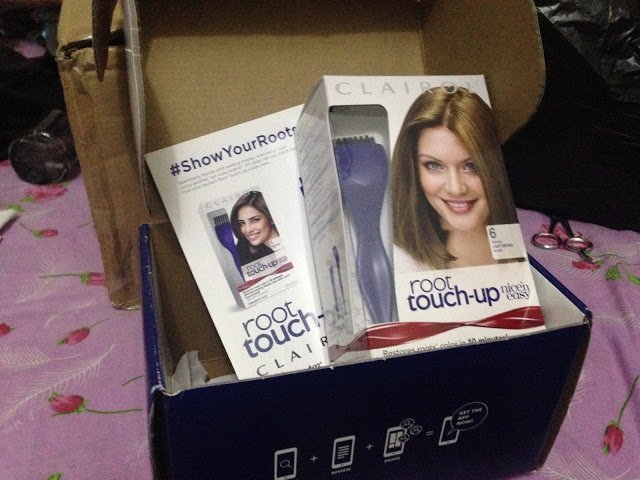 HEY DOLLS ♥
I received my new voxbox from influenster.  They teamed up with Clairol a hair product company. Just a funny story so I signed to another company to receive this same box and $70 to write a review but turns out the company couldn't send me the product because my address had problems and you know once you get a personal email saying blah blah the campaign is pretty much directed to you.
I was told so much stories that they're gonna try to fix my address problems lol they didn't they just took me out the campaign and I never gotten an email since moral of the store is has one door closes another one opens.

Lets jump into the review
I received light brown in the Clairol Root touch-up Nice' n easy. On the box it states it "restores roots' colour in 10 minutes. Matching leading shade even salon, guaranteed." It also gave questions and answers on the box
Question 1: Why is root touch right for me?
Answer 1: Root touch-up is specifically designed to target new roots and greys with beautiful colour for a seamless finish, in just 10 minutes between colourings.
Question 2: Will it match my shade and brand?
Answer 2: Clairol Root unique colour match root Creme mixture contains a blend of tones to match leading permanent shades.
However, I received this with the wrong colour my hair is black at the roots and ends a bit light brown mainly because I had my hair bleached for 6 months then dyed it blue-black for 4 months and the blue-black has worn out leaving the ends light brown. So, the product was definitely best for my ends than roots.
As stubborn as I am I was told not to use the root touch up on ends because it was solely made for roots but for real though I thought it was saying for roots only. Well you put the harsh products there like for instance the shampoo its made for the roots to clean the roots because we know conditioner cant clean roots it only clogs. It so I therefore had it in my thought that the dye was going to damage my ends.
Thoughts on Product
Although I just wanted to try it because it was sent to me to test. I tried it alright but on my ends for 10-15mins, I honestly hated the scent I AM VERY SORRY I HAVE NO PICTURES OF HOW THE PRODUCT LOOKED MIXED AND UNMIXED.
The result of my hair will be posted down below, the question all of you are actually waiting on it is does it work? Absolutely NOT my hair was the exact same but very soft after the dye was washed out. Would I recommend it? No not for roots in this shade!

Even though I've read several reviews of persons saying the light brown – dark brown doesn't work on scalp maybe just the black and blonde shade. I would list Pros and Cons but I got mostly cons.
Tell me what you think about this product have you used it before? Comment down below!