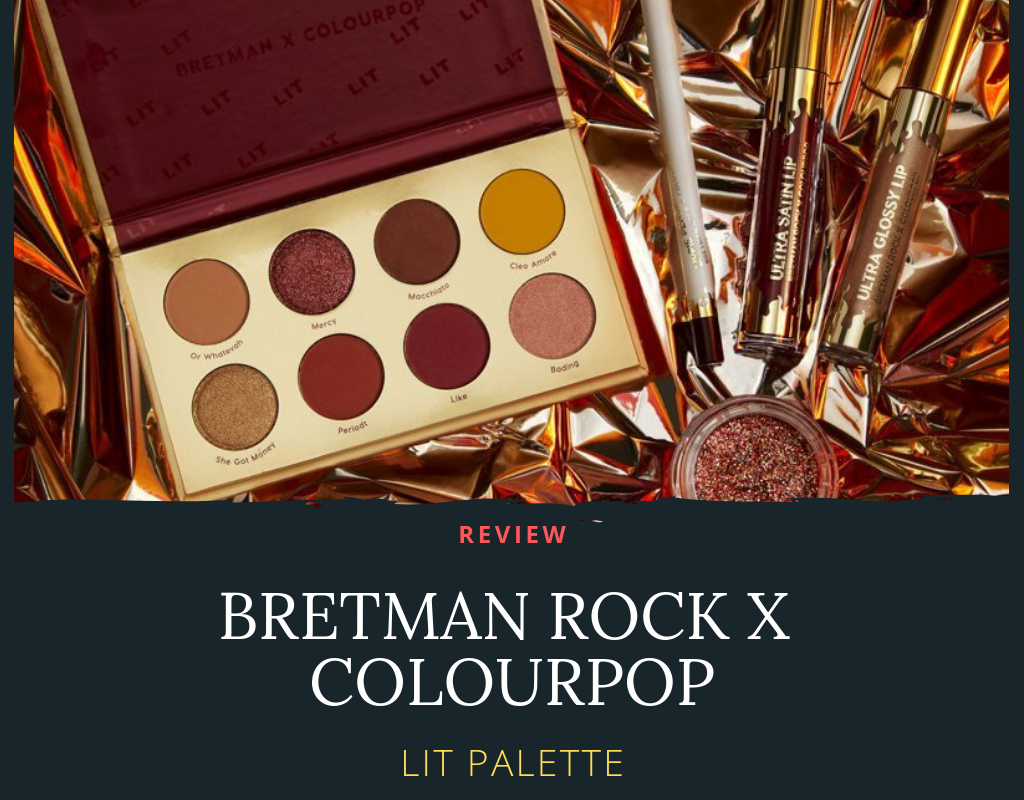 Hey Makeup lovers!
Today I'll be sharing with you BRETMAN ROCK X COLOURPOP COLLECTION. If you don't know Bretman Rock he's from Hawaii he's a Beauty and Fashion Influencer sometimes a comedian. He makes content for both Instagram and Youtube.
To be honest he's hilarious and non problematic never in the gossips of the Instagram and Youtube world. I love that Colourpop definitely made a good choice with this collaboration. If you don't know, Colourpop is The most inexpensive cosmetic brand ever made to provide you with good quality lippies just sayin.
So before we get into the review, Bretman did not just came out with one palette he came out with two "Lit (Red) and Wet (Blue)" both representing his country's flag. I was hesitant about the Wet palette because girl I don't like blue that much and to make it worst the palette is full of blue shades. So your girl went for the red where I can play around and be firey and litty Yassss lol .
Now on to the review
---
The names of the eyeshadows in Bretman Rock X Colourpop LIT Palette
---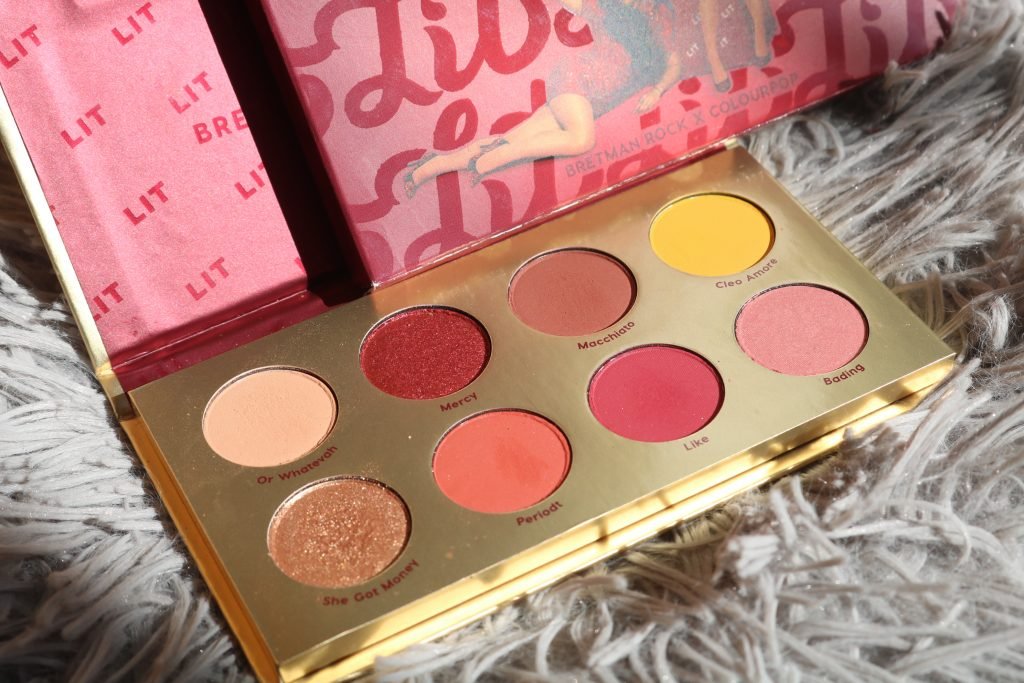 Now let's get familiar with the names in the palette, I find it funny he used some of his slangs in this let it feel more personal. The first shade is
1. Or Whatevah – It's a really light brown skin tone colour perfect for a transition shade on the eyes. Or watevah is a famous slang Bretman uses in all his videos and post it wouldn't be him without saying that lol She cute Or whatevah
2. The second shade is Mercy – Mercy is a burgandy shimmery shade with little red glitters.
3. The third shade is Macchiato – Macchiato is a dark brown matte shade looking a little like cocoa to be honest.
4. The fourth shade is Cleo Amore – Cleo Amore is a Yellow matte shade. This shade is name after is beautiful niece Cleo who worships lol.
5. The Fifth shade is She Got Money – This shade is shimmery gold with glitter.
6. The sixth shade is Periodt – This shade is a peachy tone shade first I thought it was orange than I thought it was pink so im sticking to the peach lol what do you think? This word was used so much in 2018 lol everyone and their mom was saying it tbh
7. The seventh shade is LIKE – Like is a burgundy matte shade! this is literally a common word used among everyone these days eg. like i wanna buy the collection like this is cute like it's so affordable
8. The eighth shade is BADING – This shade is a light pink shimmery shade with gold glitters.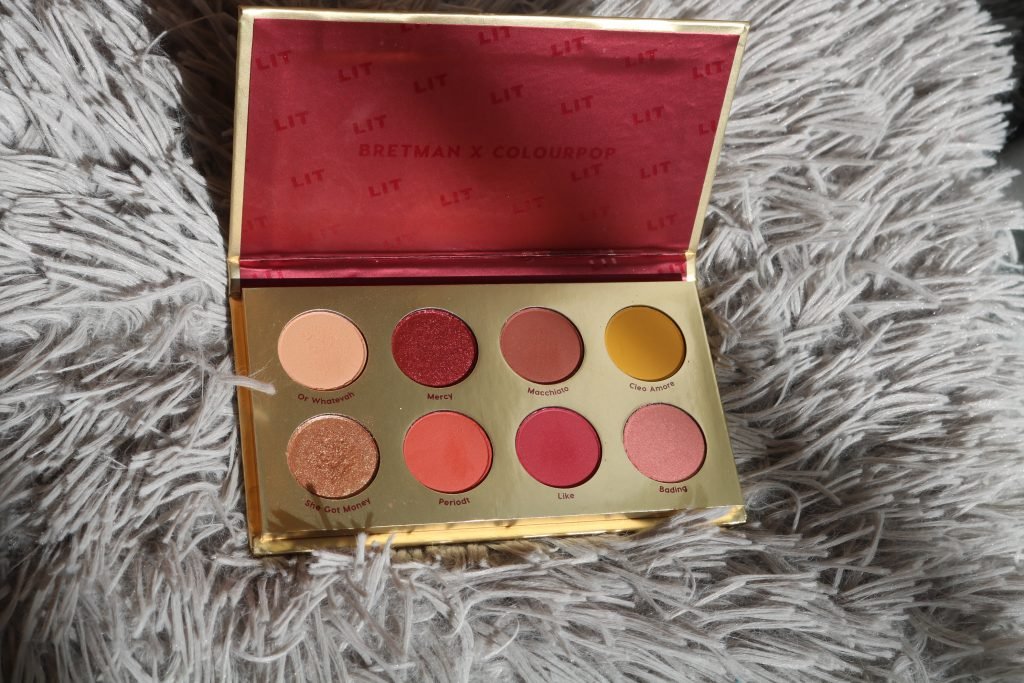 ---
The LIT PALETTE Swatches from Bretman Rock X Colourpop
---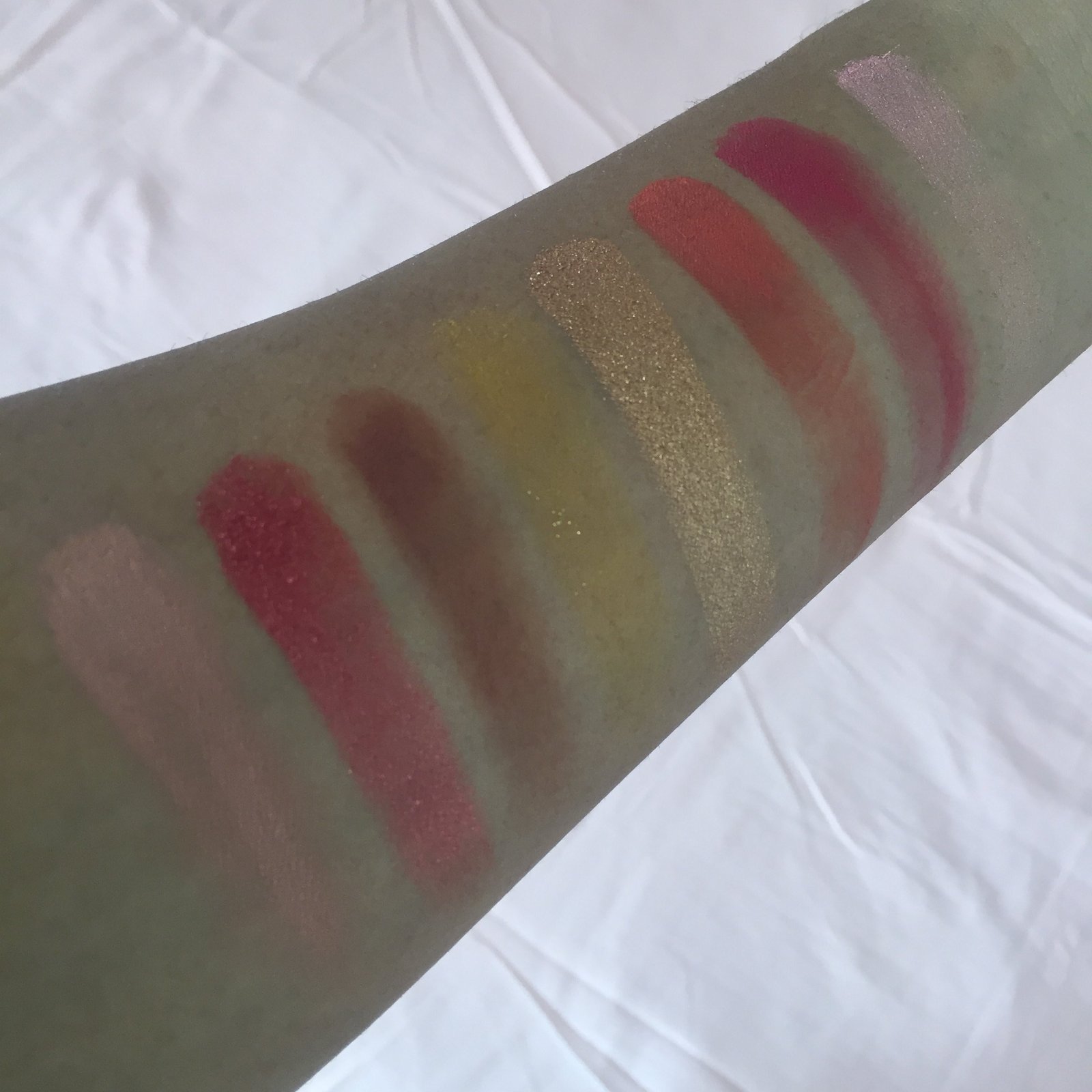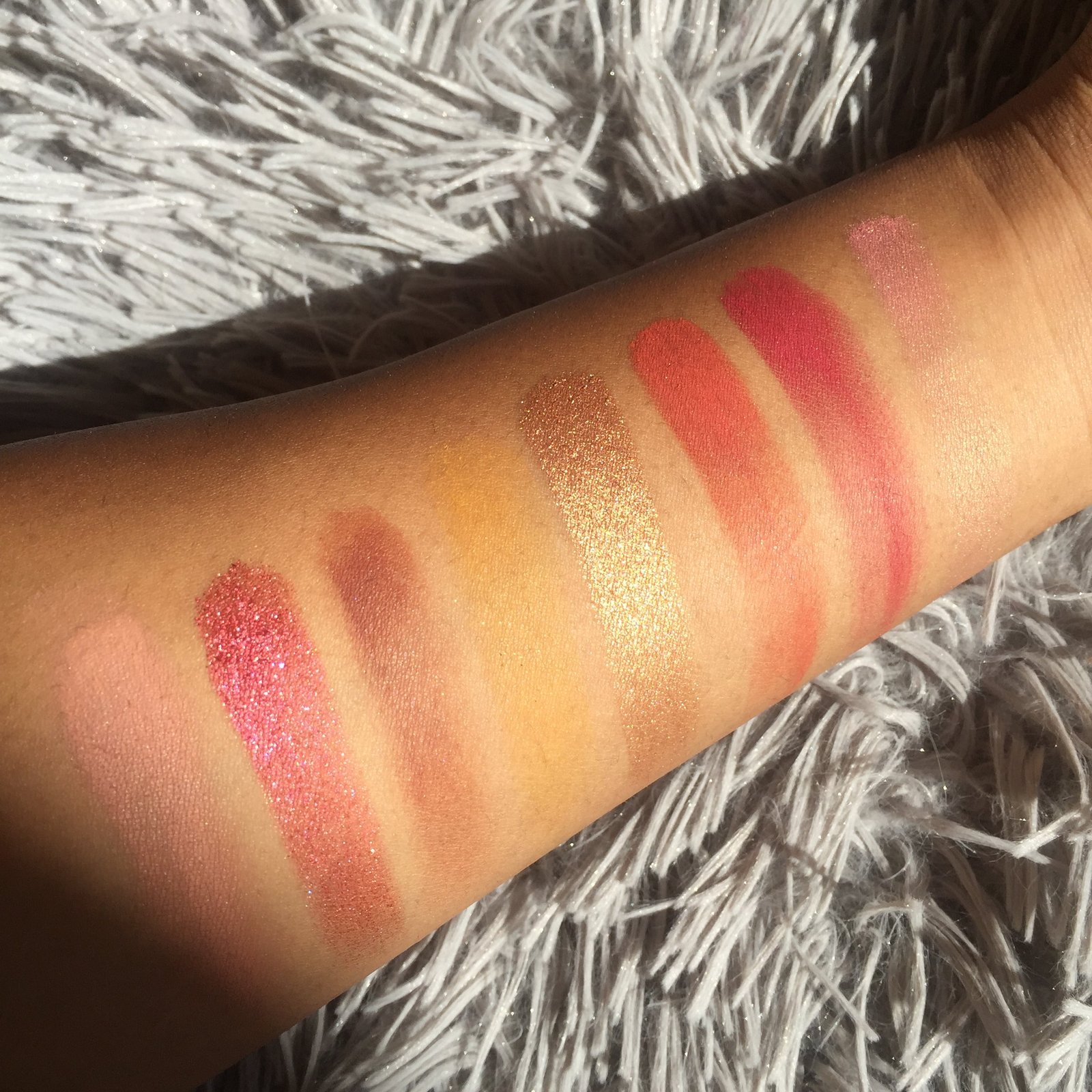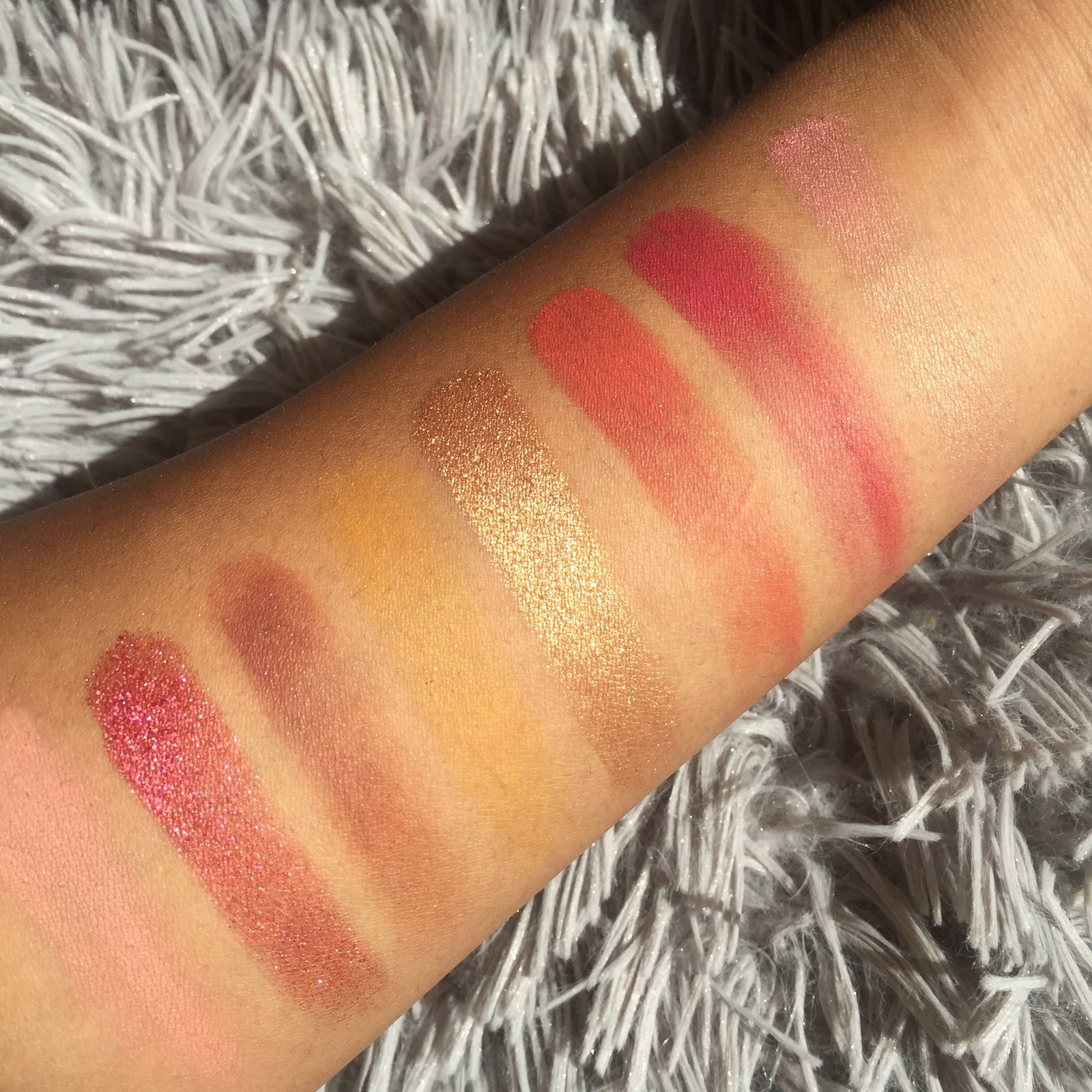 I couldn't do these swatches to save my life lol I don't know how these die hearted bloggers do it. Honestly their doing a really good job shout out to those beauty Gurus #respect. So your girl went and borrowed my sister's arm because I wanted to snap the pics like a Pro and well you can see the results.
The shades did not came out like how I wanted it to be completely honest. Inside with natural lights and outside with natural lights you can see on arm the Or watevah shade looks pink. All the other shades looks the same as described earlier except for Periodt looks orange on arm. I still believe its peach lol just sayin.
To get these swatches I had to wet my finger you can use water or Setting spray really don't matter. You wont get the full pigment if this is not done.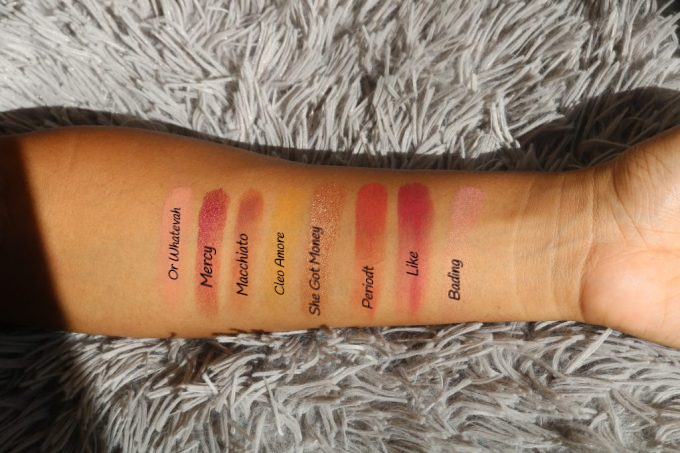 ---
REVIEW on LIT Palette
---
As you can see its eight (8) shades in the palette definitely travel worthy.
Listen I bought this on the Colourpop website itself no lipsticks or the glitter from the collection. Just to test the palette out to be completely honest it was worth my $12 and some change. At first when I tried the colours they were so dull then I played around a little to create a decent look and pulled out my new eye brushes from Zaful. They worked perfectly so I'm guessing good eye brushes are needed with setting spray to get awesome results.
I experience major fall out with LIKE and Macchiato. The dullest shade of them all is Cleo Amore I was so disappointed I expected more from it. Its is so beautiful in the palette it blends really thin pretty much my least favourite of them all. My favourite is definitely She Got Money because it so pigmented and its beautiful with its gold shimmer.
My runner up Favs are Mercy, Like, Macchiato and Period. I've been using them the most, Macchito or Like is used for my transition shade or I mix it up and use period. Mercy and She Got Money will always be the main focus on the lids.
Bading and Or whatevah is just there following Cleo Amore going on really thin on the lids.
---
The Packaging
---
Issa Pressed powder palette… Definitely to die for tbh Although I expected the palette to be a lot bigger in size. Before opening the palette I like the red pocket box its in having Bretman Rock looking like a Queen. More so, in the Lit collection photo, he poses in a mini red dress with a long, dark wig and tiara. I suppose the Lit palette was inspired by Miss Universe Phillipines.
Taking the palette out the red packet box I personally love the glittery effect in the writing LIT. The thought of the gold is cute, then you have his name and colourpop's at the bottom flip over the shade names at the back. Inside has no mirror bummer!
---
MAKEUP LOOKS
---
I create a bomb look with these drastic lashes I got from vivid.rose on Instagram. Giving you first and second attempts.
My New years Eve Look first
In these the four main shades I used was Or whatevah as transition then went in with Cleo Amore. Moved on to Periodt and like to darken it up in the crease. On lids I went with Bading first no pigment moved to Mercy and dropped a bomb. Added She go money in the inner corner of the eyes. Used like on bottom lid!
---
3 years anniversary with babe look!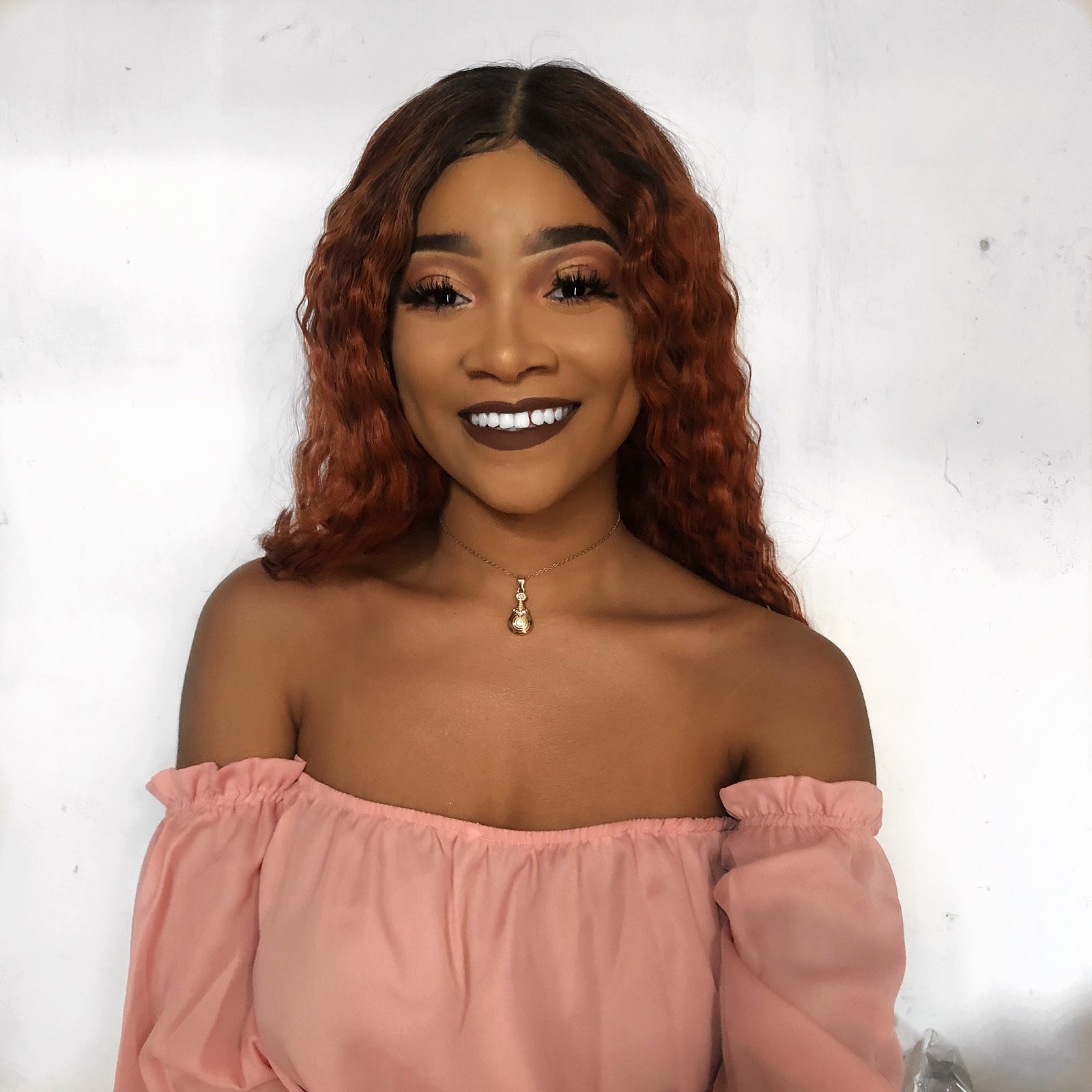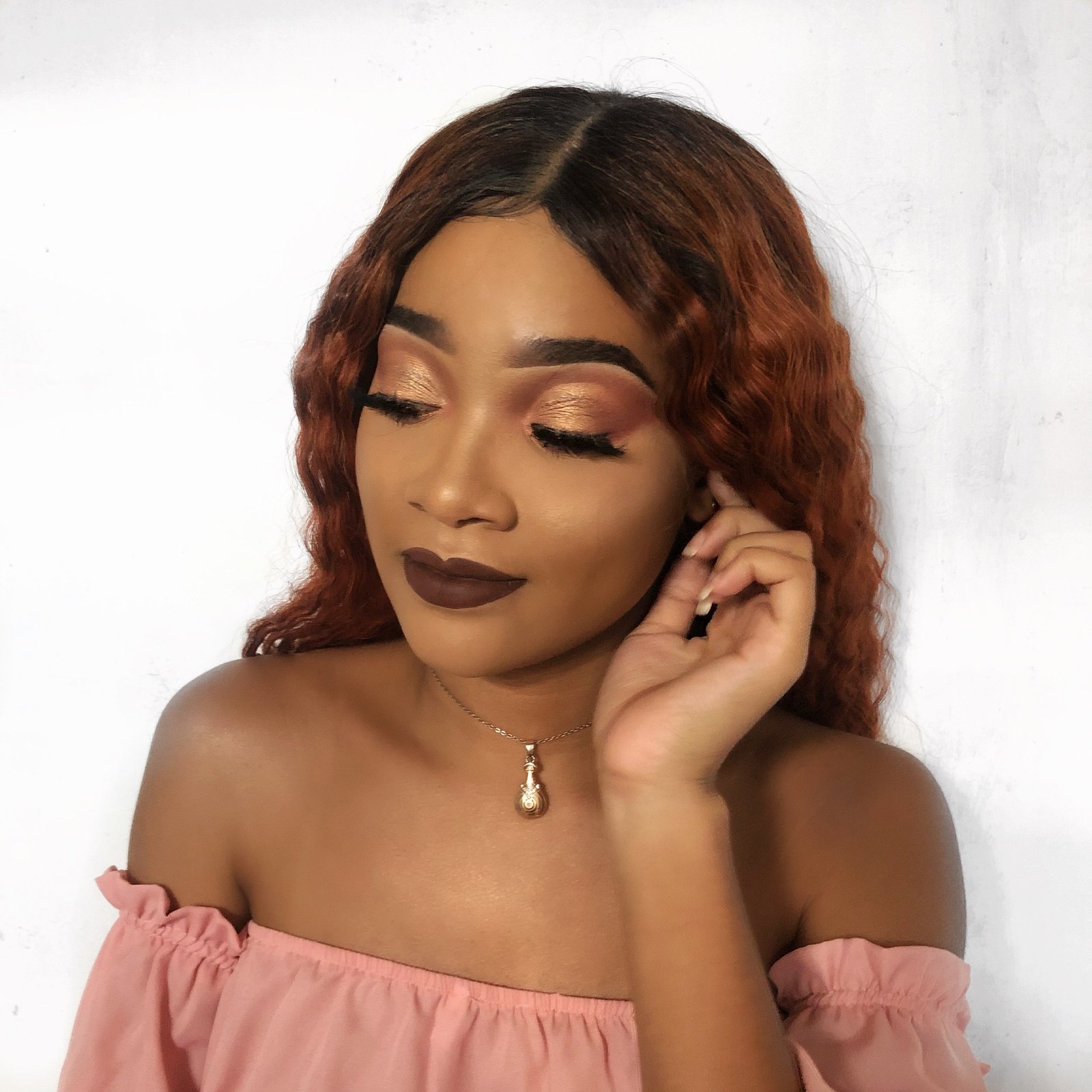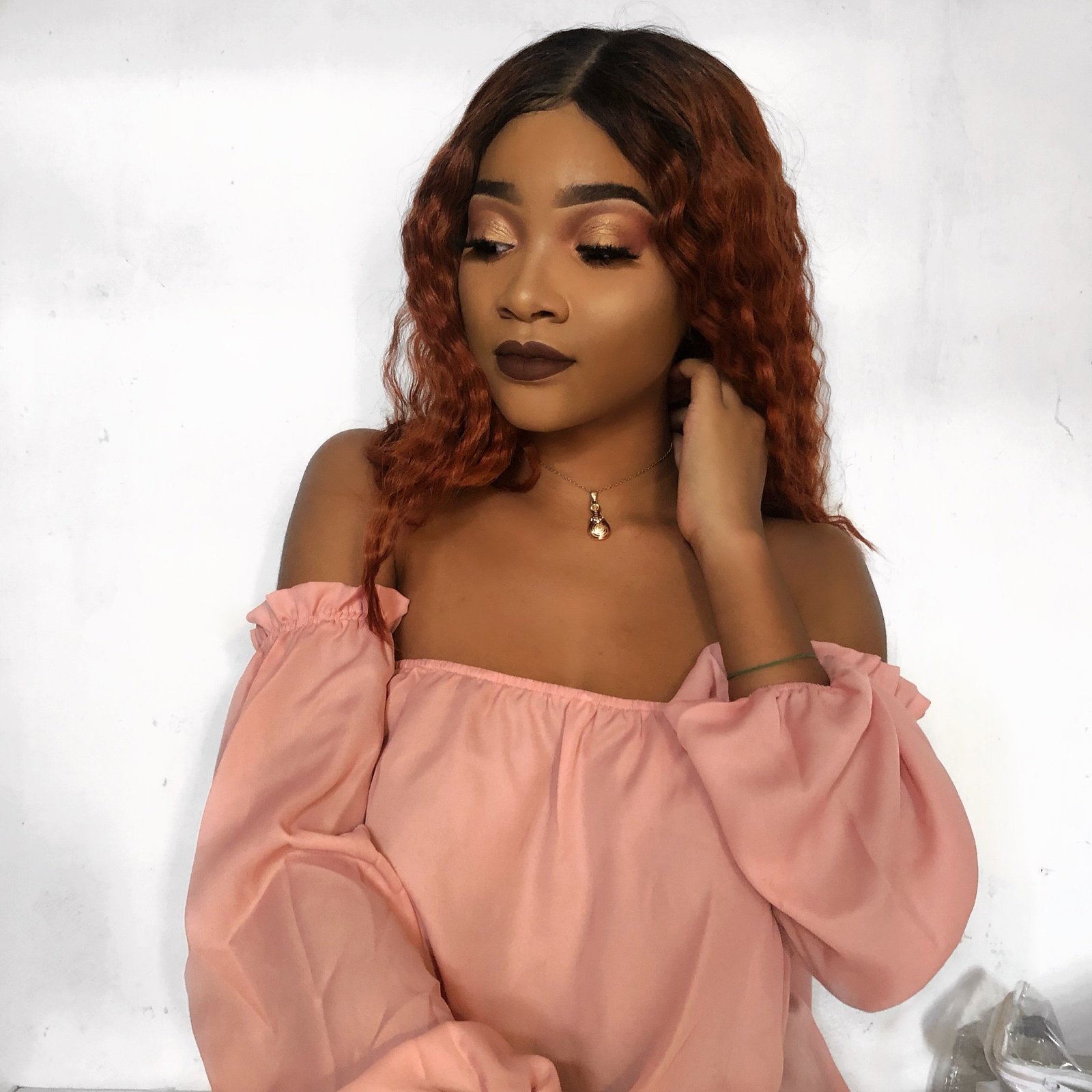 With this look I felt like a Pro lol jus kiddin but still my first ever cut crease and your girl did well 7/10 well. The lid a little crumbled because of the concealer on top without setting it. The shades that were used to accomplish this look was Cleo Amore for transition, Macchiato to darken the crease then added Like to give a red effect. Went on the cut crease with She got money and Bading in the inner crease of the eyes. Lower lid also had Like!
PROs
Lit palette is cheap af
Packaging bomb
5/8 shades not falling out
She got money for the win in shimmer shades
Like for the win in matte shades
Travel worthy
CONs
No mirror
Pigment is low on few
3/8 fall out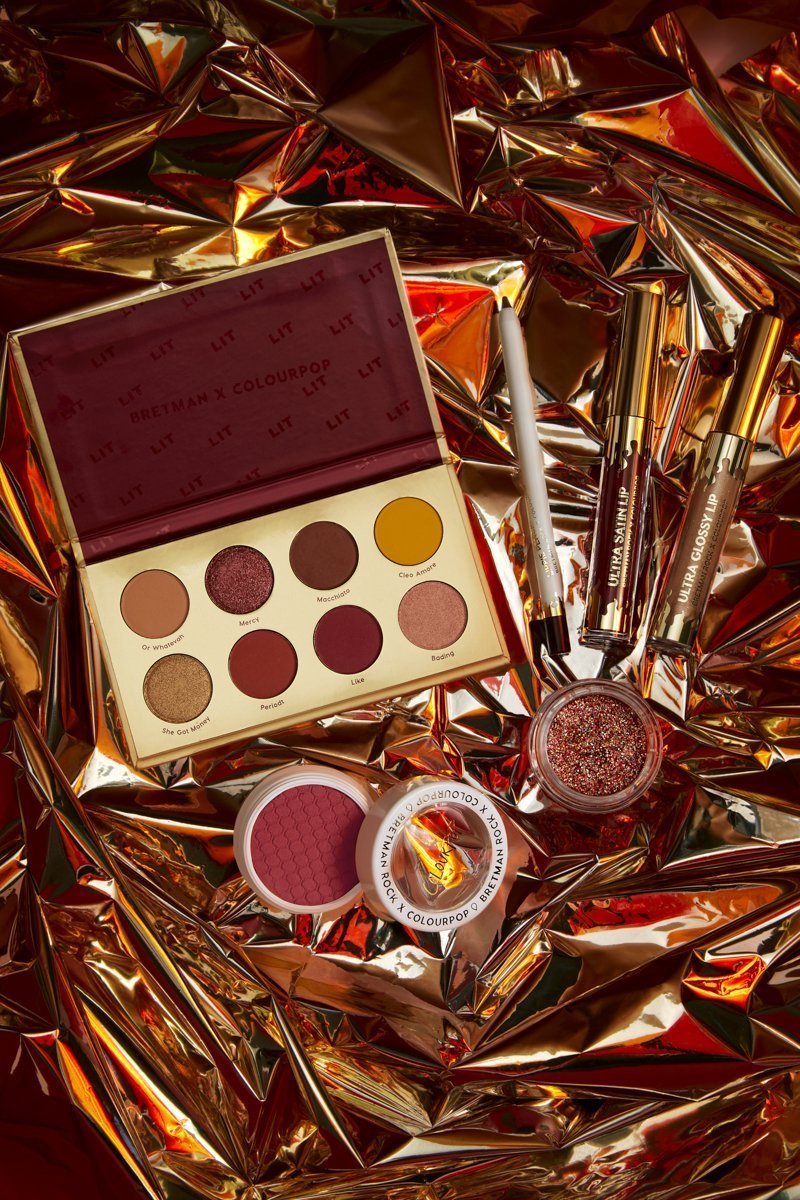 Now that we're at the end of this review whats your take on this palette is it worth it? Will you be purchasing it?