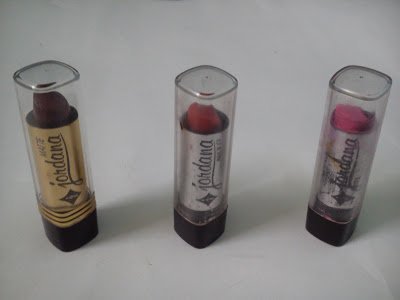 HEY Everyone!
Our favourite lipsticks from the brand Jordana Cosmetics.
Hand swatch

(

Shades:

17 bown, 007 True Red, 099 Pretty Pink)
007 True Red
17 Brown (Matte)
099 Pretty Pink
Has you guys may notice they're Jordana's first type of lipsticks pretty much means we have them for a good while now and still use them today. First let me tell you about Jordana cosmetics.
Jordana Cosmetics is a family-owned business headquartered in Los Angeles, California. For over 25 years, Jordana's philosophy has been to offer every woman/men the chance to experience superior quality, fashion forward cosmetics at extremely affordable prices. I should say these are some cheap AF lipsticks. They're just $1.69.
I'm an ultimate fan of drugstore products majority of them does the work more than the high end products. I'm totally a sucker for the 17 brown matte lipstick its more pigmented in person than in pictures. Its more creamy on smooth when applied on the lips one disadvantage though its not really matte its very weak in the area. I'm the queen of matte lipsticks and so far 17 brown is more glossy.
•
The 007 True Red give some coverage when applied to the lips with a coat of 3. But otherwise its glossy just as any other regular lipstick. its last for how long you want it as long as you don't eat
lol
now that's ridiculous everyone has to eat so this definitely don't last long. but its pretty on the lips.
•
The 099 Pretty Pink. Pink is my favourite colour and this is obviously Niques' favourite but the truth about this is that it cracks up your lips. It applies just the same as the other two. The scent is more like a new doll you receive from a store. i love that scent.
Follow
*This is not a sponsored post these were purchase with our own money.
Disclaimer