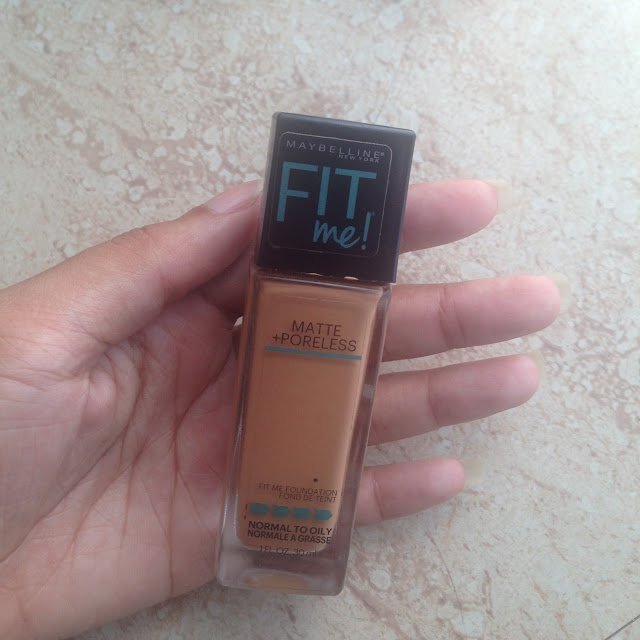 HEY LOVES!
The Maybelline Fit me Foundation one of the best and most used drugstore foundation in the beauty community. I have the Toffee Caramel 330 Matte Poreless Normal to Oily skin.
First a Mini story on my maybelline foundation. When I got the foundation I was literally sun burnt that day, I got two shades darker than my skin but the funny part of this is the professional makeup artist in the store who gave me this foundation was not good at picking colours.
I told her I was yellow undertoned and I got pink undertoned shade instead I guess she was eager to make a sale that day but I was stupid too to even accept the foundation because I know all about my skin and how it works. I got this Foundation for $2000 JMD at Fontana Pharmacy in Jamaica you can find the fit me foundation cost online for approximately $8 – $10 you can weigh your options.
First Impression of the foundation
Maybelline foundation for oily skin review, my application was vital I am very light skinned near to being yellow. When I put the foundation on it was no where close to my neck I was so mad I literally yelled for 5 minutes washed it off. Couple weeks later I tried again but this time I mixed it with my Marc Jacobs Coconut dewy Highlighter and I got a glowy look which was cute but when it was time to take pictures I looked like a ghost. (lol)
Suggested: L'Oreal Infallible Pro Matte Foundation

I left it alone for couple more weeks because it was a very uncomfortable foundation it applied no where near full coverage. Finally the end of last month I tried it because what's the point of buying foundations and cant use it right? I used it mixed it with my concealers because I recently got alot of acne scars so I use the concealer to cover them and my dark circles then I apply the foundation. It came out so smooth unto the skin but still could not keep my T-zone from not sweating like crazy.
How I apply the Maybelline Fit Me Foundation on skin
How I applied the foundation was like this I pour it on to the back of my hand added the concealer and mix it then apply it to the face. I use my sancan or mac brush to buff it in to my skin I dont wipe I buffed it in to the skin so it could stay.
Related: L'oreal Paris Infallible Foundation VS Maybelline Fit Me Foundation
I now reapply concealer on my tzone area after that I bake using City Colour Banana powder leaving me looking ashy but super matte! Honestly I believe it works best with the baking method to trap the oil for few hours. It worked so good since then until last week when it finished i can now applaud it because it stayed and look great for max of 2-3 hours not being in no sun at all. Being in the sun will melt the foundation it wll start running off your face.
How to find your foundation shade in Maybelline fit me.
In the Sun
In house
One thing I love about this foundation is that its cheap Im going to get it in my shade next time so I dont have to mix it with no concealer to get perfection. I use L.A Girl Concealer in (Fawn).. Sorry I didn't get any maybelline fit me swatches
[shop_slider full="no"][shop_heading][/shop_heading] [/shop_slider]
Twitter 
|| 
Facebook
 || 
Instagram
|| 
SHOP