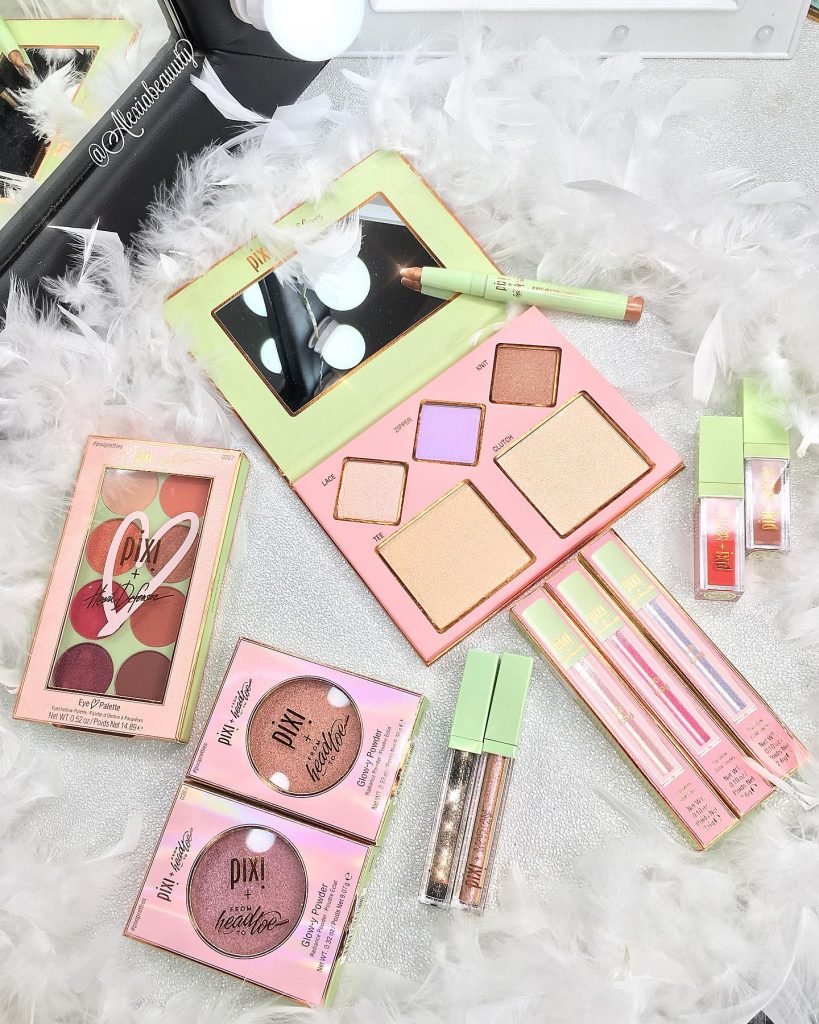 Have y'all come around to owning any Pxibeauty product? If you have let know in the comments which is it ♥
I have received numerous skincare products from Pixi but this is one of my favorites mainly because it's all makeup. I love skincare but makeup is what I live for always.
Pixi has never failed with sending me PR and I'm forever grateful. If you don't know pixi beauty which is strange here's some 411 on the brand.
Creator Petra Strand has 20+ years of experience as a makeup artist & product developer. Who's passionate about skincare, she creates innovative formulations that are infused with botanicals and beneficial ingredients.
Now I wanna do a full review on my Pixi Pretties Collection I received a couple of months ago. These products were created by some of Pixi favorite beauty gurus who are just as passionate about enhancing your natural beauty and showing off the Pixi glow.
The first product on the list;
Eye Heart Palette
The Eye heart palette was designed by @thatsheart a popular Youtuber with over 2.1+ million subscribers. Heart defense says she always wants to sure her eyes stand out and these colors are her favorites because they're versatile, complimentary on all skin tones, and elevate any eye look. This is a palette of super silky mineral shadows in light reflective shades that makes it easy to create a stunning look with a few sweeps.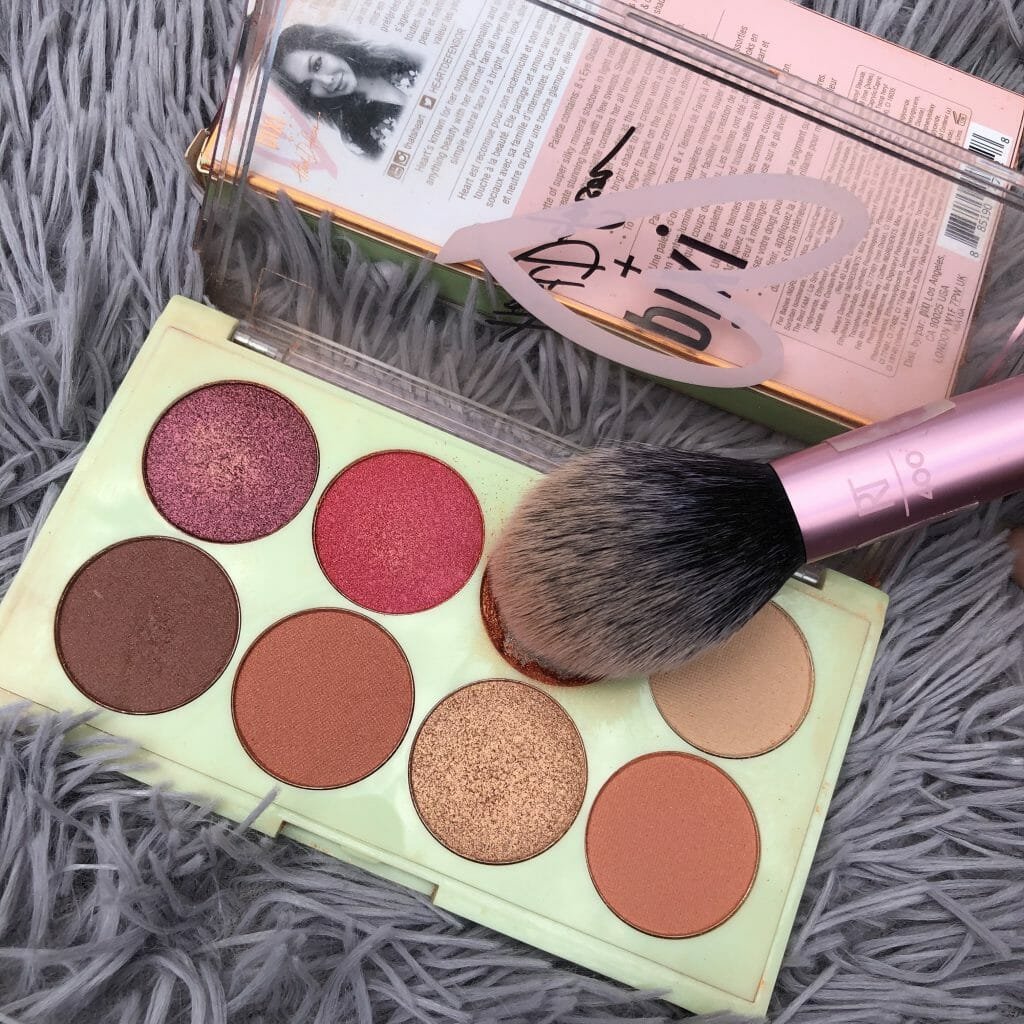 Now let's get familiar with the names in the palette, I find it interesting she used some of her favorite phrases to let it feel more personal. The palette contains 8 super silky mineral shadows.
Feb 4th – The base color t's a really light brown skin tone color perfect for a transition shade on the eyes. This shade is based on her wedding anniversary a very special day or her.
Oh He got money – This is a peachy matte shade. She claims this is just a phrase describing her hubby. Funny story I actually know this phrase from a vine video that came out years ago I personally love the phrase too.
The Best Fam – The shade is a rich shimmer Orange. Which she states it's about her Internet family
The Philippines – This is where she was born and raised. This shade looks a bit copper/rose gold.
Always Dancing – This shade is a metallic pretty pink shade. That's heart claims this shade makes happy because her hubby is always dancing to cheer her up in her down moods. #awehowsweet
Fur Babies – Obviously about her little puppies. This shade is mixed with brown, orange and splash of peach
Lip Sync – Burgundy shimmery tone 
Coffee – Color is brown well obvious she likes coffee.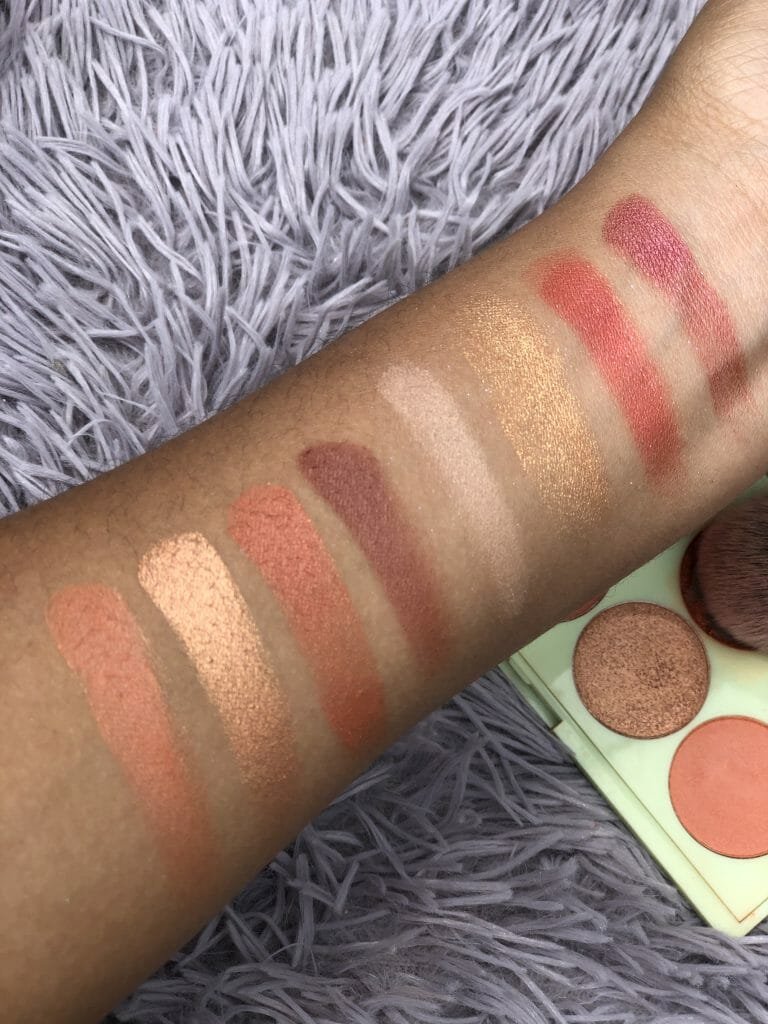 Review on Eye Heart Palette
As you can see this palette is definitely travel-worthy for only $20 on Pixibeauty.com. Just to get this out the way I receive this palette broken. I was so upset the shade best fam was just gone out the palette as you can see. In the back of my mind, I was like how could this happen I've never received anything broken from Pixi this was the first but hey I didn't worry about it because I can fur baby and Philippines together and get some shade close to it.
I love the shades in the palette mainly because for the past year or two I've been solely wearing copper shimmery tones on my lids. I'm not a fan of Oh He got money it takes a couple of coats before its build-up to a bold look on my lids.
The packaging is stunning I love the fact that I can see the shades but I'm also not a fan of the cover because it can easily break if it gets a sudden drop. In other news, the palette was made for me everything about it is gorgeous. 
The Layers Highlighting Palette
This highlight palette was made by @Rachhloves a lifestyle Youtuber who also lives for beauty and fashion. She recently had a baby such a cute little one omg!! She's a wife and a mom of two. So, Rachh reason behind making this highlighter palette with Pixibeauty was to put together a nice "Outfit" hence the names of the shades. So, layering highlight for a perfect custom glow is just like layering an outfit — you build a look that's uniquely you! – She said.
Now let's get to know the names of the shades in this bad boy and create our outfit on our face! First 3 customizers and the last 2 are the base so whatever you choose to add to your Tee or your clutch. Cool right?
Lace – To me it gives off a little peachy gold
Zipper – Its obviously purple-toned
Knit – Bronze
Tee – (Fav) Metallic gold
Clutch – Champagne pop kind of gold-tone, it's a little icy too.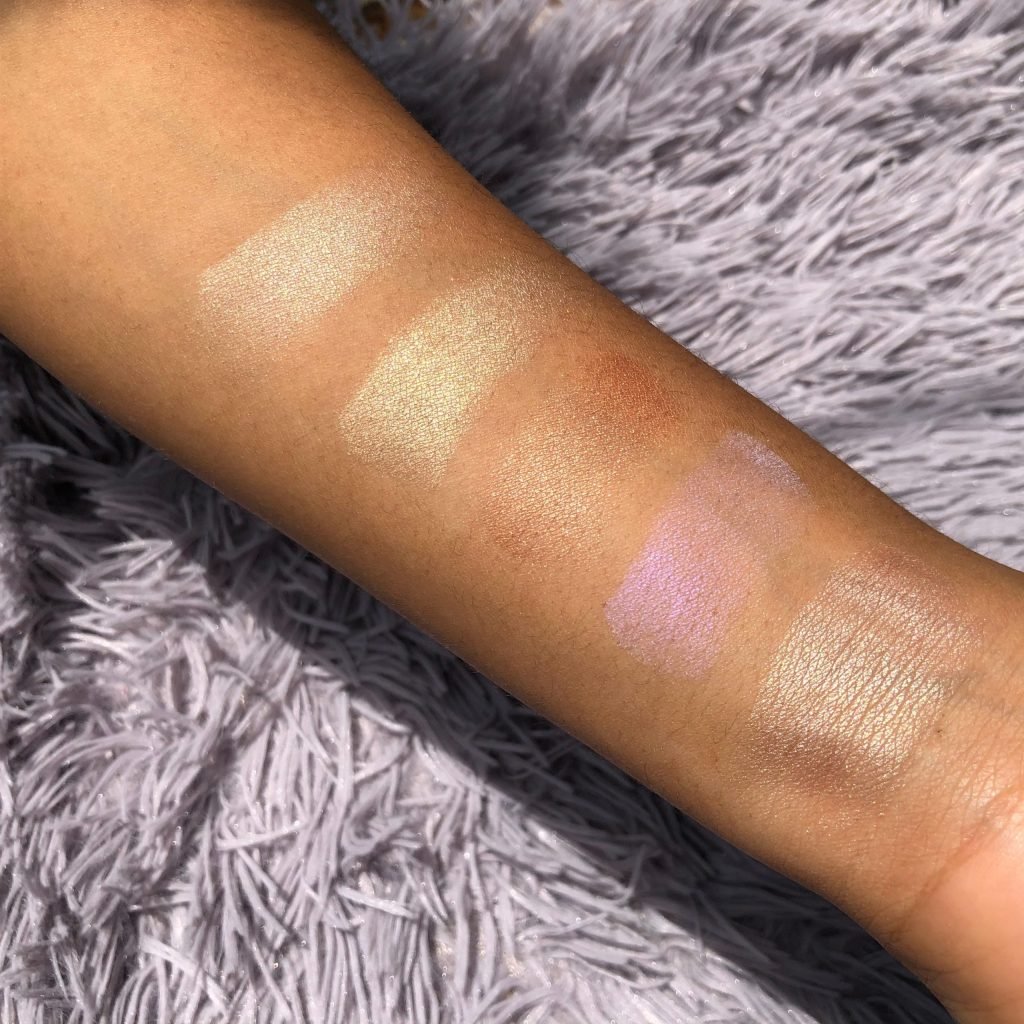 Review on the Layers Highlighting Palette
This is my ultimate favorite from this collection no joke I am die hearted lover for highlighter I'm so glad this came into effect I wish it never goes out of trend EVER!! I use this palette more than I use any other product it goes on so smoothly with my foundation. All the shades match my skin tone. Let's discuss the mirror inside, I love palettes that have mirrors and this was not one of those faux ones this can actually break and shatter but I don't care it a fav!. 
I am a huge fan of Tee and Lace I use them both always (ha a lacey T-shirt on my face). I dab into clutch a few times to get a light effect if I don't want a "Tan" look. I'll probably never use zipper its too much for me right now. Knit, I use on my body and legs cause whew chile its bronzy and I love!.
I personally love how she describes the palette it's definitely the best thing she ever made collab on so far. The packaging is cute with the Pixi colors and her name in gold. The texture of the package won for me its matte y'all matte! No glossy feeling! The price is just right $24 baby!
Chloe is a beauty Youtuber who has a collab with Pixi couple of time these lip icings were made from an eye shadow palette and lip gloss collaboration she did a year or two ago with Pixibeauty and went ahead and make additional lip icing with this collection. The original lip icing is "cupcake" then her sisters came along.
Parfait – This is a light pink icy shade, smells like lemon definitely have a citrus scent. I love it!
Bon Bon – This is a bright pink shade smells like Vanilla the #1 scent for lip products 
Sorbet – This is a blue lip gloss on the outside the bottle on lips its just icy. This also smells like lemon.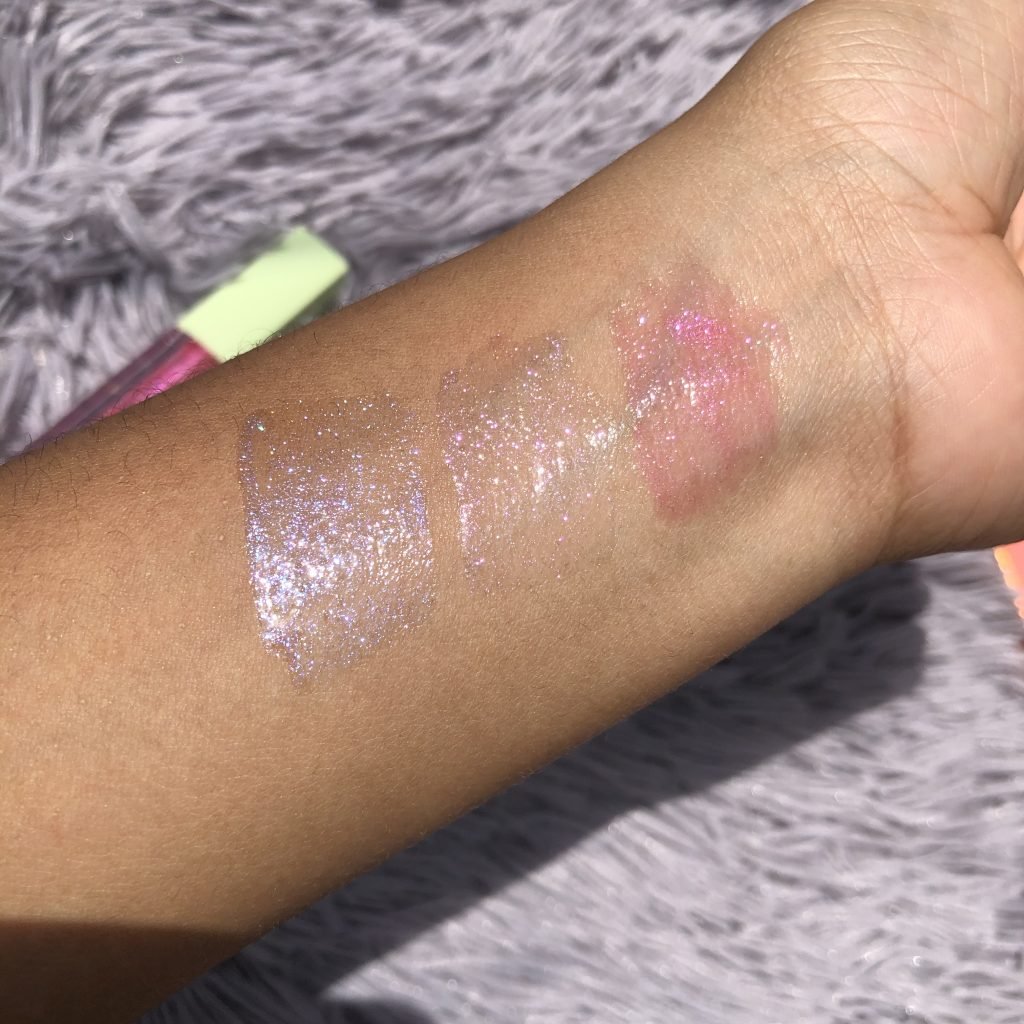 Review on Lip icing
I have no idea what these mean but I like the names! Chloe hasn't spoken on the others just cupcake in her past YouTube videos. I'm a fan of parfait it's very delicious and cute on the lips (Yes they have a yummy scent/taste). 
When I saw sorbet I was so skeptic because its blue but placed on the lips its clear as a day the only glitter is visible. As for bon bon you can see the color pink on your lips.
These have a lot of glitter in them but you can't feel it and that's really weird to me except for Bon bon you feel it a bit. All apply to the lips very smooth no stickiness it feels almost like Vaseline on your lips, looks oily but feels totally opposite. There really hydrating makes them even more worthy of buying.  The packaging is amazing its very luxe you can easily walk with these around. 
Maryam Maquillage LITkit
Maryam is a beauty Instagram Influencer she partnered with Pixi to bring LIT KIT pretty much a lid and lip kit for any day and night event. Maryam is an internally recognized beauty guru who helps makeup enthusiast find the best beauty products and practices via her reviews and tutorials 
Now I'm gonna jump into the day shades first then night:
Liquid Fairy Lights which is called Mirage is a gold glittery eyeshadow that lights up the eyes with super colorful sparkles. 
MatteLast Liquid Lip which is called Coral Bang it has a bright orange color that stays put while hydrating your lips.
Liquid Fairy Lights which is called Starry Night it's a black icy shade. 
MatteLast Liquid Lip which is called Posh Nude a perfect nude shade.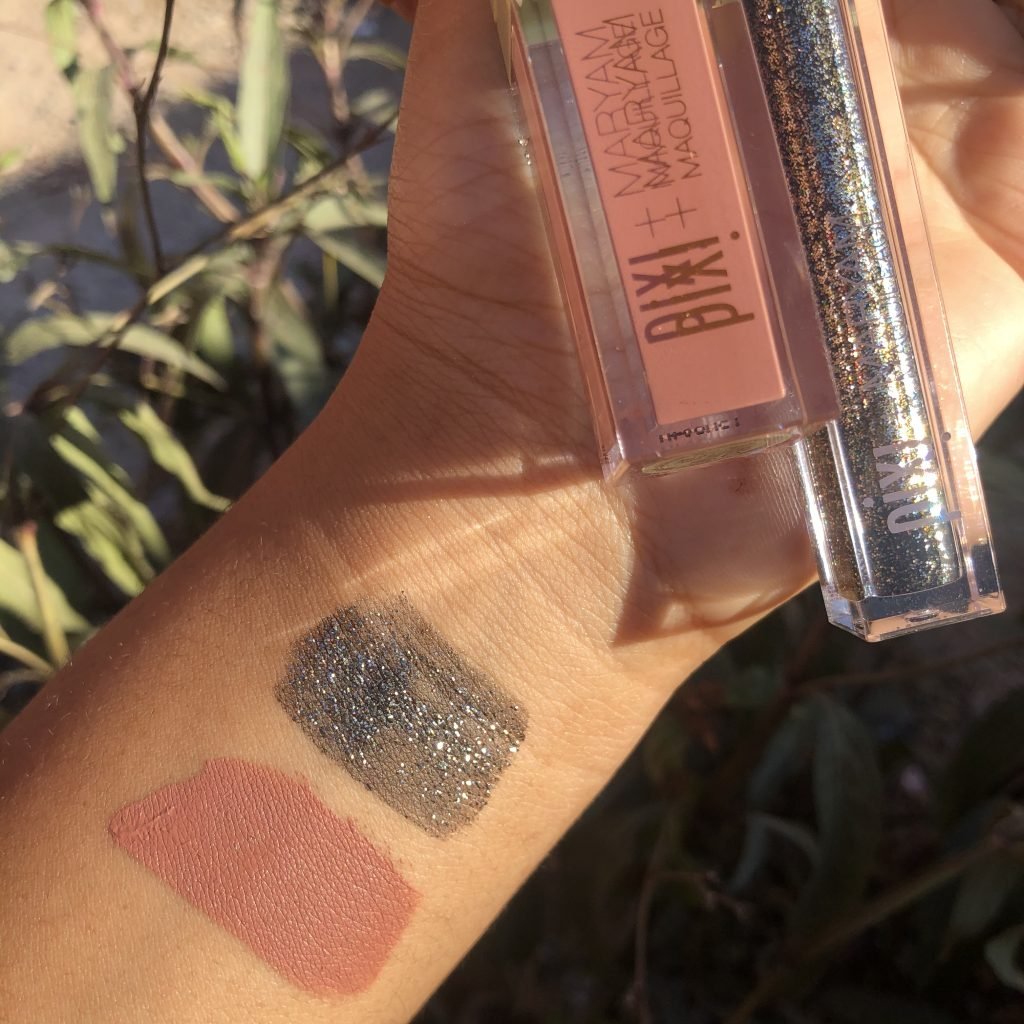 Review on Maryam Lit Kit
I'm dumber than I thought when I got these "LipKits" I put both products on my lips and I was like hell no this ain't it. Pixi playing games I don't like these but then I finally read the package details and realize its a lid and lip kit ha! It got me, reading is fundamental guys.
The idea of having these is ideal because you not only get to have a cute shade on your lips you get sparkly eyelids. The fun part about the liquid fairy lights is that it doesn't have to be the cherry on top of your eye look it can also be the base, wear on your inner corner of eyes, on the cubic bow for a fun outing by itself. The packaging is amazing yes to travel-worthy again!
Maryam said she made coral bang the brightest it could be so it could have your teeth looking whiter and your skin looking perfectly tanned. I see no lies I love the lipstick it did exactly so!
Jen Chae know as Head to toe is a beauty lifestyle YouTuber that has been sharing everything from beauty tips to candid conversations about life and motherhood for over 10 years on YouTube. Pixi partnered with Jen to provide you with radiant highlighters. I almost forget she made an Endless shade stick.
Names of the Glow-y powder:
Wednesday – This is a pink shade she says she name it that because the icon saying from mean girls "On Wednesdays we wear pink".
Fetch – This is a peachy golden tone
One & Done – This is a copper-gold tone eyeshadow stick.
Review on Pixi Beauty Glow-y Powder 
I rarely use these since I got them mainly because they give off a blush effect. I no longer like wearing blush throughout the year just spring to summer because it gets to be viewed better on a tanned skin kissed face. This is all my opinion you can wear it anytime I feel it will compliment most complexion especially Wednesday.
My favorite is definitely "fetch" mainly because I'm yellow undertone and I prefer my makeup to look bronzy than soft.
As for the endless shade stick I received it came broken I never got a chance to wear it.  bummer!
---
MAKEUP LOOKS
---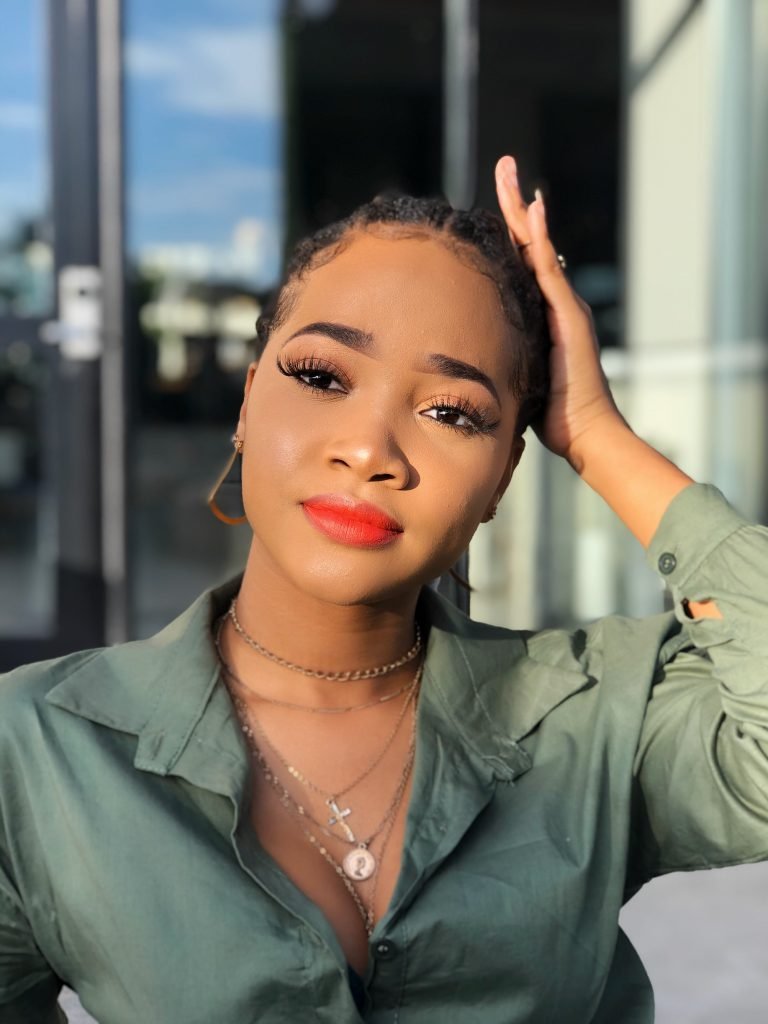 I create a bomb look with these drastic lashes I got from @prettilashes on Instagram. With this look, the four main shades I used were Feb 4th as transition then went in with Fur Babies. Moved on to Always dancing then the cherry on top the Best FAM with little Philippines. 
Cheeks: Layered Highlighting palette shades Tee & Lace on the nose.
Lips: Coral Bang 
On lips: Posh Nude

On lips: Bon Bon Lip icing
On Lids: Coffee from Eye Palette
Now that we're at the end of this review what's your take on the Pixi beauty Pretties collection is it worth it? Will you be purchasing it?