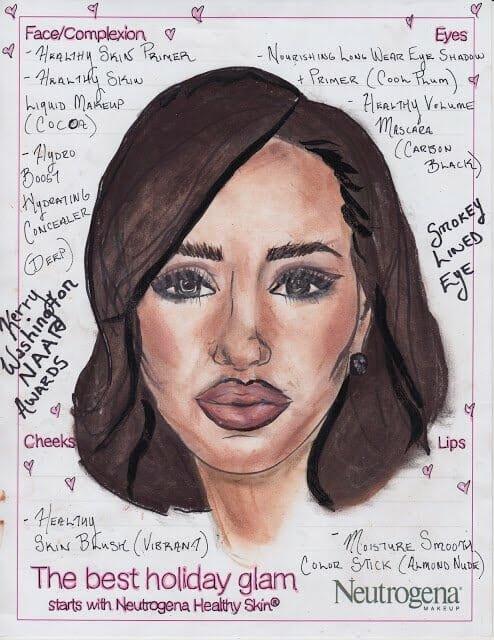 Hey Beauties!
It was a big delay on this post but not to worrying I still got the look covered but the promo code is now expired don't fight me!. It wasn't my fault it was more of the holiday fault with all the hassle to get items out to ship to correct address. So well we know last Christmas was hectic with the long lines to get through in stores plus traffic omg was no bueno for me.
Here I'm in collaboration with Neutrogena the Best Holiday Glam to bring to you Miss Kerry Washington I love calling her Olivia Pope (this is if you watch Scandal lol shout out to my scandal people). Kerry Washington NAAP Awards makeup look was so stunning Thank God it's not much Christmassy so it can definitely be worn anytime of the year.
About Neutrogena
Neutrogenatheir a cosmetic company as seen on site the #1 Dermatologist Recommended skincare brand that offers a wide range of skin and hair care products. A worldwide leader in premium, dermatologist-recommended skin, hair and cosmetics products, Neutrogena Corporation has been providing consumers with health and beauty improvements for over 50 years. Headquartered in Los Angeles, the Company manufactures and markets a line of premium-priced skin and hair care products that are distributed in more than 70 countries.

About the Product- Neutrogena Healthy Skin®
Neutrogena Healthy Skin® Liquid Makeup provides luminous, natural-looking. It also offers advanced cosmetic solutions that go beyond covering up imperfections and work to transform complexions, blending seamlessly to provide lightweight, breathable and flawless-looking coverage, for fresh and luminous looking skin. Making Healthy Skin Liquid Makeup is better for your skin than wearing no makeup at all, now available in 14 shades.

Now let's get into Kerry's Day-to-Night Holiday Glam
First off I prime my face with Neutrogena Healthy skin primer we all know primer is not a must but if you wish to protect your skin and also get your makeup on smoothly than you have no choice than to apply primer first. Fun fat it can be used as a sunscreen for up to 8 hours definitely won't clog pores. On site it's just for $13.99
Step 2
I always alwayssss conceal my under eyes because of my fine lines and dark circles but now I got the Neutrogenahealthy skin brightening eye protector I don't need to worry much about using up my concealer. This does the job for me I use it first out of all the products because I had to see how good this product is cause I was not aware of it and honestly it does the exact thing for my dark circles like what my conceal would do. It is sold on site for $13.99. How to use it is simple twist bottom of package until product appears on brush (may take up to couple twists the first time). Apply to under eye area, do not wet or allow water to pass through brush. How to clean the brush is just by wipe with dry cloth or tissue.
Step 3
You know I had to use my new conceal Neutrogena Hydro Boost hydrating concealer it's almost like Neutrogena know about me because I got two concealers yessss! in light medium 30. If you know me you know I use concealers a lot, definitely have to hide my acne and dark spots. Concealer is a Must-Have product for me! mainly because I don't want nobody to know I got dark spots got to cover that up real quick. The packaging is way different from the norm it has a hydrating core right in the center of the package. Now tell me which conceal has this? I can't think of none. How apply the concealer under the foundation for the spots then on top of the foundation to brighten my T-zone area. Fun fact its safe for sensitive eyes and contact lens wearer. The cost for this bad boy is $14.99
Step 4
Moving on to my foundation now here's the tricky part every time I change foundations I never can find a foundation that fits me exactly it's always lighter or darker so mixing two has become my best friend. Thanks to Neutrogena I got three the (100 Natural tan, 105 Caramel and 115 Cocoa) so you know I'll be mixing to get that perfect shade. I love full coverage foundations and Neutrogena liquid makeup delivered with just one coat had to apply to my neck to get the match going. I used my Foundation brush could've use beauty blender to apply but I get utmost best results with flat top brushes. Love the fact that the Healthy Skin Liquid Makeup Broad Spectrum SPF20 can also protect you from the sun! The cost for this is just $14.59, very affordable. The foundations just never match my skin as I wanted them to.
Step 5
Now to get my eyes like Miss Kerry Washington I paid keen attention to it because I'm seeing where all the shades were used in the Neutrogena Nourishing Long wear eyeshadow + built-in primer (Cool Plum). On the back it shows you how to apply it so I'm just going to follow the instructions. Firstly it says colour entire lid area with number 1 which is the dullest shade, secondly to highlight you should sweep over brow brown. Thirdly use the warm tone brown shade to blend in the crease and lastly is to apply the purple dark shade along the lash line and also to smudge for intense Smokey look. Did you achieve it? I know Smokey eyes is stressful for beginners I was once there but the more I practice the more I got a hang of it get some practice here.
Now let's proceed to my lashes damn! I live for mascara Neutrogena basically set up my life today because this mascara here is cute and most definitely going to be my new fave Like which mascara comes with a cover? The Neutrogena healthy volume mascara (Carbon Black) lol I love applying numerous coats of mascara just to get my lashes looking full and curled up to Jesus. I don't wear lashes that are just for occasions because they tend to be very heavy on the eyes. The Neutrogena Nourishing Long wear eye shadow is for $9.99 and my mascara is for $8.99.
Step 6
Yes gone back to the face! Applying blush, its been awhile since I've worn blush because I stop liking apple cheeks (blush cheeks) for a while now I start loving golden cheeks (highlighted cheeks). Fear not I'm going to go rosy cheeks today with my Neutrogena healthy skin blush (Vibrant 20). How I apply it's along my cheeks bones with a human hair brush. This cost $8.99.
Step 7
My lips! my favorite part of beating my face for the Gods is applying my lippies. I love lipsticks, lip gloss and lip stains anything to end the look in perfection. Well all know your look is not complete without your lips being in the makeup look. Like you can literally just wear mascara and lipstick and no one (the males!) would notice you have don't have on makeup. I apply the NeutrogenaMoisture Smooth Colour stick to my lips always start from the bottom outer-line then move into the center then do the same to my top lip. Applying this to my lips leaving them soft and smooth, Just imagine a color stick so effective it instantly moisturizes your lips and lasts for hours. All while continuously conditioning them so they're softer and smoother in just three days, even when bare. A main ingredient is shea moisture ♥ the cost is $8.99
All theses bad boys together except for the Neutrogena healthy skin brightening eye protector is $80.53 get them all HERE