Hey Loves
Click the Headers to visit my Amazon store front with all the items on this guide!
What's better than an Amazon Gift guide for his and her Valentine's Day?
(LISTENING)
Literally nothing! Valentine's Day is right around the corner and most of us don't quite know what we're getting our significant other. If you don't know what's Valentine's Day meaning then baby your way too young lol but just to have a brief knowledge on it

Valentine's Day. Each year on February 14, people exchange cards, GIFTS, candy or flowers with their special "valentine." St. Valentine's Day is named for a Christian martyr and dates back to the 5th century, but has origins in the Roman holiday Lupercalia.

history.com
Valentine's Day gifts for His and Her is sometimes hard to be completely honest. You don't know what to get your love one if your not completely the romantic type like me lol I always over think what to get bae. If you're hopelessly romantic and know your partner will love anything you get them then getting gifts is not so bad afterall .
Amazon as became my bestfriend these days like literally anything I need in 2 days I go to amazon asap and get it with being a Prime member ofcourse!
I love my Amazon Prime because I would have to pay an arm and a leg (literally) to ship anything to Jamaica. The perks of the membership is amazing! Find out more information about Amazon Prime try it free for 30 days to see if it is right for you. Enough with the rambling lets get into it
---
This post may contain affiliate links. I may receive commissions for purchases made through links in this post.. The headers are Clickable!
---
---
What to get on HER on Valentine's Day?
---
On Amazon, there are so many items you can get your girlfriend, wife, sugar baby and side chick if we're being honest. Gifts for females are the most affordable and right in your face, you can pop up any website and get pretty much anything for your girl. Men, I'm guessing you assume all females want the basics, chocolate, and roses along with a dinner date at 7 o clock.
I for me personally I want a souvenir I need something to remember you by and when I got it. For the ladies who are like me MEN YOU NEED TO LISTEN UP AND GET YOUR WALLET READY OKUURR?
NO! don't get me wrong it's not all about the money but just something that is valuable. So, I will be giving you guys a list of some special items that I came across on Amazon that you can get her by the 12th of February (wink). Different prices too so if you're on a budget no problem I got you, If you're a big spender I got you also! Now unto the list!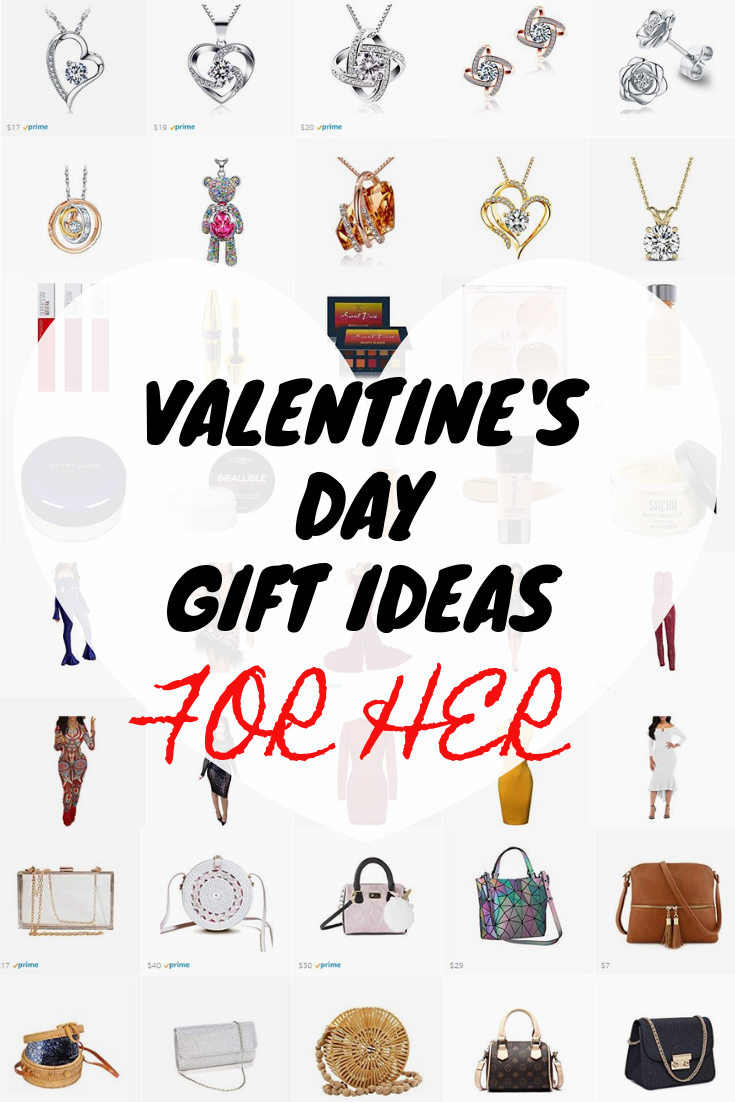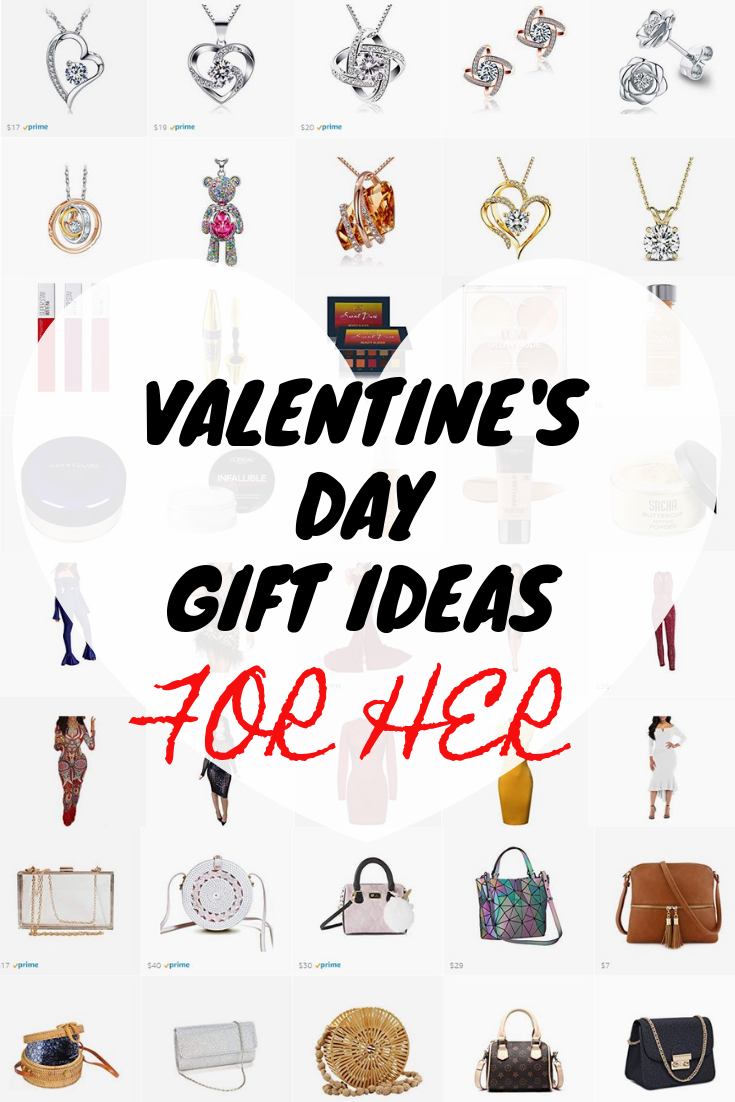 Necklace – Females love necklaces it could be Gold or Silver we want it. Got our names and initials a big win, some of us personally like the couple necklaces I think it's cheesy but hey its a preference.
Earrings – Don't forget Earrings! It all depends on your girl's preference when it comes to earrings. I personally like knobs not a fan of long and extra earrings no sir!
Watches – Definitely a good way to go! I love a simple watch nothing too complicated that I can't read don't get me wrong it can be fancy af with little complications.
Promise Ring – Awwz your girl will definitely melt trust and believe!
You can buy us any limited collection to our favorite makeup brands that you hear us talk about day in and out. I know my bf is sick of me talking about Kylie Cosmetics and her obsession with new collections.
Lipstick & Glosses– Theirs literally no female that doesn't like a little lip gloss to go out when she's not in the mood for a beat face. Yet you have some of the drag queens (Waving over here uooou) we love beating our faces for the Gods so lipstick issa a must.
Eyeshadow & Highlighter palettes – I ain't never want my bf to buy me a palette that he never hear me talk about getting because girl we know some of these palettes are s#@t !
An Outfit ( Her favorite color or even yours)
Bomb ass heels and sneakers
Slides/ Slippers/Sandals
Lingerie
So this is where the gift gets expensive I know for a fact some of us females are tech-savvy so we do want electronics. I for one have a wishlist (Wink) I want mac book pro! (wink wink)
Laptop
Latest Apple or Android smartphone
Earphone – Heard Airpods are nice 🙂
Digital Picture Frame
I want to add hair products but ladies is it okay for your bf to buy you hair products? I don't think me that's a good gift.
Gift Basket
A gift basket with all these goodies is the win! Like you can throw in some cheap items with one expensive item and you win ♥
Chocolate
Rose petals
White/Red Wine
Bathroom requisite
Hair product
Skincare product
Perfume
A Travel experience with gifts can be nice too! Just putting it out there!
---
What to get HIM on Valentine's Day
---
Most men are literally not extra like us females if you want to be honest. All some just want to do is Netflix and chill with some fast food, HEY! nothing is wrong with that it's just not a souvenir. It's a kool memory that you should already be doing in your relationship. Men gifts are so expensive just thinking about it my purse wants to cry ://
LADIES GET YOUR PURSES OUT AND let's ROLL
Watches
Chains – Some men love their changes with icy pendants some just like a regular chain ♥
Keychain for his car
Sneakers
2 dozen Underpants
Hat
A nice shirt
Shoes (I bought my bf a desert Clarks)
Drone
A game
Headphones
Smartwatch
Cologne
Every guy loves cologne let's be real they all want to smell good when they walk out a room. I know for sure my boyfriend does lol when we met in 2016 at college I could literally smell when he's coming or even pass by. To be honest I love when a guy smells amazing #sorryItalguys #yournotmytype Amazon has a lot of colognes to choose from with an affordable price tag too!
Gift basket

Some guys smoke and/or drink, right?
You can get him an ashtray and some liquor glasses… My boyfriend is a smoker so I got him weed grinder set… I made a list of goodies on Amazon for my under the influence peoples HERE
What to wear on Valentine's Day
What do people really wear on Valentine's Day? How to actually dress for Valentine's Day? These are valid questions why? Mainly because we the people really go overboard with our dressing for certain occasions. Valentine's Day is all about love and color that goes with it well is one and only RED.
Red is a solid color it can be wore by itself but not over the top where your shoes, clothes, makeup, and jewelry are red. NO! NO! NO!
When dressing on Valentines Day dress subtle speaking for the ladies wear a sexy red dress black heels and gold jewelry.
In Jamaica, the women tend to overdo it with red and white everything…. I hate it like that so ladies even a little red top will work don't overdo it this 2019 Valentine's Day at that date night dinner or go-to event.
Men you know the gist no pants/jeans or red shoes absolutely NOT it's a NO for me! Please just a redshirt or a tie nothing more.
What is the best gift for Valentine's Day
I might sound contradicting as we go further because Valentine's day is not purely about giving its commonly about being there for someone and showing them love. A nice picnic under the stars on the back of the car.
Amazon online coupons
Save 40.0% on select products from Hair Chemist with promo code 40HCCOCONUT, through 3/10 while supplies last.
Save 80.0% on select products from LOVINLAND with promo code 80YJFOF9, through 1/19 while supplies last.
Now that we've come to the end of the post what will you be getting your love one on Valentine's Day?