Hey Dolls
Here with an amazing collaboration with Specific Beauty. Have you guys ever heard of the company? Ive found out about Specific Beauty when they sent me an email to my junk email lol surprisely it came straight to the inbox and i didnt ignored it. I'm not sure if most companies know my business email but its "shaniquewallace29@gmail.com or info@niquewallace1.com" no other email.
About Specific Beauty
Now Specific Beauty is a skin care company that is black owned so you know they looking out for the sisters!. The company owner Dr. Heather Woolery-Lloyd developed Specific Beauty®, with the clinically studied breakthrough MelaTone Therapy™, as a comprehensive daily skin care system that meets the unique needs of women with skin of color. Each product in her multifaceted skin care system is infused with botanical brighteners, a synergistic blend of exfoliators, and skin-calming agents to help reduce the appearance of dark marks, brighten and even skin tone, and calm and help protect the skin from future discoloration – for noticeably brighter, smoother and more radiant skin.
Whats in my Specific Beauty Box?
Inside a cute red box I recieved four (4) little products with instructions of a Morning routine and Evening routine. If you never had a skincare regimen well specific beauty got you covered. With the Morning Regimen the steps are simple
1. Cleanse & Prep using ADVANCED DAILY GENTLE CLEANSER
This refreshing, sulfate-free formula gently removes dirt, oil and pore-clogging impurities for radiant, glowing skin.
How to use: Gently massage a dime-size amount of cleanser over damp face, using gentle, circular motions. Rinse with warm water and pat dry.
2. Repair & Brighten using INTENSIVE SKIN BRIGHTENING SERUM
This targeted treatment serum helps fade dark spots and hyperpigmentation, revealing your skin's natural color, tone and texture.
How to use: After cleansing, apply a thin layer of serum to face, avoiding the eye area. Allow a few moments for absorption.
3. Nourish & Protect using ACTIVE RADIANCE DAY MOISTURE Broad Spectrum SPF 30
Hydrate, protect and illuminate your skin with this lightweight, oil-free moisturizer with SPF 30 that quickly absorbs for a smooth finish.
How to use: Apply liberally to face, neck and chest. Maybe be worn alone or under makeup.
3 DAYS BEFORE USING 1st Day
 REVIEW
1st day using the product it felt good on my face because I had the regimen lined out for the Mouring routine and Night routine. Honestly It felt good knowing that I have a regimen to follow, you know we tend to just do what we want at times. I follow the regimen for 4 days then stop my face reacted to the routines like it was doing nothing to get rid of my severe acne. Never expected it to work fully on the fourth day but atleast little improvements would be good. I switch up the products and used what i want and what I think work for my skin. I stop using the serum and moisturizer because I already have oily skin and its making me really oily during the day. It kept making new red pimples appear, I hated that!.
On the 6th day I start my own routine and use only the face wash, acne pads and the acne cream twice a day for 3 days. I felt the changes in my skin but the appearance remained the same without red pimples appearing on my forhead. The routine I created for the Morning was wiping off my face with acne pads then go in with the face wash then apply the cream after my face dries. For the Night routine I remove the acne cream with ance pads then face wash then apply the cream. I know during the day my face maybe pick up some dirt but I still try my best to not remove the cream until I reach home so thats basically 10 hours in the acne cream in the day then 7 hours at night. Can say 17hrs out of the day i have the acne cream on.
On the 10th day I stopped using the products completely because i felt like its not improving as much as i want it to. I drink .5 – 1 litre water every day and my face still looks the same. I think my face needs stonger products or just to be left alone.
At this moment I realize it was getting worst completely! I stop taking pictures because I hated to see my forehead. I also came to a conclusion saying it was because of the hair gel I consistently put on my hair edges. Knowing a skincare  company like this will never produce something for black women in particular to break out so bad. These products overall was just not for my skin. In the end I just had to stop the products over all and just kept using the acne pads to clean off my face from a long day at work.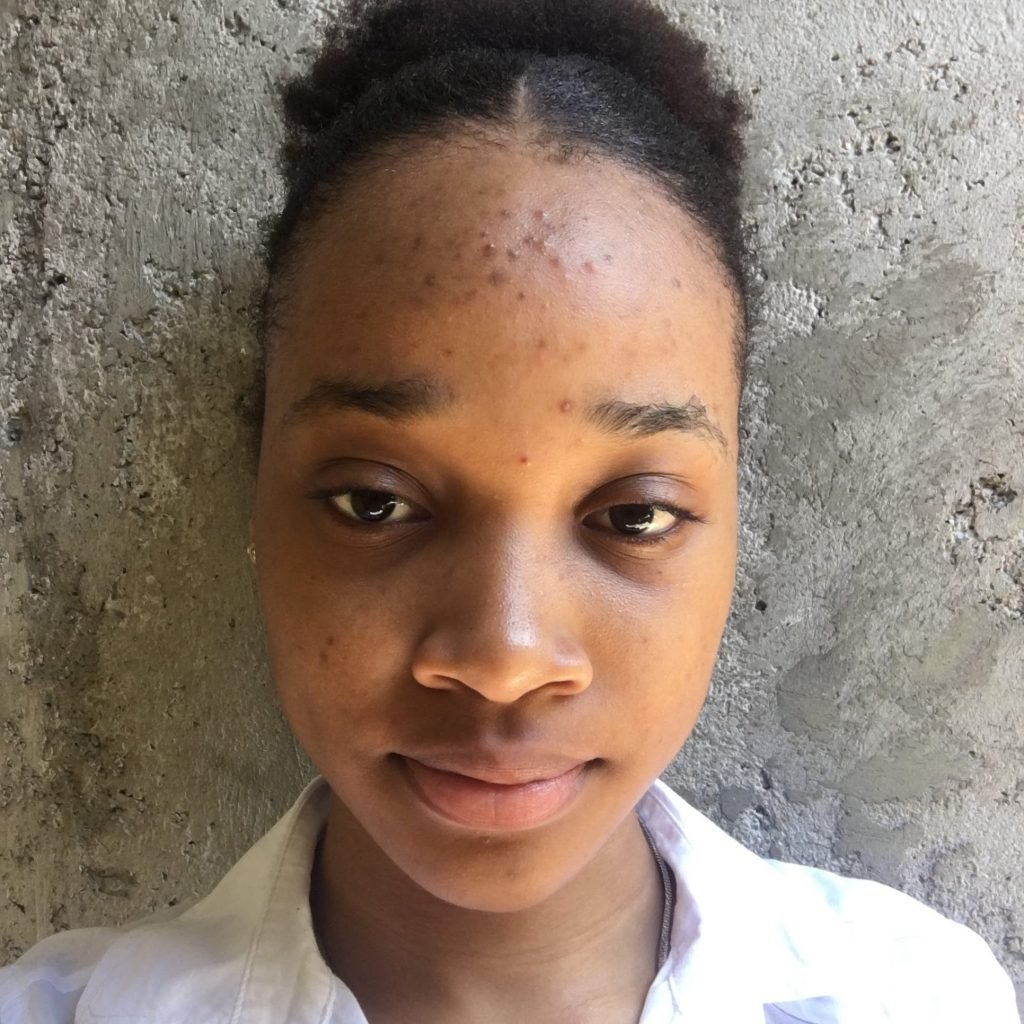 Now on the site you can get a Day & Night Deluxe Kit for $59.99 + Free Shipping. The one I received is Daily Brightening Essentials for $39.99 + free shipping. You also get to enjoy Advanced Dark Spot Corrector Pads & Accelerated Dark Spot Corrector. Those two are my fav from the whole package.
You can find Specific Beauty on Instagram, Facebook and Twitter