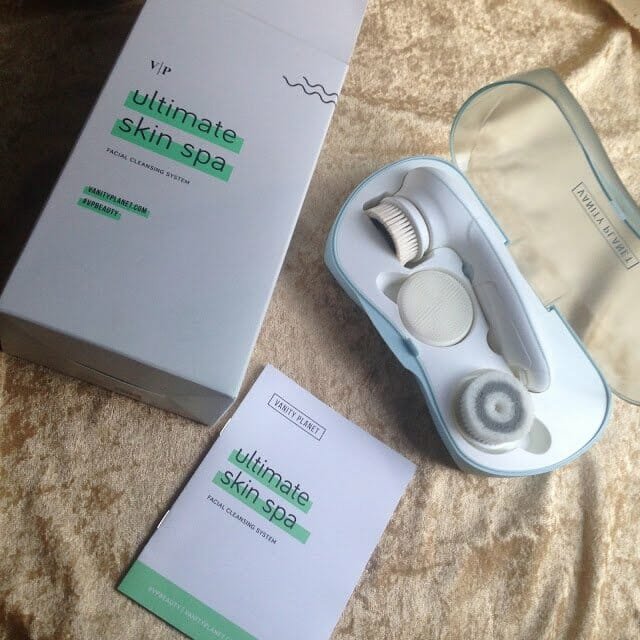 HEY Skincare lovers!
Disclosure: This post contains affiliate links (meaning I will get a small commission if you buy through my link). You won't pay any more if you use this link. And I only promote products I truly believe in!
I'm a brand ambassador for Vanity Planet Whew! I received the the Ultimate skin spa system couple weeks ago, I am inlove. Vanity Planet is a company thats sells products from makeup to skincare to Hair tools and lifestyle all at an affordable price.
The first time I wash my face with the Vanity Planet Ultimate Skin Spa Facial Cleansing Brush felt like the first time I've ever truly washed my face! OK, so maybe that's a slight exaggeration, but if you haven't tried it yet, it's time for an upgrade!
In the kit it includes:
1 Silicone Brush: On site it states its the silicone brush head includes flexible bristles designed to gently loosen dirt and unclog pores. When used in combination with the device's first mode, the silicone bristles are great for cleansing dry and sensitive skin. When used with the second mode, the silicone brush provides exfoliation for all skin types. This one is my Favourite  it removes my makeup way better than the daily cleansing brush, perks of it is that its way easy to clean. I Also use it when I put on a scrub to replace my finger tips at times.
1 Daily Cleansing Facial Brush: On site it states its made of ultra-soft, nylon bristles designed to gently lift away dead skin cells anchored between healthy living cells for naturally glowing skin. I really like this brush it does its job well I even use it exfoliate. Excuse my foundation on the brush I used it alot with removing my makeup so bascially its stain.
1 Exfoliating Facial Brush: On site it states its made of durable, nylon bristles designed to remove deep-seated dirt and debris from the lower layers of skin. This one is so course I rarely use it feels like it will tear my skin. This is definitely for persons who dont have sensitive skin.
1 Storage/Travel Case: On site it states it hard protective case with custom insert designed to store and protect the device handle and all included brushes. Great for at-home storage or on-the-go travel.
1 Battery Powered, Dual-Speed, Water-Resistant Handle: Dual-speed control allows you to customize your skincare routine based on your skin's needs.  So batteries are not included bummer! You need double AA battries to use in it.
The brushes leave my face nothing but smooth, soft and glowy. This dual-speed handheld spin brush works with my favorite cleanser to remove my makeup and clean my pores Vanity Planet customize the perfect routine for your skin type with these interchangable brushes.
Pair the lowest speed with the Daily Cleansing Facial Brush Head for a gentle surface cleanse, or use the Exfoliating Brush Head with the highest speed to slough off dead skin cells and reveal a radiant complexion. There's something for those with sensitive skin as well – the Silicone Facial Brush head has soft bristles to massage skin clean rather than buff or scrub. Get ready to glow!
Have you tried any cleansing brushes before? Comment down below and Dont forget to subscribe!
If you liked this post, feel free to PIN IT and share!