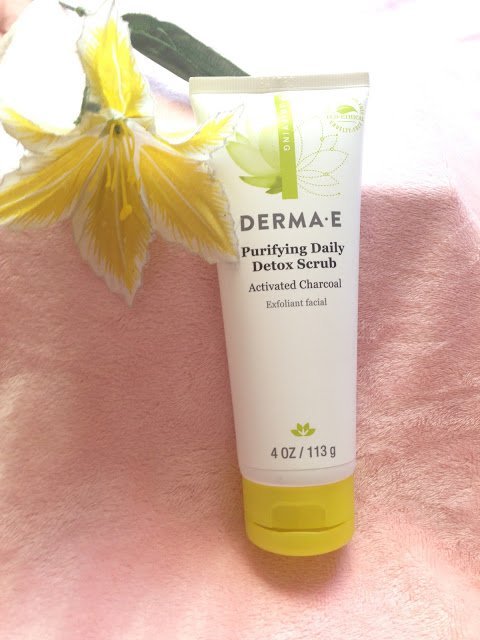 Hey Dolls ♥
Lets have a fun facial spa day at home, I'm sure you would loved to remove those annoying acne spots once and for all. I know I do! If you wear makeup alot and change foundation frequently and you see spots coming up these facial masks got you cover boo! I got these scrubs from Derma-E to do a review for you guys and im living for these products.
[shop_slider full="no"][shop_heading][/shop_heading] [/shop_slider]
About Derma- E
Back story on getting these im working with a company Brandbacker they set up companies to work with bloggers like myself to do reviews on products.  However, Derma-E is a skin care company online that has been providing products for your skin for the past 25+ years. Their items are 100% vegan, cruelty-free formulas they do not contain parabens, sodium lauryl sulfates, petrolatum, mineral oil, artificial colors, gluten, soy or GMOs. So that means everyone can use it!

Moreso, Derma E ships in United States they're available at Sprouts, WholeFoods, CVS, Walgreens, and Ulta likewise online the shipping doesn't take forever just 7 days. You get free shipping on $50 or more plus you get a free samples with every order now who doesn't love free samples? (I know I do) Need anymore information on Derma E go here . The site is very user-friendly. Now lets talk about the Spa day at home products;

Purifying 2-in-1 Charcoal Mask


[shop_slider full="no"][shop_heading][/shop_heading] [/shop_slider]
My thoughts
I've used other charcoal mask before and I love them but this one start working so fast in less than 30 seconds the mask started to dry while I was applying it to my face I had to hurry. When I fully applied it, my face was so stiff I could feel the mask working it felt so tingly like its burning my skin, not burning it to cause a sensitive reaction but burning like you just started using Colgate toothpaste or even Listerine that the feeling I got, so I know it was working. When the 10 mins was up they said you should leave it on for 5 minutes but im unruly so 10mins did me well. After washing it off my face felt so soft just like a baby's butt I was blown away by it. The cost for this is $19.50 but to get it monthly you'll get 10% off.
·
It leaves your face feeling super soft and smooth
·
It has a good scent (minty)
·
It removes your dark spots
· Left you feeling confident with a fresh face
I'm amaze you guys this scrub right here is really good! it left my face so soft and not oily the last scrub I used was very oily after I wash it off. I started to see changes in a week, my face definitely needed it. Thank you Derma-E you really changed the game in skin products. The feeling I got from it is likewise the mask but it had grains in it that gave a rough feeling to the face but it was okay. The scent of it is very minty. I 100 percent recommend this to anyone no joke you ladies, guys, boys, girls you all need it if you have blemishes you want to get rid of so badly.
· Leaves your face super soft
·
 Not super oily when being washed off
[shop_slider full="no"][shop_heading][/shop_heading]
[/shop_slider]
Green SuperFood
I got these two detox samples packets in the box its not from Derma E but I tried them and if your a picky person like me dont drink it with 8 oz water mix it with juice or in your shakes/smoothie. Its really powdery and bitter literally taste like green tea. It helps with bloating and weigh lost also has over 24 cleansing ingredients. 




Update!
After using for 14 days I started to break out, maybe your experience will be different but I will not recommend the 2 in 1 mask.
Sponsored Post powered by Brandbacker
Xo "Nique ♥