The ULTIMATE GUIDE for SUMMER Hairstyles for black girls was the original title but I was thinking that would be so basic for me. I don't mind seeing a white girl in braids if that shxt is neatly done. So this post is for every single women and child.
As a result it's summer and we all want to look great in this humid temperature. Getting new hairstyle and the latest hair style could have never been easier to achieve. I'm starting to think I like to make lists of things because my last posts was a list of gym outfits and the post before that was a list of ways to be an influencer in 2019. I think need to get back to these hairstyles ha!
However we as girls can go through phases like short haircuts for women, hairstyles for black girls, different hair color ideas, extremely long hairstyles, cute bob haircut, medium haircuts for women. With all this being done its not to change who we are but to bring a little spice of character.
Braids
This had to be number one I know we wear braids all year long but in summer it's different why? because we go extremely long and seek the baddest styles and colors in the book. Getting your braids done takes time and its costly but who are we fooling if you want something to be done neatly and up to your expectation you are going to find the best braiders and pay them. Braids are not a new trend they've been out before my grandmother know how to say her name. 
However we can't deny how we can style the braids in numerous ways its a perfect protective style for natural hair. Remember Janet Jackson famous braid hairstyle in the 90s that took a toll everyone wanted the "poetic Justice braids" and to be completely honest its just the regular thin braids  I personally love playing around with colors while the length remains the same, I don't like short braids.
There are numerous braiding styles out there and among all my favorite type of braid styles for black woman are
Box Braids
Jumbo braids (box/triangle parting braids)
Tribal Braids/Fulani braids
Senegalese Twist
Havana Twist
Cornrow/canerow braid
Goddess Braids

To achieve these hairstyles you need false hair such as – Kanekolon the worlds well known one — X-pression braids — 
Lets not forget you don't need to attached false hair to your hair to achieve braided hairstyles. I also love these types of braided styles for all women
French Braids
Dutch Braids
Lace braid
Fishtail
Two and three strand braids
Bohemian braids
In addition to this the color ideas of the braids should not be black summer is about fun and being vibrant. You should go for neon hair colors, both warm tone and cool tone can be wore in summer. No one will judge you it's the norm for summer so you can step out of your comfort zone and live a little.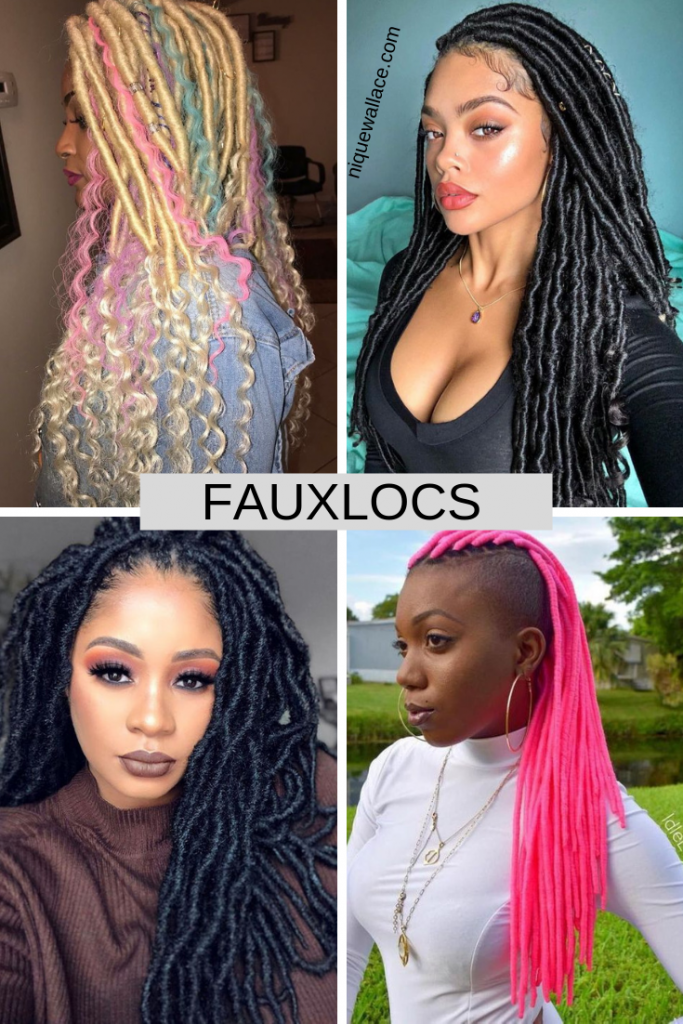 FAUXLOCS
If it's not braids for summer its faux locs and everyone loves to look like a rasta now and then. Well I know I do! Fauxlocs takes the longest to finish and also the hardest to take care of… do you know how to take care of your fauxlocs?. However its one of the world best way of protecting the hair none of your hair is left out in the open all is being tucked under.
Coming across hairstyles for black girls this one might have hit the jackpot. It cost the most to get done we're looking at $100 – $500 USD! yas that's how much this hair do cost mainly because of time.
There's few fauxlocs types I've come across that I personally love and dislike.
Marley Locs – This is literally the heaviest why? because you're using two types of false hair there's so much on the market to use but i prefer kanekalon to braid then Janet collection Noir afro twist braid or YA MON and looks pretty natural to me.
Yarn Locs – My favorite locs ever! Yarn locs is very much light weight doesn't look real but thats fine the looks still suits me. Yarn locs is created with yarn or wool, takes the same amount of time like marley locs
Goddess Locs – The thinnest and the most light weight its used with marley hair. Goddess locs is where you see all the ladies wearing these days because they think its new but its been out for years. The hair beneath is weave mixed with Marley hair on top.. The goddess takes about 4 hours its a little easy to install mainly because it doesn't need much fire and not a lot of hair.
Crochet Locs – The easiest to do and the most affordable… You can do this yourself, the Crochet Locs comes ready made just to attach to your braids or corn rows.
Bohemian Locs  
I'm a sucker for Yarn locs and Marley dreads.
---
Related Posts
---
WIGS
Lets be honest wigs weren't so on and popping in 2015, don't get me wrong wigs have been out for ages remember that white wig Judges wear? Yes wigs been out. However, I'm talking about how we now have real human hair wigs no more cosplay and synthetic wigs that only can take minimum heat. 
The beauty community has come a long way changing the game with different kinds of wigs. I almost forgot about sew-ins lets be honest it's 2019 sew-ins should stop! —  a wig is more flexible! you can take it off at nights, you can change your braids underneath, if lace wig you can change parting.
[shop_slider full="no"][shop_heading][/shop_heading] [/shop_slider]
More so, a wig is a protective style and there's a lot of different types;
360 lace wig
Lace frontal
Lace closure
Half wigs
Full wig
All these wigs can be human hair (processed or unprocessed)
Human hair mix with synthetic strands (Premium fiber can take up 450 heat and bounce back some curls if wig is curly),
Synthetic (can take heat but to a minimum cannot be bleached but can dye). 
Fun face: Synthetic blonde (613) wigs can be dyed with strong hair dyes or fabric dye.
SHORT HAIR
Yes the time is hot and short hairstyles for women is just the right fit. I know you have gone a summer where you're like I'm going cut my hair let me look through some summer haircuts or popular haircuts. Short hair is fun and free people always say when a girl cuts her hair it's the beginning of something new. I can't deny how true that is I remember doing my big chop in 2016 to become fully natural. I was scared and overwhelmed but that didn't stop me from embracing my new length I hated short hair but for the first time I felt free and more fabulous its weird but once you cut your hair to an unspeakable length then you'll know the feeling.
Without a doubt you can get your short cut in different styles. You don't have to go fully bald to get patterns in your head that's just a bonus because you can grow out your hair top and shave the hair on your head back down. I have few cuts I want to mention
Tampered Cut
Bob cut 
Pixie cut
Pompadour
Under cut
Coloring your hair
Finally lets talk about colours —- I personally live for colored hair I dislike black so much it hurts and burns my eyes… Okay that a was a little extra but black hair does nothing for my skin colour. I am light skinned a lot of people will say black hair looks better on light skinned girls truth be told that's a myth. Black hair looks better on my chocolate girls however we don't care for black hairstyles right now. 
If you are not sure if you want to step out of your comfort zone with full blown PINK! you can start off with home made dyes e.g Kool aid and Eye shadows or you can bleaching your ends at home to get that medium brown tone. If you like what you see then girl next time you better step your game up with dying all your hair or ombre it.
[shop_slider full="no"][shop_heading][/shop_heading] [/shop_slider]
Alternatively if you don't want to trouble your hair you can go with colored braids, wigs and fauxlocs. The most common color to try is burgundy and medium brown. If you're like me in Summer an advance colored hair queen. You'll start out with warm tones like orange, red and yellow. Cool tones are scary but blue and green I live for …. Getting pastel colors are more subtle than others.
[shop_slider full="no"][shop_heading][/shop_heading] [/shop_slider]
With all this being said this SUMMER IS YOUR TIME TO SHINE WITH NEW HAIR DOS!
[