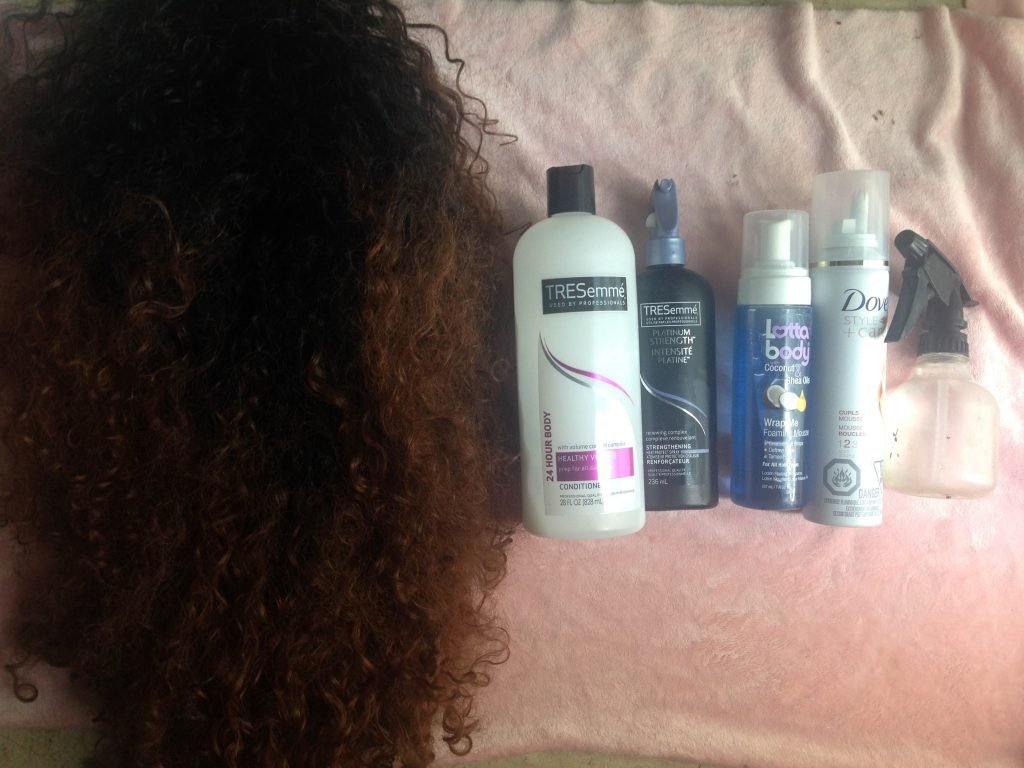 HEY LOVES ♥
I've been asked multiply times how do I managed to keep my synthetic wigs looking brand new and honestly all I use is water and mousse. It could be any mousse I use Dove Curl Mousse and Lotta body Wrap Me Foaming Mousse. Synthetic are not plastic wigs, synthetic in simple terms is 100% Premium Fiber basically human hair mix with plastic hair strands.
Back story on my wigs, I got the Outre Purple Pack BIG BEAUTIFUL HAIR 4C-COILY first then Outre Penny Half wig. At that time I had no idea of how to take care of synthetic hair I normally just wear it and put it down washing was never in the picture. Since I start being obsessed with the world of beauty I took into consideration that i'll be changing up my looks constantly so the hair has to be washed and ready for the next wear. so that's where washing and taking care of he wig comes in.
So First you'll need
1. A spray bottle with water
2. Mousse
3. Conditioner
4. Leave- in
Ok so basically after a long day of wearing the wig I wrap it up and put in back in the box it came from (YES I keep my boxes!) weeks after I need to wear it I go for it couple days before (You can wash it immediately after you take it off but I don't got time for that lol) to wash it I use my conditioner, any conditioner can be used (My personal favs: Tresseme, Lottabody, Hask, Loreal).
Then I use my leave-in conditioner (Personal favs: Aphogee & Tresseme) to let the hair have little soft feeling in it. I NEVER USE OILS OR CREMES  I personally hate when synthetic hair look shiny even though it comes like that but don't oil it please dont. I never run my brush or comb through my hair just my fingers it works better.
To all who are trying to revive those crusty hair/wigs today is the day you learn how to care it.
Daily Wear
Here's what I do if I plan to keep it on for days without washing it. This is where the water and mousse comes in, I normally like to damp the hair with water from the spray bottle then I use my mousse. If you have a curly wig you'll need a mousse most definitely. I would not recommend getting a curling creme because it weighs down the hair making it look flat I love bouncy and curly hair.
For straight hair you can use a creme but I do not recommend it on all synthetic straight hair some can just use mousse and brushing. Also fo the straight hair please remember to flat-iron and if it looks shiny in any way use baby powder on wig/hair or dry shampoo. Annnnnd there you go your synthetic hair on a daily basis is hot and popping!
I recommend you NOT to wear your wigs to bed! No don't do it please! Take it off wrap it up or hang it up somewhere. Any Questions?
Outre Penny
5 Mousses I love to use on my synthetic wigs/hair
Lottabody

Dove

Tresseme

Herbal Essence

Aussie 
How to Revive your wig after stop wearing it for months?
This is easy I literally learn the hard way by just reading the tag and following the instructions. I know most of us don't like to read but  like really whats the point? Just throw it out because we already have what we wanted truth be told. The instructions on the tag is literally what got my curly wig back up and popping!
Its simple all you need is to put some water on the store or hot it in a kettle don't matter.

Add some conditioner or deep conditioner to the water.

Place the wig in the warm water and let it stay for 5 mins
It will look a bit frizzy at the ends or at the middle of the wig, don't be discouraged we got scissor for that just clip those frizzy strands and keep it moving.
More so you can even change the wig style if its long cut it if its curly try straighten it make it wavey.
Just a little experiment and thought of mine.
If you liked this post, feel free to PIN IT and share!