What is your go to bag this summer?
We are in the middle of summer Just kidding it's been a full month but hey its a #HotGirlSummer so you know I just did Trendy accessories that you'll need for vacay and now I'm helping you to bring off your summer outfits with Instagram worthy handbags.
I assume you know that handbags are now a trend on Instagram and every outfit you wear and upload on the app you must be post up with a cute bag. And if there's one item we love to pick up during a major sale it's a handbag — especially if it's one that's reached "It bag" status for the season.
So, I concluded a list of Insta-worthy summer handbags of all the bags I've seen circling on social media.
Disclosure: This post contains affiliate links (meaning I will get a small commission if you buy through my link). You won't pay any more if you use this link.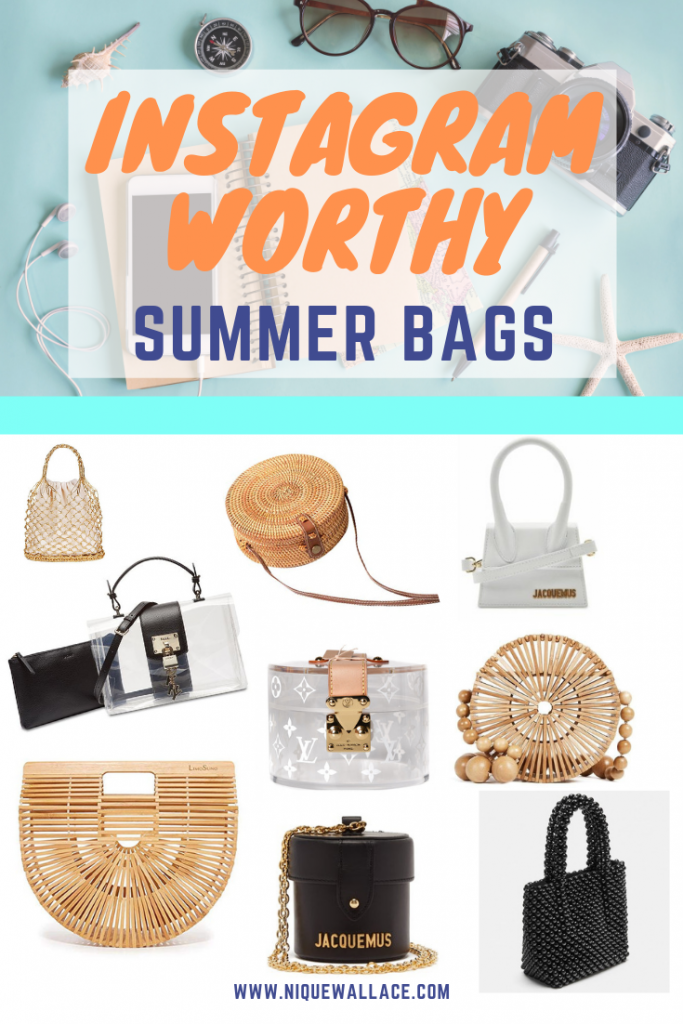 1. Mini Bag
I had to start out with the mini handbags because celebrities started strolling with them since January 2018 (don't quote me on that but it's what I've been seeing) at first I was like what is this hope they turn it into a trend and yet here we are using a very small bag to compliment our outfits that only can hold money/cards not even my iPhone 8+ I think could hold in any of these bags. Well hey! — it's fashion and woman will do anything for it and beauty it's just the life we live right ladies?
There's numerous designs of these bags across the internet. The first mini bag I saw was from Jacqemus on Instagram and my thought was this is a big no ha! But as time past and I see a lot of celebrities, Influencers and Youtubers wearing them I switch focus and started to like them.
So while I'm looking through these amazing bags I stumbled on some bags called "bucket bags" I added some to the shop list so you can see the difference. Really lovely bags I might add.
[shop_slider full="no"][shop_heading][/shop_heading]
[/shop_slider]
2. Straw Bag/Woven totes
Straw bags are not new they have been about way before I was born yes that's about 2 decades ago but here they are being very trendy. These straw bags became the go-to bag for spring and summer break 2019, every store has them ranging from $10 – $500. These are really cool and strong bags I might add. Definitely can rock it with your cute floral cotton dress or a nice sun dress for breakfast. Any event that requires water (beach/pool/river) this bag is definitely the go to. 
[shop_slider full="no"][shop_heading][/shop_heading]
[/shop_slider]
3. Bamboo Bags
Now some people call the "Bamboo bags" straw bags because well they look similar but their not! However, I'm not planning to separate the two because they were created around the same time in history. However, the bamboo bags are more bold and in your faces than the straw bags I will say they bring off more of brunch fun day vibe while the straw bags bring off a beach vibe. 
[shop_slider full="no"][shop_heading][/shop_heading]
[/shop_slider]
4. Beaded Bag
Introducing: The beaded bag. The easiest way to spice up an outfit is by adding a statement bag like this. In chic pink or retro clear, these bags take a simple OOTD (outfit of the day) to the next level. I find the beaded/Pearls/Bubbles bags unique with its timing to crash the scene this summer. Take your pick!
[shop_slider full="no"][shop_heading][/shop_heading]
[/shop_slider]
5. Clear bags
Some call it "see through bags", some call it "clear bags" some even call them "Transparent bags" but hey the bag has been out a while so as it becomes trendy the name tends to change. Still, I remember couple years back I went to a "Do it yourself" workshop for a month for the arrival of Prince Harry in Kingston Jamaica. However, I made my first purse with transparent vinyl and E6000 glue —- I don't have the purse now but its good to go down memory lane for bit. So, having a clear bag is chic for a sophisticated fashion shoot. Showcasing your $5 bill and your lip gloss. 
I personally won't wear this out by my lonesome but with a lot of friends going to brunch sure with my purse inside otherwise no bueno. However, there's some stunning holographic bags too!
[shop_slider full="no"][shop_heading][/shop_heading]
[/shop_slider]
Have you ever thought of working with your favorite brand and getting free products from companies? I'm sure you've seen several Instagram users hash tagging #ad and #gifted… That's them collaborating and getting paid to be post up with a product they use and love — Wouldn't it be fun for you to start getting paid to use a product that you've been using for years?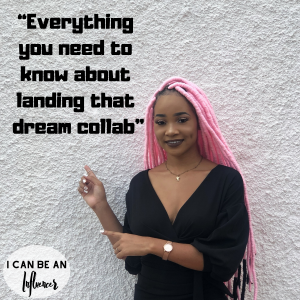 I'm teaching everything I know about pitching to brands in my brand new eBook right here
Imagine one of these lovely Insta-worthy handbag companies collaborating with you? It's a good feeling right? ha! Hope you enjoyed my post.