Benefit Cosmetics is on a brow search and I'm here to help ha! I'm just playing but for real their on a brow search and I received all the goodies to achieve the perfect brows. 
Thank you benefit Cosmetics ?
If you don't know Benefit Cosmetics is a makeup brand that provides everyone who loves makeup with all the products and tools they need to take your bare face to real life drag queen hunni! — At an affordable price.
I decided to do a review on these products since I've tried all of them. Yes I used all and I know after 6-12 months I'm not able to use them BUT I had to test them out for you. So, you can know which brow products to pick up the next time you visit Sephora or make a purchase online.
First product I'd like to mention which is my fave 

Benefits Brow Zings eyebrow shaping kit $32
On Website Brow zings' perfectly paired eyebrow powder & wax, mini slant tweezers and NEW dual-sided extendable applicator is everything you need to sculpt, shape and fill brows. Plus, our signature Tips & Tricks! Available in 3 NEW shades so every gal can get amaZING brows.
Pros:
Soft, pigmented eyebrow shaping wax
Natural-shaded setting powder
12-hour wear*
My thoughts
I personally love the fact that its compact with a tweezers and 2 sided brush. The Kit is ideally for persons on the go or if you need to fix your eyebrow if you hug someone and they take it. P.s that happened to me before I was pissed. 
This kit is definitely vacay ready if you're packing light. There are 6 shades I received the shade 06- Deep for my brows. To be honest this is good but lord its a little pricey.
Benefits Precisely, My Brow Pencil $24
This product gives precise & defined eyebrows! The ultra-fine eyebrow pencil draws incredibly natural-looking, hair-like strokes that last about 12 budge-proof hours.* A few strokes of the rich yet blendable color will transform brows from shapeless & undefined to filled & defined eyebrows. Includes signature Tips & Tricks.
My Thoughts
I was normally afraid to use tiny pencils sticks like this because in the past every time I try to use it. They always break when applying so it becomes a little frustrated. However this one was nothing like the ones i use in the past it is firm and better. I wish I received a lighter color though because this was a little too dark. I received the shade 06 – Cool soft black. The say its waterproof I don't think it is it failed that test.
The spoolie side is perfect, the brush bristle is soft and handler is firm and intact I love.
Additional Info
Comes in full size & mini
Now available in 12 shades!
Twist-up, non-sharpen tip
Built-in spoolie-brush

Benefits Goof Proof Brow Pencil $24
The Goof Proof brow pencil is super easy with filling & shaping eyebrows. It features a custom, non-sharpen "goof-proof" tip, soft color and a glide-on formula for easy & fast brow filling. Comes complete with built-in blending spoolie-brush and signature Tips & Tricks!
My Thoughts
The Goof Proof brow pencil was the second product I used because I'm used to using pencils to do my brows.
And I was looking to help define my naturally thin brows. Since they are thin, I wanted something to fill it in fully. This pencil is SO EASY to use, even for someone who can't put on eyeliner in a straight line. I'm a fan of the pencil shape. Goof proof is the only one that has some water resistance.

Benefits Cosmetics KA-BROW $24
This all-in-one eyebrow cream-gel easily fills, sculpts and defines brows. Plus the built-in hard-angled brush magically converts to a full-size brush for precise control & effortless application! Includes signature Tips & Tricks!
Builds from natural-looking to dramatic
Cream-gel color
24 hour* waterproof** wear
My thoughts 
Ka- Brow was the first from the package I tried because I never owned a product like it. I know that's odd but the package is cool to me. I found that it tends to smudge when I use it to overdraw the tail of my brow. It has great pigmentation and does amazing for natural looks. This will be a product that I will keep on hand especially for travel and in my on-the-go daily makeup bag for easy day to night looks.
— I ALSO RECEIVED
Benefit 24-HR Brow Setter – I love this product it did its job of holding my wild hair on my brows in place. 100% recommend! $24.
Benefit Gimmie Brow+ – I use this for my bare face when I'm not about to wear any makeup just to fill in the thin areas. On Benefits website it says Gimme brow+ tinted eyebrow gel contains tiny microfibers that adhere to skin & hairs, creating natural-looking fullness and definition. The custom tiny, tapered brush provides easy, mess-proof application. Poof…fuller-looking brows magically appear!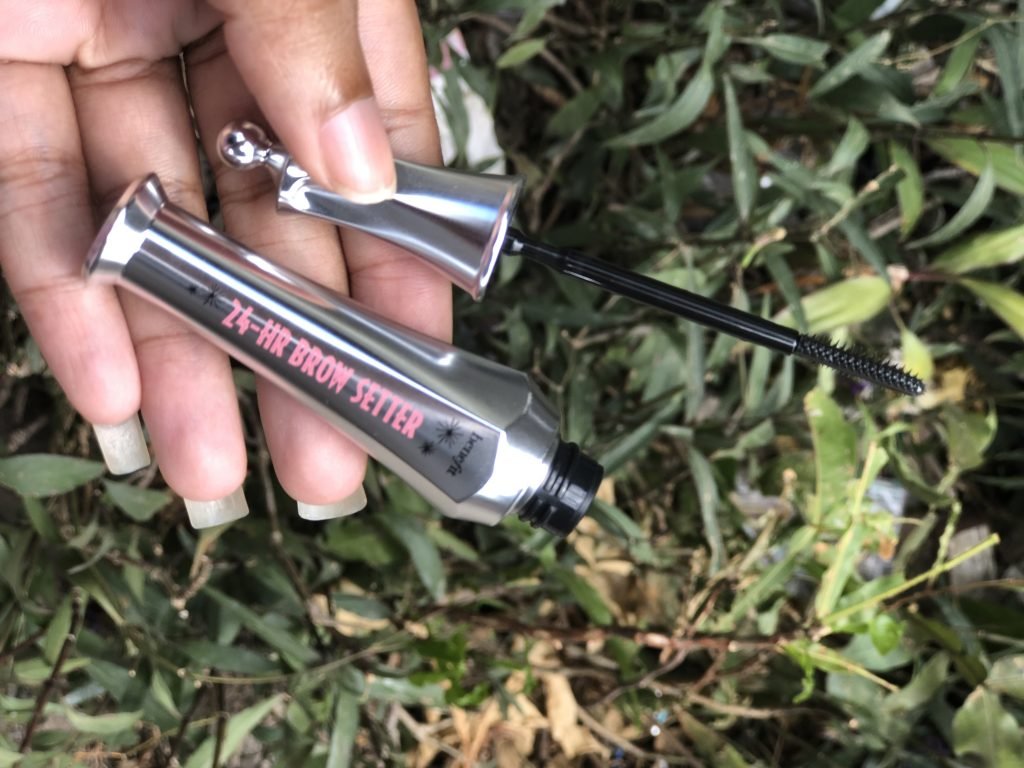 Now that we're at the end of the post for Benefits cosmetics brow collection – brow search! Have you tried any of these products before and what is your thoughts on it?