Hey Naturalists!
Majority of you are here because your wondering hmmm "How to treat my hair after removing the Fauxlocs?" well today I got you covered. You're going to learn 1. How to pull out the locs 2. How to wash your hair after taking it out. 3. How to treat your hair after removing it.
Here goes:
1.  How to Pull out Faux locs
This is simple all you need is a scissors. When you get the scissors cut the end of the locs and pull the hair or yarn down. Don't drag it down because you'll be tearing your hair from the root and we don't want that, so gentleness is key.
2. How to wash your hair after taking out the Fauxlocs
A lot of persons ask if you can wash your hair while the locs is installed ohh yes you can! But you only can wash once out of 3 weeks. If you never washed it for a month and is ready to do so you should have 4-6 items; A Deep conditioner (this is compulsory), Conditioner, Shampoo, leave-in conditioner, Oil and a wide teeth comb.
You can always finger detangle its your choice, For deep conditioning when applying please make sure to apply from root to the end of the hair and let it stay for a hour (minimum) or overnight (maximum). Don't own a deep conditioner? Use one of my favourites Here. The oil is for more moisture after being covered up so long and the leave-in is for after you wash out the deep conditioner to lock in moisture.
3. How to treat your hair after removing the fauxlocs
Majority of you had in the fauxlocs for a month or more. At this point you have broken your hair regimen. Your roots were the only part getting all the moisture while your ends are drying out. After removing the fauxlocs this is where you go back to the drawing board and start your regimen to get your hair back on track. If you don't have a regimen use mine Here. A regimen is ideally great for your hair growth.
Related Post:
Top Best Deep Conditioners for Natural hair
---
---
How to care for your Faux locs?
How to groom the locs while its installed? its simple just get a stocking foot or pantyhose or even a scarf to wrap up the hair at nights and gentle pull it down in the mornings. Nothing much needs to be done.
To keep your hair fresh for the period of having the locks in get yourself a dry shampoo.
If you liked this post, feel free to PIN IT and share!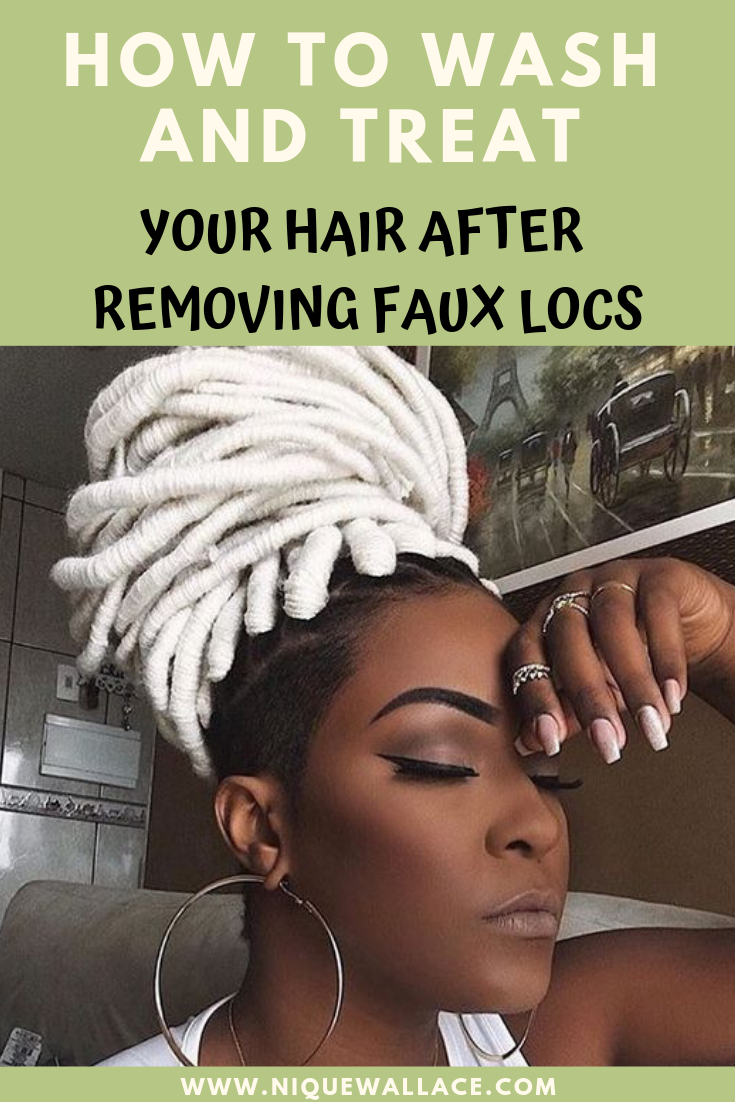 Types of Locs 
We all have that protective style  that we go to every holiday I personally call that faux locs for me. I live for Faux locs because well I did it in the past for a living… Now alot of you might wondering what I'm talking about with Types of Locs? Well there's numerous types see list below
DISCLAIMER PICTURES FROM RANDOM OWNERS ON PINTEREST
Marley Locs – This type of locs is pretty much everyone's favorite because it looks more realistic than any other its used with Hair. With the Marley locs all you need is regular expression braid below and marley hair on top. This takes about 6-8 hours depending on how long you want it or how fast your hair stylist can do it.
Yarn Locs – Yarn locs is my favorite because I don't have to deal with all that hair mess I can just buy a roll of yarn or some person use wool. It really doesn't matter which is being used its just the results I look out for… The yarn locs is more light weight than any other. This will take the same time has Marley locs approximately 6 -8 hours
Goddess Locs – The Goddess locs is where you see all the ladies wearing these days because they think its new but its been out for years. The hair beneath is weave mixed with Marley hair on top.. The goddess takes about 4 hours its a little easy to install mainly because it doesn't need much fire and not a lot of hair.
Goddess Yarn locs is also a thing
Crochet Fauxlocs – Personally hate but people become real fan of it mainly because it doesn't take more than 2 hours to install. The Crochet Locs comes ready made just to attach to your braids or corn rows.