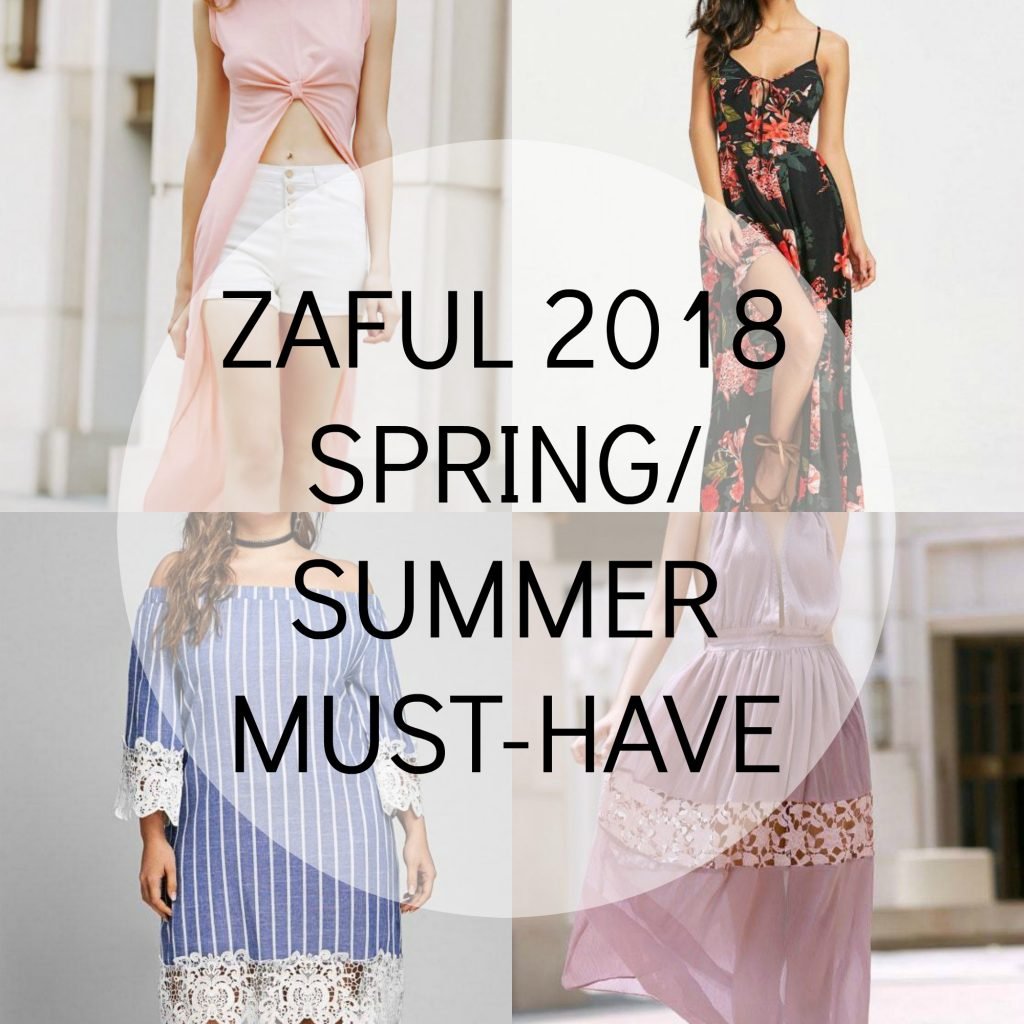 Hey Lovesss!
I know the year just started but Spring is almost HEREEE!! You may need to change out some clothing from your closet and get rid of those coats and leather jackets from fall and winter season. We now wear cute floral maxi dresses and/or half shoulder dress. Time to show a little skin for that Easter holiday too.
Disclosure: This post includes affiliate links. You can read my disclosure here.
2018 Spring Must- Have with Zaful
Zaful is my utmost Fav store to shop online, they provide me with most affordable prices and hottest clothing. The site is super website-friendly and has amazing customer service.
Apricot Round Neck Sleeveless High Low Dress
Saw this cute dress blouse on-site and fell in love it's so spring and summer. I would definitely wear this in the summer in the same colors. It's only $14.99 on-site you can get it in size xs- xxl.
Suggested: 8 MOST Affordable Online Clothing Stores
Lace Spliced Halter Maxi Dress
This dress is more like an evening out for me with nice heels to match. The pattern on the dress is so cute with the lace at the thighs. My boobs will definitely fall out at the side cause of their sizes lol. It has a beachy effect on it as well so wearing this to the beach would be awesome! It's only $15.89
Related: Summer Off-shoulder Cotton Dress Wishlist | ZAFUL
[shop_slider full="no"][shop_heading][/shop_heading]
[/shop_slider]
Striped Plus Size Off The Shoulder Dress
Yes loves Off shoulder dress is not just for us skinny girls it's for everyone. Definitely still a spring and summer clothing, I remember in 2016 where it became the only thing was in the summer. The pattern on this with lace and stripes definitely compliments her body with that cute choker.
[shop_slider full="no"][shop_heading][/shop_heading]
[/shop_slider]
Cami Floral Criss Cross Maxi Dress – Black S
Floral dresses are the most flattering dresses in spring. I chose this long dress mainly because it reminds me of a beachy dress that can be worn whenever you go to the beach or poolside with cute swimwear beneath. Also a cute picnic dress just for $27.49
Related: Review/Mini Haul featuring ZAFUL
Zaful always having promotions you can always have a chance to get a discount on your Favorite items here
It's Romper season. Click for Best ideas of floral rompers.
Get yourself a new romper this summer! 
This is sponsored post by Zaful