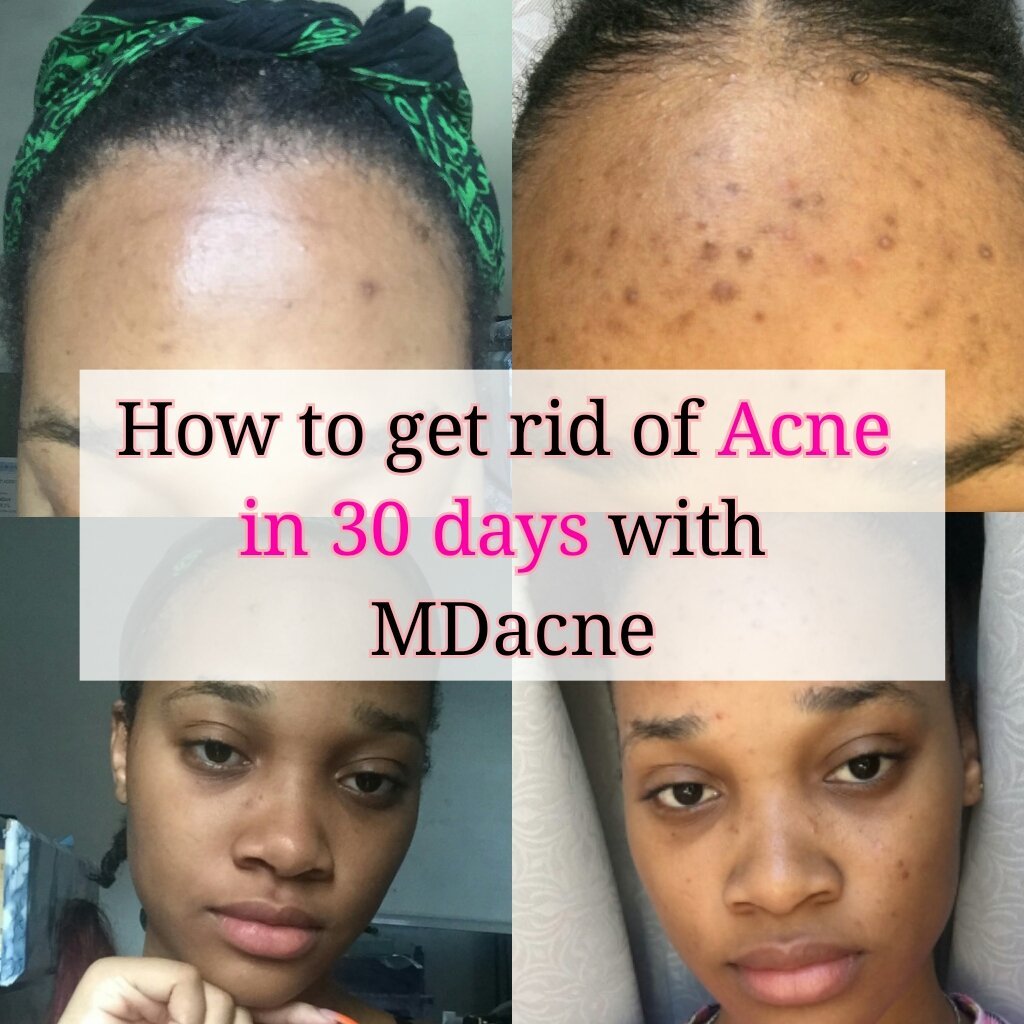 Hey Dolls
Finally I can get to share with you my must have product of all time! I stand behind this product 100%. This is not no clear your acne in a month without consistency. It's the best kit to get rid of acne but what is it? *Drum rolls*
Disclosure: This post includes affiliate links. You can read my disclosure here.
How to get rid of bad Acne with MDacne?
This company is fairly new I learnt about them through Heartbeat an Influencer company. MDacne is definitely for persons who struggle with bad acne and is crying out for help. The owner Dr. Yoram Harth is world-renowned Dermatologist, he founded MDacne to create a more efficient and affordable way to treat acne. For the first time, people with acne can use their smart phone to assess their skin type and acne severity, and then get a fully customized acne treatment kit sent right to their home.
MDacne is basically an app for apple users for now. You get a 3 months subscription plan to pay for the kit. 90% of people with acne never see a Dermatologist. Most are confused by misleading information that promotes one-size-fits-all products that can irritate and over dry the skin, or "magical" all-in-one products that are simple ineffective. He strongly believe that success in acne treatment depends on matching the right acne medications to every person's unique skin — and then helping her/him commit to the treatment.
How do you use this APP?
Step 1. You download the app
Step 2. You fill in the basic info to create an account
Step 3. You take a raw fresh face selfie
Then right after all that the app basically will pick up how bad your face is to fit the right kit for you. You make a first month payment of $30 in total the subscription is for $90 with 60 days money back guarantee. Not to worry I got a discount of 30% off for you for the first month. Use promo code HEART30.
After submitting your order you cant use the app until your package arrives so you can get a barcode to use to access the app. You'll get a new lifestyle plan on how to use the products, what to eat, etc.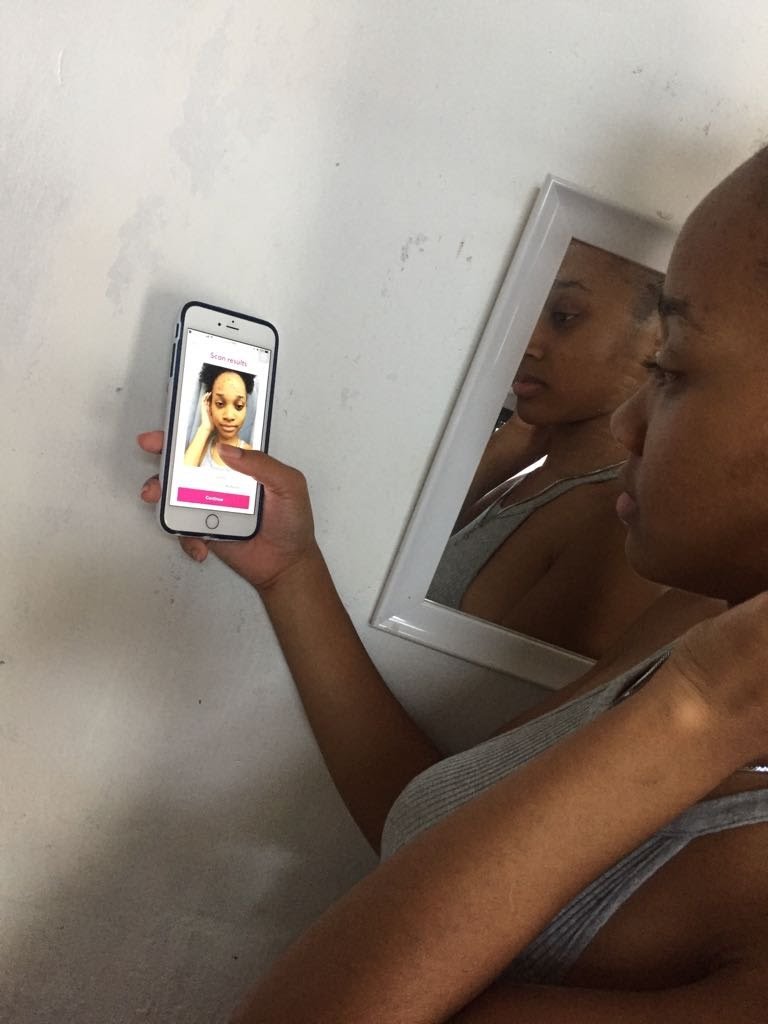 What's in the Kit?
3 tubes that save a life with my Vanity Planet Cleansing Kit without the brushes I don't think my face would clear up so quick. The brushes and the products are the perfect duo. Lucky for you I have a promo link applied to get you a $100 Off on the brushes HERE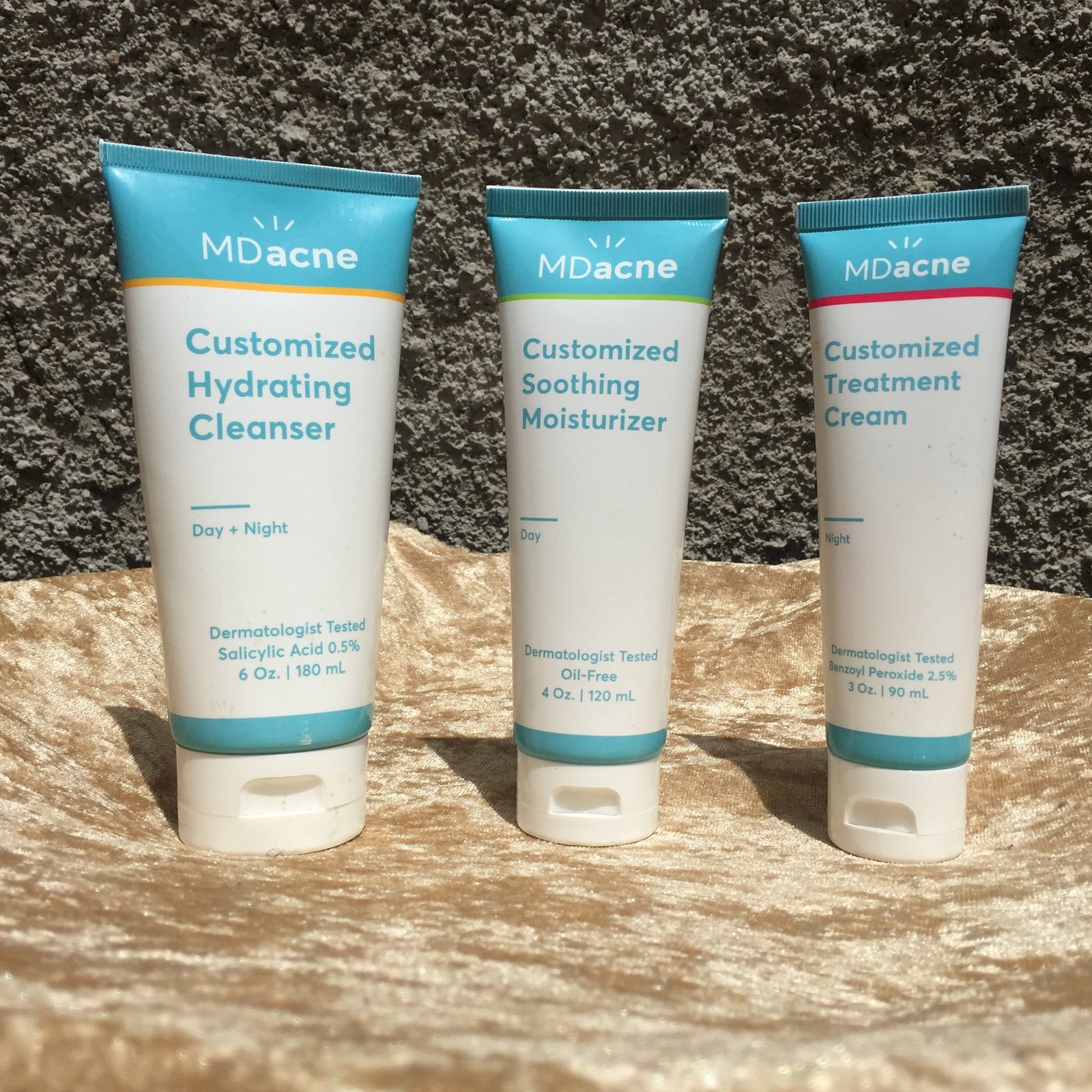 The Customized Hydrating Cleanser
This is my bestfriend I use it twice a day on site its say the MDacne customized cleanser is personalized for you. It will be formulated to remove all dirt and oil, protect your skin's barrier layer, unclog pores and give you an immediately-refreshed feel. I use my deep cleansing (exfoilating) brush to achieve better results from the products by going into my skin in circular motions.
Benefits: Optimized removal of dirt and oil without over drying. Unclogs pores.
Oil-free, non-comedogenic, Paraben free, Phthalates free.
The Customized Treatment Cream
This cream is for night-time I follow the rules and only use it at night lol. MDacne customized anti-acne treatment cream is formulated to clear your acne with minimal irritation. The cream is personalized to your skin to clear your current blemishes, prevent any new ones from forming, and help prevent and fade post acne brown spots.
Benefits:
Micronized active molecules for higher anti-acne efficacy with less irritation.
Prevents bacterial resistance to topical antibiotics.
Oil-free, non-comedogenic, Paraben free, Phthalates free.
The Key Ingredients are: Benzoyl Peroxide and soluble salicylic acid
Customized Soothing Moisturizer
Not my favourite but just to give you all an idea of the kit the MDacne customized moisturizer. It will be especially formulated to protect your skin barrier, reduce redness, enhance healing and help reduce post acne brown spots.
Benefits:
Shine-free finish
Visibly lightens post-acne marks
Oil-free, anti-inflammatory, Paraben free, Phthalates free
MY THOUGHTS
If you're not a fan of Benzoyl Peroxide and soluble salicylic acid don't use it. I personally felt my skin burning beneath the cream and I have to sit under the fan for 5mins to get my face to cool down. The cream really get into your skin and cleanse it.  Even the Customized Hydrating Cleanser gave me an allergic reaction, it got into my eyes and it swelled it up letting it look all puffy and red. The moisturizer for day time I used it maybe once or two times because my boyfriend said my face looks dry. The Cleanser do dries out your face but knowing I got super oily skin this moisturizer was gonna make  me cook some fry dumpling on my face. So I just dont use the moisturizer but if the cleanser dries out your skin completely it is mandatory to use the moisturizer.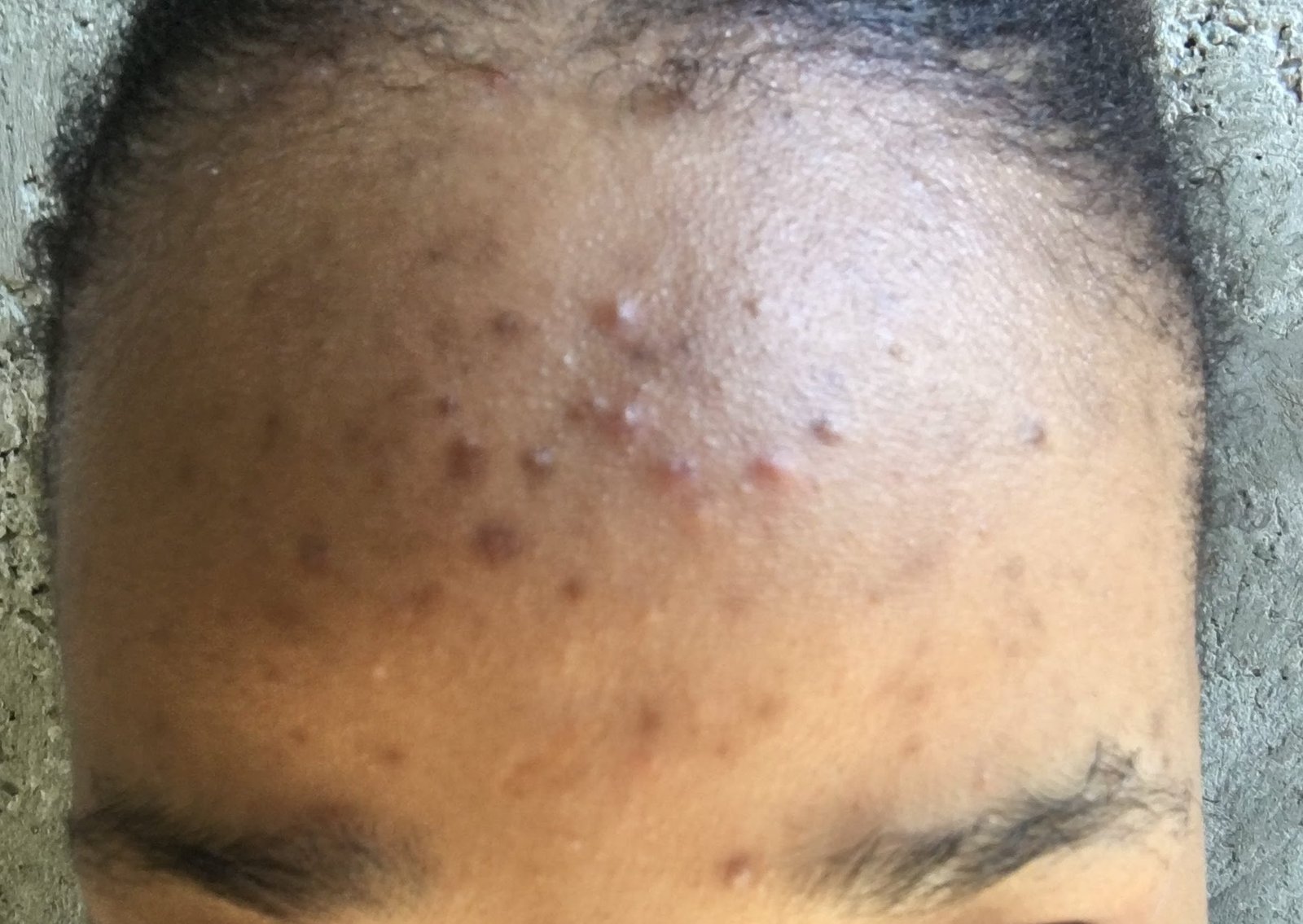 I remember back in April when I was using a skin care kit from another company and boyyyy their products did all the damage in the world. Now in June the very first day I made up my mind and said you know what im going to just try MDacne. Only just for a month none stop maybe it will work best. After a month and not just 14 days Yes! To my surprise the ugly scars and pimples all faded in a MONTH July 1st. I never felt so beautiful again no lies bad acne gave me some serious insecurities.
I'm just mad that I didn't take any pics on July first because I got robbed my iPhone was taken away. I had no other options to take pictures of my face, now in August I got back an iPhone. After getting back an Iphone I kind of stop using the product daily so two pimples came up and I refuse to take a picture with the two pimples because I want to show you how extremely amazing the products are not just to fade little pimples.
One thing I learnt from this product is that;
Do NOT I repeat Do not put your dirty hands in your face. please resist.
Do Not keep your hair dirty for more than 2 weeks
Try your best to avoid sweets
Please drink water at least a 2 litre bottle a day
Use the products everyday non-stop if you want a month result
How I felt about MDacne
I slept on this company I honestly believe it wasn't going to do anything for me. You know when you go on sites and you rarely see reviews of buyers. You see more reviews of MDacne sending their PR boxes out for free to influencers. More-so 60% of the time influencers lie no joke, so I was like no I'm not going to let this company take no 3 months payment from me for garbage.
I swallowed back my words because I literally cursed the owner out telling him I want a refund. I'm not going to use his products because all these companies do is pay people to lie to get consumers money. I was so not having it so I neglected the APP because I got a refund but I still end up using the product. Now I don't want to get back the app because im so embarrassed.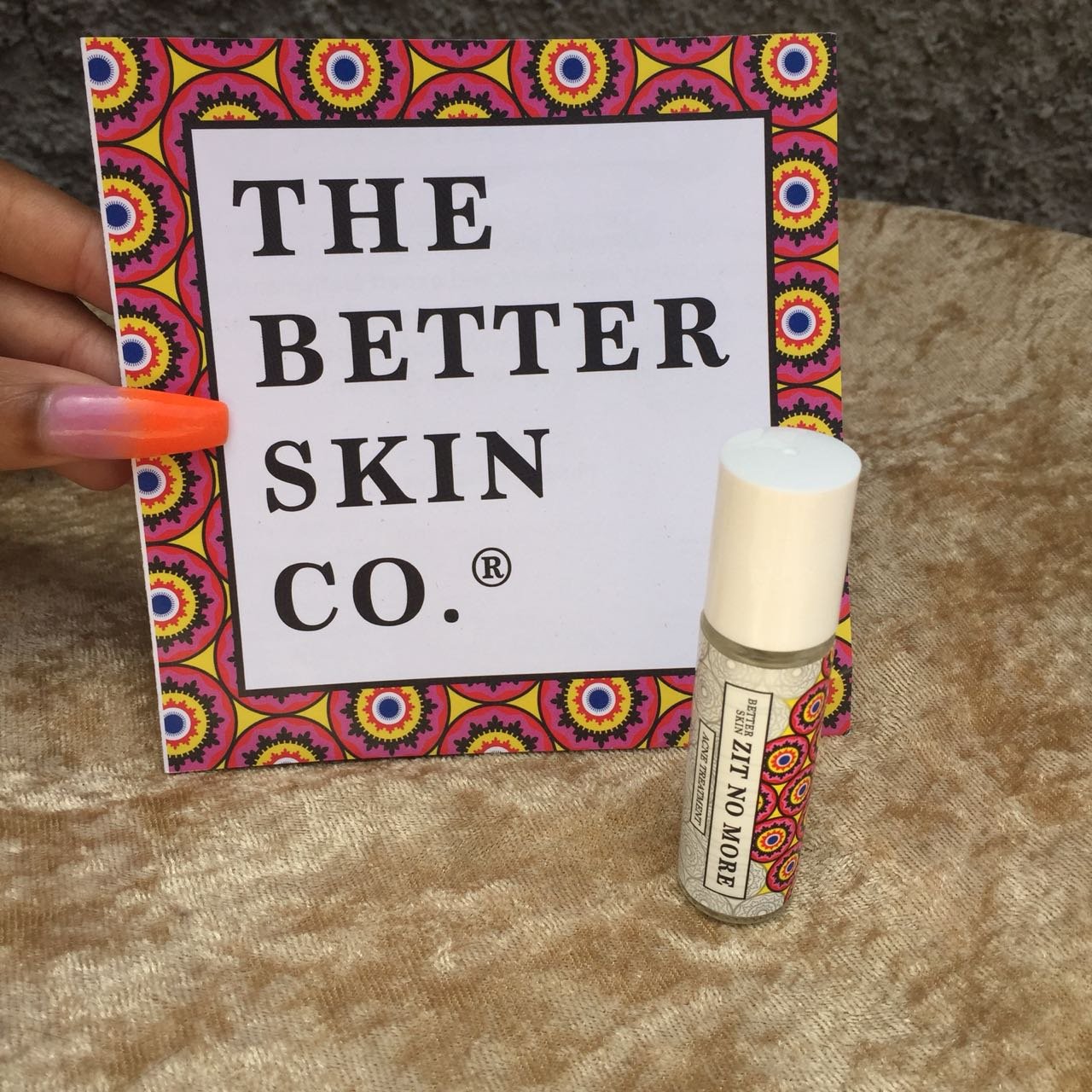 If you liked this post, feel free to PIN IT and share!
When red bumps or zits comes up on my face I use a serum called Zit No More from Better Skin Co. Comment down below if you want me to talk about this little guy ♥