With Valentines day approaching a lot of my single friends get annoyed and I mean I would if i was single. So fret not my single lovelies we have another name for y'all and that's Galentines Day.
Now what is Galentine's Day? Galentine's Day is more popular among women, the holiday itself can also include, as long as the relationship is non-romantic, male and other non-binary gender friends.
Don't be stressed. First off, just like Valentine's Day, you are free to skip Galentine's Day. But considering it's all about showering your friends with affection, why would you want to?

I have things that you can do on Galentine's day just to forget about those annoying couples that you can do with your best friend or sister. 


A day at the beach
This is one of my favorite things to do! You and your bestie could go to the beach in that matching bikini/one piece with cute sunglasses. Sit under the sun with strong margaritas sipping. 


2. Brunch/Wine tasting
I got this new thing I start doing with my sister. Well its not new to anyone to brunch but it is new for us to randomly get up put makeup on and go out on Saturday mid days. Wine tasting is fun I did it once in 2016 and from then I've been addicted to drinking wine only when I go out. #whitewinelover! You can try White, Red and Rosé wine with your friends just know you'll be hella drunk after but it will be fun.
3. Movie Date
This is for the working class after a long 9-5 is done you can catch a movie by your lone some or with a close single friend of course. Before this can be done there has to be a good movie out to watch. Please no romance because the couples Gon be out and that's annoying.
4. Spa day
Relaxation is always needed and the way to enjoy spa day is with your best friend to discuss mental and spiritual growth  (I mean we can gossip too ha!).  Plus getting a Medi and pedi.
5. Adventure Day 
Yes adventure day is wide but who's to tell you can't go out to a shooting range and learn how to use a fire arm. I know that will peak my interest. Use this day for bowling, car racing, skating or even painting.
6. Tv Marathon
Binged watching your favourite series without/with your bestie and loads a junk food and soda gets the job done on Valentine's Day. I have few series that I love and trust me your gonna love these. 


7. Shopping
Literally my favourite I love shopping and having my own coins because a girl always feel guilty doing window shopping. So, go to the biggest mall you know (in Jamaica just choose a location and walk it out until your tired) and visit every store for beauty, fashion and lifestyle. Yes I definitely mean you should try on some new makeup, spray two cologne scents on. Obviously try some clothes and shoes before you leave. 
8. Road Trip
This is a drive out to the country side almost like adventure time but this is different. You can use this day to visit a zoo/ farm in the far country side or even go hiking up a mountain.
9. Host a Slumber party
Having a slumber party can be fun on Gal's Day with all your single friends where can drink, gossip and play random games like Uno or Trivia. I've yet to be a part of a slumber party but fear not I gotta get some friends first then I'll throw my own. 



10. 
Take A Class Together
Whether it's painting, ceramics, cooking, floral arranging, or skydiving, learning something new is a great way to practice self-care and bond with friends. So sign up for a class or activity to explore with your gal pal.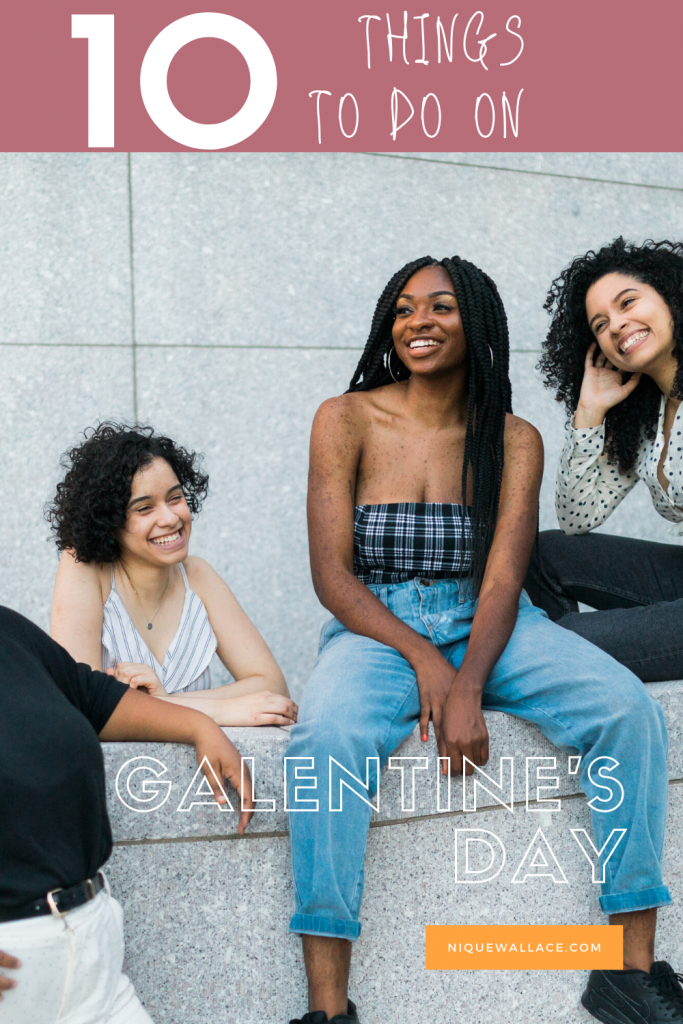 Galentines Day – This is not an anti Valentine's Day even though it's a little annoying and pressuring for single people or people who don't care for love.  To my people even though I'm in love at the moment but I understand and I feel you so I had to do this post for y'all. 


Just before I forget Amazon is having crazy Galentines day sale for you and your bestie you should definitely check them out and use prime to get your items in a day or two.