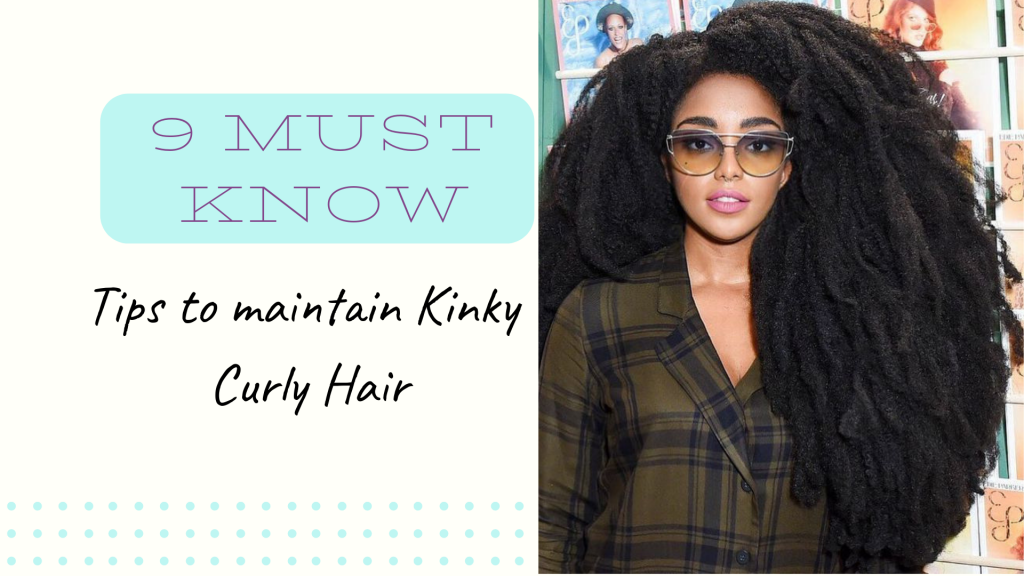 HEY DOLLS
How are you handling that Kinky curly hair struggle? If your going natural and intransitioning or even fully natural with big hair. You after struggle to maintain it on wash days or even just trying to catch it into a high puff. I layed out 9 ways to maintain your kinky curls! ♥
1. HANDS OFF! Don't interrupt your curls while they're drying, or they will frizz up.
2. AVOID SNAGS: Detangle in the shower before rinsing out your conditioner. It'll make for easier styling and less breakage.
3. BODY OF WORK: Make your workout session double as a curl treatment. Before you hit the elliptical or treadmill, run DevaCurl Styling Cream through your locks and twist up in a bun. The heat your body produces while working out allows curls to soak in moisture and conditioners.
Related: How to grow your hair out with liquid Biotin?
4. IT'S ALL IN THE DETAILS: For natural, healthy curls, only use a defining or styling gel that's alcohol and silicone-free, and soluble in water—as the gel can remain in your hair for 2-3 days.
5. DON'T FRACTURE YOUR HAIR! Remember to remove your hair from your shoulders before slinging on your handbag, backpack or messenger bag.
6. BOOST YOUR ROOTS! To give your curls at the top of your hair extra volume, lift and clip the hair at the roots while it's still wet. Doing so will release the top layer from its own weight, allowing it to dry faster and in an even curl pattern from roots to ends. Clipping also speeds the drying process.
Suggested: SIMPLE WASH DAY ROUTINE
7. HANDLE WITH CARE: Precious hair fibers require special attention. Using a soft fiber cloth or DevaTowel, gently rotate and "scrunch-squeeze" curls in an upward motion toward the scalp to absorb extra moisture.
8. HYDRATE! Invest in a top-quality humidifier for your home. A humidifier will encourage curls and keep your hair and skin from drying out! 
9. PIN UP: For a curlier look on dry or second-day hair, try the pin method. Starting at the crown, wrap a section of hair around your finger, slide the finger out, hold the coil with your other hand and insert a clip at a right angle. After the hair is dry, gently remove the clips and loosen curls with your fingers. Finish with a tilt and scrunch.
Suggested:  TOP 5 cheapest Deep Conditioners
If you liked this post, feel free to PIN IT and share!